Difference between revisions of "/c/"
Jump to navigation
Jump to search
Line 66:
Line 66:
 

|kit3= Cthird-2016abc.png

 

|kit3= Cthird-2016abc.png

 

|kit4=c_kit4-2019sc.png

 

|kit4=c_kit4-2019sc.png

−

|kit5=C_kit5-2017abc.png

+

|kit5=.png

 

|kit6=c_kit6-2018sbc.png  

 

|kit6=c_kit6-2018sbc.png  

 

|home_ground=Kawaii Park <3

 

|home_ground=Kawaii Park <3
---
Revision as of 17:25, 26 July 2019
/c/
Am I Kawaii? Uguu~
/c/ - Anime/Cute

Founded
July 20, 2012
Manager
"Tou-chan" Koiwai
Sawako "Sawa-chan-sensei" Yamanaka
Owner
Pony Canyon, Inc.
IRL manager
MagicalCoat !!tH1G0QpCBBI
Anzai !!xfVTOxZRtMC
Dog-chan !!5DOgkneuFTr
Team colors
HEX color
FFC0C0
Kawaii Pink
Ranking
25 ( 19)
Highest rank
25 (April, 2014 & June, 2019)
Lowest rank
52 (May, 2015)
Top scorer
Yui Hirasawa (27)
Top assister
Yui Hirasawa (15)
Captain
Yui Hirasawa
Website
/c/ - Anime/Cute
Nickname
/c/itizens
/c/uties
Home ground
Kawaii Park <3

Historic performance

| | | | | | | | | | |
| --- | --- | --- | --- | --- | --- | --- | --- | --- | --- |
| W | D | L | | | TOTAL | | | | EFFICIENCY |
| 23 | 21 | 32 | | | 76 | | | | 30.26% |

Biggest win
/c/ 
4–1
 /po/
November 15, 2013
Biggest defeat
/g/ 
5–0
 /c/
October 31, 2014
First match
/c/ 
0–0
 /b/
August 18, 2012

Team music

---

Kits

| | |
| --- | --- |
| Home kit | |
| Away kit | |
| Third kit | |
| Fourth kit | |
| Fifth kit | |
| Sixth kit | |
The cutest team in the 4chan Cup.

Players
Main article: /c/ Roster.
| No. | Position | Player |
| --- | --- | --- |
| 1 | | Ika-chan |
| 2 | | Let's All Love Lain |
| 15 | | Smugs |
| 20 | | Анастасия |
| 6 | | Eva Autism |
| 21 | | Happy Birthday! |
| 18 | | Fluffy |
| 19 | | Every Girl Best Girl |
| 10 | | No Lewding |
| 11 | | Yui |
| 8 | | Do it for her |

| No. | Position | Player |
| --- | --- | --- |
| 16 | | Do NOT Bully |
| 17 | | 从x~' u '~x从 |
| 22 | | Cuties of Yesterday |
| 4 | | Tamamo Tuesday |
| 5 | | Yay! |
| 12 | | Why do you love Mami-san? |
| 2 | | Korbo |
| 7 | | Kongou Desu |
| 3 | | Radical Meido |
| 18 | | Cute Little Fang |
| 9 | | Tomoko Trip |
| 23 | | Awoo~ |
Downloads
Tactics
Aesthetics
Music
History
Founding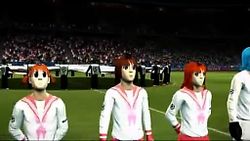 With the end of the 2012 Summer Cup, much new blood entered the world of unprofessional simulated football. One of these teams was /c/. Originally founded in a thread on the board itself by a man known as Jimmy Hill !vwrTOfHmMw (later found out to be Sexcopter !!DmLjci16Djv, manager of /soc/), the resulting discussion formed the backbone of the team. However, after a few days Jimmy had suddenly decided that he would not be able to manage. Alone and managerless, it looked bleak for /c/ before the team even began.
But then came a certain tripfag; Trofflesby !!fPFxZBomxK6, or when posting in regards to /c/ /c/har Aznable !!fPFxZBomxK6, decided to step up and take over. Only being a productive supporter of /m/, he had absolutely no idea what he was doing, but was determined to learn how to lead his squadron of little girls to glory.
And thus, the team had been built up from its foundation. First a logo, then kits, then finally faces for all players followed. With their unorthodox "Lucky Star" 4-5-1 formation as well as their extremely short player heights, they were determined to go out there and win games like no other team of kawaii girls could.
/c/'s first official games were in the 2012 Autumn Babby Cup Friendlies, where they played against /b/, /d/ and their older sister /u/. Unfortunately, /c/ won none of these games; with the first two games being 0-0 draws and the last being a 3-0 loss.
Not letting these disappointing results squash their hopes, they went into the Autumn Babby Cup, going up against /an/, /y/ and their brother /cm/. /c/ lost against /y/ on the first day. Having scored no goals at all in their first four games, hopes of accomplishing glory faded away. After being unable to achieve victory in the next two games, /c/ were without a doubt out of the competition. The only thing they had accomplished in the cup was denying /an/ a spot in Winter and getting /cm/ a chance in the knockout rounds.
After the cup, their manager had disappeared almost overnight, not even leaving a message of resignation. Needless to say, nothing much happened in the following months. However, during the Winter Cup Friendlies some passionate fans were still able to hope to see /c/ achieve their first win; against /u/. The miracle never happened, as the result was a 2-2 draw. /c/ also played in the Weeabowl, where they lost to /cm/ after getting 1-1 in full time but letting up three goals in extra time.
A New Manager and a New Hope
/c/ was going nowhere fast. Without a manager, they would have no hopes of getting a good formation and scoring victories. However, during the interim, the aptly named Interim-tan !!wpQ05LyJC9u took over the team in hopes of leading them to glory while awaiting the return of their original manager.
/c/'s Gold Striker Karin was sacked during this period, and was replaced by the formerly benched Yotsuba. Hanako and Yuno joined the team as new recruits, while Madotsuki was transferred to /jp/. Hoping that the switch to 2013 and to the GGSS system would lead to better results, things started looking a bit brighter for the team. /c/ was changing. Gone was the abysmal star shaped formation. Gone were the height impaired players. Would these changes lead to their much sought after first win?
After months of disappointment, trials and tribulations, it finally happened. Under the leadership of Interim-tan, /c/ had accomplished their first ever win in the 2013 Spring Babby Cup Friendlies, winning 4-1 against /r9k/ after losing the first friendly against the formidable /3/. With the happening finally happening, /c/ marched on toward the Spring Babby Cup with their heads held up high.
Before the start of the cup, their former manager Trofflesby returned from the dead. However, due to his general incompetence during the past cup, he entrusted the team to Interim-tan.
In the babby cup, /c/ first fought against the managerless /b/, and were able to pull of another curbstomp victory, winning 4-1 yet again. For the first time since their conception, it seemed as if /c/ had a chance of entering a major cup.
/c/ then faced the newly managed /fa/. Though they fought hard, they were not able to avoid losing. However, due to their win against /b/, they were second in the group and had a great chance of advancing, as they were going up against a shaken, dying /co/ in the next round. A /co/ with a newly resigned manager and with a loss against /b/ on their backs.
However, things did not go the way of /c/.
/b/ pulled off an upset victory against /fa/ due to their former manager returning in the last minute. With this result, /c/ needed to win against /co/ to advance. The unthinkable happened. /co/ had scored 3 goals and had wrecked the team, as well as their hopes of entering Summer. /c/ lost the game 1-3, after a goal by Miku and a penalty save by Hinata, a save that kept /c/ out of the last place of the group. Had /fa/ won against /b/ in the previous match, /c/ would have advanced on goal difference. Bad luck and overconfidence spelled the end to /c/'s hopes of advancing to the summer cup.
In late May of 2013, it was revealed that Dragonfag, the manager of /n/, had been pretending to be seventeen different people, controlling many teams in the cup by himself. This led to a huge shake up in the cup, with teams' entire histories being altered and teams being promoted and relegated from the upcoming summer cup. It also led to Dragonfag himself receiving a life time ban from the cup. Thankfully, /c/ had never been managed by Dragonfag. However, the team had been very much affected by the whole affair. In the 2012 Autumn Babby Cup, /c/ had been in a group with three teams controlled by Dragonfag, thus making the chances of /c/ advancing miniscule at best. Luckily for /c/, the relegations of Dragonfag controlled teams led to /c/ being promoted into the 2013 4chan Summer Cup, thus making the rigged Autumn cup less devastating to the team. This meant that for the first time ever, /c/ was in a major cup.
The preseason of summer went well for /c/. The team won several matches in the DrBorisG Friendlies and M3ow League and came fourth in the Tottoric Up. They also did well in the official friendlies, beating elite team /fit/ and losing narrowly to /f/ after being rigged by the commissioner. During this time, the team also signed Tomoko Kuroki, only to transfer her off to /a/ in an unpopular move. Other new arrivals to the team were Momiji, Miho, Mikasa, Rei Q and Sayaka, who replaced Tomoko after the transfer. Signing Sayaka would prove to be fitting, since suffering awaited the team.
The cup started with /c/ being drawn into a group that looked very challenging on paper. Winter cup finalists /toy/, spring semi-finalists /x/ and the elite team /mu/. Not many people expected /c/ to be able to move out of this group, but the management team and fans believed. The first match was against /x/, and it started out well. A throughball to Konata put the little girls in the lead, and it looked like three points were in the process of being secured against the dead team. Then /x/ tied the game, and in the last ten minutes, three more were scored in rapid succesion. Getting blown out by arguably the worst team in the group was a terrible start, and things looked even bleaker than before.
The next game was one against /mu/, the giants. /mu/ had already beaten /toy/ in the first game, and due to an abandoned /toy/ drawing their game against /x/, a win or draw was needed by /c/ to stay in the running. It started poorly. Jeff Mangum scored a brace in the first half and the team looked to be completely dead. But something happened. /c/ started performing in the second half and fired shot after shot against the /mu/ goalkeeper. However, a seemingly superhuman effort by Merzbow kept /c/ from scoring at all, and the game ended 2-0. The little team's dreams had been crushed, but the hardship for /c/ had only just begun.
In the next week it was found out that there had been something wrong with the commissioner's PES. This had led to strange results and live-managing and changes by teams seemingly not mattering at all. The cup had, once again, been rigged. The management of /c/ hoped for a restart of the cup to give them another, fair chance, but it was far too late. /c/ stayed relegated and the cup went on.
The third game was one against /toy/, the number one ranked team. Before the game, the /toy/ manager, with a chance to advance over /x/, decided to throw the game for reasons unknown. He subbed off all his medals and put every player in the wrong position, including an AMF in goal. Any chance to restore dignity for /c/ had been lost. However, that would prove to not really matter since the game ended 0-0 in what is most likely the worst match in 4chan cup history. And so /c/'s first visit to the big leagues ended in the worst way possible. The team had proven, once again, that being /c/ is suffering.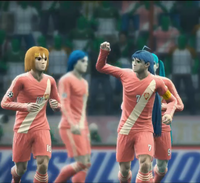 Even after their extremely poor showing in the Summer Cup, and the departure of longtime manager Interim-tan !!wpQ05LyJC9u, /c/ was confident as they headed into their third Babby Cup, as they came off the back of a fair friendlies showing - beating /e/ and drawing with /cm/ - and dominating in the unofficial Halloween Bowl 2013. There were also more roster changes in line for the team; new signings were Kyouko Toshinou, Pleinair, Shinobu Oshino, and Maka Albarn.
The draw only caused further excitement; though their group had the redoubtable /adv/, it also had the dead team /po/, as well as /asp/ who, despite being favourites in the Foetus, had struggled to advance, and whom /c/ had just beaten 6-1 in the Halloween Bowl 2013.
This self-assurance continued following the first game; though it was only versus a managerless team, a 4-1 win against /po/, courtesy of goals from Konata, Miku, and Yotsuba, after a worryingly quiet first half, showed that /c/ was a strong side, and put them tied for first in the group with /adv/.
It was /adv/ that they played next, in a game that was heralded as the decider of who would top the group. Here things took a turn for the worse; /c/ conceded an early goal to S/adv/irgin, and despite fighting valiantly - valiantly enough to get more shots - they failed to capitalise on their chances and the game ended 1-0, the same score it had had since ten minutes in. This wasn't the worst news in the world, however; even with this loss, /c/ could still easily advance from the group with a win or a draw against fellow three-pointer /asp/, who had just lost 4-1 to /adv/. Things were looking promising for the team.
Going into the deciding match, /c/ was nervous but reasonably confident in victory, fully prepared to give it their all to secure a run in the Winter Cup. This aplomb was to be tested early, however, as once again they conceded a goal in the first ten minutes of the game, and, worse, failed to make anything happen for the next almost eighty minutes. Just when the /c/ouncil had all but accepted their defeat, in the 86th minute, Konata recieved a deft throughball and, defying /c/'s reputation for /c/hoking, slotted it neatly into the net. That was the end of the game; /c/ had managed to get into the main cup on their own merits for the first time.
/c/ then faced /fa/ in the round of 16, though these games seemed of less importance than the promotion they had already achieved. Perhaps fittingly, then, /c/ never managed to lead in the game, losing 2-1 to the eventual second place team. With this game over, both the /c/ team and its management could relax and celebrate their promotion into the major leagues, a promotion they secured with only a single victory. Funny how things go, isn't it?
After finally qualifying for an elite cup in their own right, things looked good for /c/ going into Winter. A solid friendlies showing against /asp/ and /lit/; which ended in a disappointing loss and a dominant victory for the /c/itizens, gave fans of /c/ reason to be cautiously optimistic. The draw quickly drained this optimism, as they came up against the veteran teams of /x/, /v/ and the elite /int/.
Their first match looked as if /c/'s run would be over before it started; /int/ scored on their first attack and seemed relentless early, doubling their lead on the 15th minute. Luckily, the management intervened, made some arrangements and instantly pegged /int/ back on the 18th minute through Yui, desperate to show that she was not as much of an air-head as she appears. The match looked very even, and /int/ game close to doubling their lead on numerous attacks, but the /c/ute girls gave their fans reason to be hopeful on the verge of half time, tying the game in some style. The second half seemed as if it would end in a draw, both teams wasting their chances, but Yui would come big for /c/ a second time, on the 83rd minute, and so the management entered bus parking mode and looked to see out a slim victory. However, they wouldn't have to settle for a mere one goal draw, as Sayaka once again scored on the verge of the end of the half. When pressed for a comment on the magnificent comeback, /c/ management could only describe it as "sugoi".
The next match was a repeat of that from Summer 2013, where /c/ were humiliated by the undead /x/, and Simmie !FNmd1hrllU!!3BZPtLXChOs tried to supress the horrors from her nightmare, but it wasn't to be. Pyramid Head opened the scoring at the 18th minute, and /x/-tan would finish the scoring on the 35th. Needing yet another two goal comeback, /c/ threw everything they had, but it wasn't to be, as they finished with only one shot on target. Sasuga, /c/. Heading into the last day, /c/ knew that they'd need a victory vs /v/ to guarantee advancement to knockouts.
/v/, also needing a win to guarantee their place, came, and they came hard. Once again /c/ were the first to concede, through Reggie Fils-Aime, and went into the half looking defeat in the face. Enthusiastic chants of "ganbatte" and "makenaide" from around the stadium spurred Yotsuba on to equalise on the 50th minute, giving the girls a glimmer of hope, only to have it ripped from them by Gaben late on. They left Winter with their best ever performance in an elite cup, yet it all returned to nothing.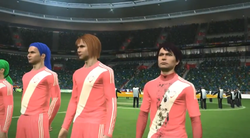 With Simmie !FNmd1hrllU!!3BZPtLXChOs retiring to focus on her Kawaii Studies, /c/ looked to the experienced manager Norml !!AzJoVBGCU3G. Things looked good for /c/, in a group with /u/, /vg/, /sci/ and /vp/, qualification looked all but secured. However, it wouldn't be the easy ride many had hoped for, and they got thrashed 3-0 by /vg/ in what would be /vg/'s first cup victory since the 8th of October, 2012. When pushed for a comment on this dreadful /c/ debut by Nana Ichikawa of Fujisaki Girls Academy's Newspaper Club, all Norml could say was "t-they are a good team, y-y-you'll see", an answer met with much derision.
Utterly humiliated, /c/ set their sights on redemption in their next match vs /sci/. This would be managed by Crispin !!qwqbM6eX9rN, as Norml had gone missing since the /vg/ game. It would later be discovered that Norml had locked himself in the student council room, crying and eating ice cream. /c/ redeemed some dignity with a very professional victory, Sayaka scoring at the 76th minute to at least give the /c/itizens something to smile about.
Up next was the Purity Bowl, /c/ vs /u/. Yui granted the lead to /c/ early on, but this would prove to be shortlived as Black Sunshine replied almost immediately, and /c/ actually fell behind late in the first half, as Teru Time would answer the question of "Wonchu Kiss Me?" with a resounding yes, if we assume "kiss" means "score against". Staring a second defeat that would all but resign /c/ to bitter failure, Yui would score a second time, early on in the second. Both teams would push on for an attack, but the match would end 2-2, the purest of all results.
The results of the other matches in the group meant that all /c/ would do was beat /vp/ to deny /vg/ a place in Summer. The match started with much controversy, as DrBorisG would need to reroll the conditions, turning what was a promising position totally against /c/, as their medals would all be in blue condition, save for the Silver Yotsuba in orange, whilst /vp/'s attack had been buffed. As a result of this, /vp/ would jump straight to a 1-0 win, leading managers and fans alike asking themselves "would suicide be so bad?" /vp/ shifted to toally epic 4-20 sliders ecks dee, prompting widespread dissatisfaction amongst the /vp/oreons, leading Gary "Motherfucking" Oak to ask the crowd to chill out and blaze it, because Gary Oak is just that epic.
The game wound on, and Yui would cement her place as /c/'s best player and, indeed, best Keion, with a 59th minute goal to put /c/ on the verge of qualification. Injury time arrived, and things looked bleak for /c/ when suddenly, a blue haired would-be-saviour arrived and stormed down the field. Konata was through on goal...and failed to convert, with the ball hitting the post. The crowd groaned, the commentators screamed, and Konata died. It would later turn out that she had been keeping her soul gem in her pocket, and on her final run it had slipped out, meaning that as she took her shot her spirit had left her entirely. /c/ would finish the cup with five points, behind the unbeaten /u/ and /vg/. /u/ went to console their imouto, but /c/ just told them to fuck off. Norml went back to the student council room, he hasn't been seen since.
>choking that hard against /mlp/ and /hm/
>throwing against /g/
WELL AT LEAST WE BEAT /trv/ RIGHT?
The 2014 Autumn Babby Cup was more of a cup of what could have been for /c/, as the team choked a two-goal lead to lose 3-2 to /mlp/ in their first match and failed to find the net against /hm/ for a 0-0 draw the second match. To add to the struggles faced by /c/ in Autumn, team management decided to throw their penultimate match against /g/ by using a shitty ripoff of the /mu/ Trogdor formation, losing 5-0 and quitting on the cup while exiting with only the (by-now-required) free win over /trv/, 2-1. Had /c/ not choked to /mlp/ or thrown the match against /g/ and ended up winning said match, they would have advanced with /g/ or /mlp/ (depending on which one of said scenarios happened), but whatever the case, the matches are written in the record books, and /c/ is still watching Elite Cups from the sidelines. The final finish for /c/ this cup was 1-1-2, good for 4 points and fourth place in Group C of the tournament behind /g/ (whose group win was caused mainly by /c/ throwing their match to them), /mlp/ (who advanced as the second placed team in the group), and /hm/, as well as an overall 30th place finish.
/c/'s fate in the group draw saw them drawn in heavily-competitive Group A, with host team and previous Babby Champions /b/, as well as the twin giants of /sp/ and /a/ and a ded /cgl/. The seemingly easier opponents were the ones that beat /c/ in the first two matches, with the most embarrassing /c/ loss being against the managerless /cgl/. From then on, /c/ was just hoping to spoil /sp/ and /a/'s attempts to reach the Summer Cup. For what it's worth, that's exactly what /c/ did with their 2-2 draw against /sp/ and 2-1 win over /a/. The latter victory was noteworthy for /a/'s fans making posts like "it's only /c/" prior to the match, starting the "it's only [team]" meme in /4ccg/. Unfortunately, their efforts were too little, too late in their 4 matches in this cup.
This cup had gotten the team off to a good start, but in classic /c/ fashion, they choked when it mattered the most. Initially, /c/ made the most of their chances in a 3-1 win over /lit/. Up next was /pol/, who took many shots against the poor little girls of /c/, but somehow never took the lead over them, and so /c/ survived with a 1-1 draw. /lgbt/ was /c/'s third opponent, and their manager was practically dead. Despite being a punching bag for the other teams in the group, /lgbt/ woke up and got /c/ to check their privilege in a 2-2 draw. With these results, it was time to do or die for /c/ at the Untrodden Valley, and they ended up doing the latter with a 1-0 loss to /vp/.
/c/ was drawn into one of the weaker groups in the cup. On paper, anyways. Consisting of /vr/, [r9k], and /adv/, many thought /c/ had a good chance of promoting for the first time in almost two years.
The first game began with a promising start. /c/ had a two goal lead versus the group favorites, /vr/, before blowing it in a span of 4 minutes at '74 and '78. Upon review, the /vr/ goal that tied the game was well offside, but it was counted. Yui appeared to take the lead back at '83, but was called offside. The game ended 2-2, and while /c/ would've liked the three points, a draw against the consensus best team in the group was not the worst thing that could've happened
/c/'s second game came against /adv/. With /vr/ losing to [r9k] prior, a /c/ win would all but secure promotion. Again, things were looking good for /c/. After a hot start, they were up 2-0 at '30. And then, /adv/ scored four times over the course of the rest of the game for a 4-2 victory
For /c/'s final match, they had to win by at least two to still have a chance at promotion against [r9k], who had already promoted and was looking to master race the group. Unlike /c/'s other matches, this one started off poorly with [r9k] jumping to a 2-0 lead. /c/ came back with a goal to make it 2-1 but [r9k] answered to make the lead 2 again. Tomoko, who had a rather poor performance this cup and particularly this game, came through at '68 when she made three attempts to shoot the ball and finally made contact with it and scored to make it 3-2. Then the game turned into a pure, unadulterated, spaghetti fest. Late in the game, a mad scramble broke out in front of [r9k]'s goal. [r9k]'s GK got caught way off his line and the box turned into a moshpit of defenders and attackers. At least three different /c/ players tried to get the ball on goal at least once but it wasn't happening. [r9k] immediately went down to score, and following that goal, /c/ GK Ika-Chan was brought in at CF at 90+. Despite being 5 minutes over the given stoppage time, the refs did not blow the whistle and [r9k] came down to force a corner where they scored one last spaghetti goal at 90+8 to end the game at 5-2. Initially, this sent /c/ to the Autumn Babby Qualifiers, but the death of a number of teams saved /c/ from having to play there.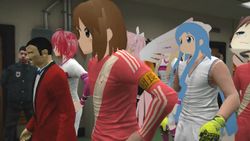 Autumn 2016 saw /c/ being drawn into the absolute worst group that cup. Consisting of /w/, /trv/, and /k/, promotion was now or never for /c/. And early on it seemed like it was going to be never. After losing to /w/ 3-1 in their first match, they were down 2-0 early vs /k/. But the girls never gave up. They overcame two deficits late to force the 3-3 draw and keep their hopes alive. Their final match was vs /trv/. All they had to do was win and they were all but in, advancing over /k/ who would have to beat /w/. And win they did. /c/ cruised to a 3-2 victory that was made interesting following a kickoff abuse goal from /trv/. But /c/ held on, /k/ lost to /w/, and the cuties were on to the knockouts for the first time in 3 years.
/c/ drew /sp/ in the Round of 16. Very few thought /c/ had a prayer against /sp/, who were coming of 9-points in a relatively strong group. /sp/ scored 7 minutes into the match but that would be not only their last goal, but their last shot. /c/ took over the game posting 9 shots but only managing 2 goals. But that's all they needed. /c/ had killed /sp/ yet again and were on to the Quarter Finals for the first time ever.
This cup proved to be one of many firsts, and that didn't stop here. /u/ vs /c/ The Purity Bowl was set for the first time in over 2 years and only the second time in an official cup match. Again /c/ were in way over their heads. On paper anyways. But they didn't let that discourage them. The teams were deadlocked until '20 when some spaghetti gave Yui an open net. That lead wouldn't hold for long as /u/ knotted it up on kekoff abuse. From there it was a back and forth battle for the ages, no team being able to find the back of the net. That was until the 80th minute. Keeping true to the scrappy theme of the game, /u/ player Befriending ran the ball into three /c/ players, tripped, found the ball again, hit the post with her shot, and followed up the rebound to make it 2-1 late. /c/ put nearly endless pressure on for the rest of the game but were unable to net an equalizer. The match ended with /c/ securing their best finish in a Babby ever, and a positive outlook on Winter.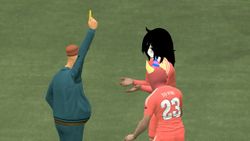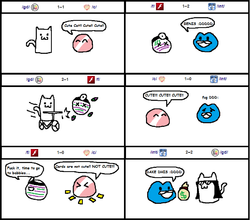 Very few people gave /c/ so much as a prayer for the girls to emerge from their first Elite group in 3 years. Containing the consistent sides of /gd/ and /f/ as well as fan favorite /int/, /c/ was largely overshadowed by their competition. But they would go at it with all they had.
Their opening match was against /gd/. With time wasting away and /c/ down 1-0, it was looking bleak. That was until /gd/ player Fuck You Pay Me was handed a straight red and sent off the pitch. It was now or never for /c/. For the final 30 minutes they laid siege to /gd/ but just couldn't find the back of the net. It looked to be over until Konata found Yui who was able to force the draw in '90+4. /c/ had caught a lucky break but needed to improve if they wanted to stay in the Elites. Next was /int/, fresh off a win vs /f/. Minase Iori knocked a header in at the 4th minute and the girls never looked back. While they didn't score any more goals, they controlled the pace of the game and cruised to a 1-0 victory, holding /int/ to 0 shots on target. Going into their final match vs /f/ they sat tied for the group lead, and in a very comfortable spot for promotion. All they needed was a win or draw to confirm advancement vs the winless and already eliminated /f/. However, /c/ suffered from lack of offense once again and lost 1-0. But it wasn't over yet. There were still multiple scenarios in which they could advance that all depended on the game after them. /gd/ v /int/. Most realistically, /gd/ winning. All /gd/ had to do was win and /c/ would go through. And late in the game it was looking good when /gd/ built a 2-0 lead. With promotion virtually secured, /gd/ decide to goof around with their tactics. They ended up goofing a little too much and /int/ effortlessly tacked on two goals late to tie it meaning /gd/ and /int/ were the ones to advance. In a most spectacular fashion, they were sent back to the Babbies.
After their run in the Winter Cup, /c/ were feeling good and were ready to work their way back up to the elites. /c/ were drawn with /an/ who had almost wooden spooned Winter, /wg/ who did pretty well in Autumn, and a recently promoting from the fetus /y/ for a doable looking Group F.
/c/'s first match would be against /wg/, a team they'd never played in an official match before. Things wouldn't look good as /c/ would go down pretty early with a goal from Cunt Destroyer, while /c/ struggled to get passed /wg/'s midfield to put on enough pressure to score. Not long after the half /c/ would get The Dick as Descartes would score making the game 0-2, which it would stay as /c/'s offense couldn't offend well, and when it did it was never on target. After this match /c/ would basically be on autopilot as Gerb !!B0JdLFwGiRH would not be around to manage for the rest of the Cup. /c/'s next match would be against /an/, this would be /an/ and /c/'s first time against one another since Dragongate in Autumn 2012. /an/ was coming off almost getting an Elite spoon.
That wouldn't mean much for this match as /c/ would get a 19 minute goal from KanColle, but would only hold the lead for 12 minutes as >outdoor cat would score 2 within 5 minutes. /c/ would continue to put up a fight but with a low shot count as well as the defense continuously fighting would not be enough as /c/ would lose 1-2, confirming their failure to advance. With that loss /c/ would be on 0 points, bottoming the group and looking at a trip to the fetus. /c/'s last match was against /y/, and they needed a win to not get sent to the fetus. /c/ started off very nicely with early goals from Tomoko and Yui putting /c/ up 0-2 before 20 minutes. The match would continue like this, as well as /c/ holding off /y/'s attacks and doing great with their own. /c/ would tack on another one off a free kick to make it 0-3. During the last 10 minutes of the game though /y/ would score twice, one goal coming from Yaranaika at 90+4, but that wouldn't be enough as /c/ would win and avoid a trip to the fetus.
The Culling
After The 2017 Spring Babby cup had ended current commissioner Lear !!vH2UmJDmLxj had made an announcement known infamously as The Cull where teams shown to have low interest were put to sleep, disallowed from entering whatever cup they would have next, and the managers of said teams removed. /c/ was one of the teams to be culled and thus was not allowed to compete with a manager until Spring 18, but still could compete as an autopilot in Autumn 17 if they got the interest. /c/'s culling specifically was due to the manager at the time Gerb !!B0JdLFwGiRH being at an anime convention for most of the Spring 17 Babby Cup and having not made any Gameday threads like he was told to do, not knowing it was to show /c/ had interest; thinking he'd only get a suspension at worst for not doing so.
Not long after this announcement was there a revision made to how The Cull worked, due to heavy and severe community backlash, mainly of certain teams' culling being too harsh and/or unfair. Thus a couple of the culled teams were allowed to have a manager for their next cup if they could get one, instead of having to wait 1 cup, but those teams must first show interest. Despite Gerb being gone /c/ still has hope as there are still others working to bring /c/ back to life and hopefully to glory in Autumn 17.
Under new management and with a new revamped squad, /c/ took to the 2017 Autumn Cup with high hopes for glory. Grouped with /gd/, /x/, and /po/, things seemed a bit uncertain at first but as always, the team would do their best! First up was /gd/, a chance at revenge after the unfortunate events of the 2017 Winter Cup (the first elite /c/ saw in three years) – Tomoko would fight hard to put /c/ up at the end of the first half but the match would come to an end at a 1-1 draw. Next up would be quite literally the scariest match of the cup against a good looking /x/ squad that topped their group in the Autumn Qualifiers. /c/ would start the match by outspooking /x/ with a kowai anthem, a quick goal, and a reminder not to lewd, but eventually /x/ would regain their composure off of a corner goal to end the match as yet another 1-1 draw. With one game left and only two points to their name /c/ were up against a battered /po/ who were coming off of two losses, one of which being a 5-1 defeat to /gd/. A win here would secure /c/ for another chance at a Winter Cup run, but fate wasn't on their side as /po/ cut up /c/ and their elite cup dreams in a 2-1 loss. Finishing Autumn at the bottom of their group, /c/ returned to the drawing board as determined as ever to make sure that Spring would be an event to remember.
With Autumn behind them and Winter coming to an end, the /c/uties turned their attention to the warmth of Spring along with their opponents /a/, /t/, /s4s/, and /jp/. /c/'s cup run would start against their onee-chan /a/ and right off the bat things did not look to be going their way; the first half came to an end and /a/ were up 3-1, but /c/ rallied together and managed not to /c/hoke away their first game of the cup with a 4-3 comeback. Up next /c/ would be up against the freshly revived pira/t/es and if their first game was anything to go off of, things were looking good. But despite the high morale, /t/ would end up reminding /c/ of their Autumn run by ending the game at a 1-1 draw with both teams taking home a point. Although /c/ seemed to have had a good start to the Spring Megababby with a win and a draw, things would quickly descend with a 3-1 loss to /s4s/ and a 5-2 rout to /jp/ - thankfully /c/ would avoid the bottom of the group due to their onee-chan, who attempted to cheer up their imouto by losing to /t/ in order to seal up the group with /c/ in 4th. With their Spring run over, once again /c/'s high hopes were crushed and their dream of an elite run would once more be pushed to Autumn.
Autumn 2018 started a bit differently for /c/ than previous cups. It seemed that the cuties were once again set to just barely avoid playing in the Autumn Qualifiers, but once the format was announced and certain teams were found to be ded, /c/ would end up being selected at and placed the top of Pot 1. Up against /out/, /v/, and a newly revived /adv/, the team was determined to prove their worth and fight their way back into the main cup. Which is exactly what they did! After beating /out/ and holding off /v/ to a 1-0 score line, /c/ sat atop their group with 6 points which was just enough to secure them as the first team to qualify for the upcoming Autumn Babby! There was also a game against /adv/ but that's not important!

Come the cup proper, the girls saw themselves in Group C along with /fa/, /wg/, and /co/. The cup run would open with /c/ stumbling against an autopilot /fa/, quickly going up by 2 goals only to allow /fa/ 2 of their own. The second match against /wg/ seemed like it was also set to end a draw but a late header by Do It For Her managed to keep /c/'s hopes at advancing alive. On 4 points and only needing a draw to advance into Winter, /c/'s destiny was once more in their own hands – but of course why would anything nice happen. The final game would consist of /co/ bagging two 1st half goals and holding their lead for the remainder of the game, resulting in /c/ taking 3rd in the group just below /wg/. The Autumn Cup would close out with /c/ in 19th place and the team once more looking to Spring – another season, another year, another heartbreak.
With 2018 ending in yet another defeat and the team being pushed once more back to the drawing board, /c/ arrived at their 7th Spring Babby Cup with hopes at securing advancement. Morale would take a slight hit even before their first match as the girls were placed in Group B along with long time cup favorites /tg/ and /vr/, as well as with fellow Babby native, /y/. With /tg/ up as their first opponent, things weren't looking too good; between constant attacks on /c/'s net and players being unable to find a path forward, the game seemed pretty clear cut. In the end, despite an overall strong /tg/ showing up to the match, a combination between Ika-chan in net and a surprise breakthrough for Do It For Her would prove that one shot on goal would be enough to bag /c/ a 1-0 victory. With a win under their belt, the girls readied themselves for their match against /y/, who had just come off of a very convincing win against /vr/. With the match prior to this ending in a draw, this was a win and in situation for both teams and neither side would settle for anything less than a victory to secure themselves as the first team to qualify for Summer – so naturally the match ended in a draw and the group remained completely open for the final day. Being unable to clinch promotion in the 2nd day meant that /c/ had to go up against /vr/ to secure a spot Summer; this also meant that /c/ has to preform well on their last group stage match, which historically always brought nothing less than heartbreak and choking. So of course /c/ didn't win their final match but would instead hold /vr/ off to a 1-1 draw. But in the end it didn't matter one bit as that was all that was needed, not only to secure the /c/uties in their first Summer cup in 6 years, but it would send /c/ to the top of their group for the first time in the team's history.

After 2 years away from the elites, /c/ was ready to say good night to failure and were looking to prove to the cup that they earned their spot among the elites; and that was exactly what the girls would go on to do. The team would start their knockout run with a PK victory over /r9k/ to send them to the Quarter-finals against a very strong /co/ who were just coming off of a 3-0 win to fellow Group B team, /y/. Once more /c/ were pitted against a stronger opponent and not many thought they had a chance, but Yui would capitalize on a well placed free-kick and lead the match into AET where Do It For Her would steal the ball from /co/'s defense to send /c/ to their first ever Semi-final. The only thing at this point that stood between /c/ and their first ever cup final was an autopilot /toy/, who much like /co/, just came off a 3-0 victory in their previous match. This would mean little to nothing to /c/ as again, they would go against all odds to to make history and find themselves in their first ever cup final against /i/. The pressure of being in their first ever cup final would prove to be too much stress for the team to handle as they would fall to the only other team in the cup who were a bigger underdog than they were. With the final ending with a 1-3 loss to /i/, the /c/inderella story would be left unfinished and saved for another season. The cup wouldn't end on the worst note though - /c/ had topped their group for the first time ever, won their first ever official PK shootout, made it to their first ever final, and Ika-chan even managed to get her 2nd golden glove thanks to her amazing effort in net.

Despite little to no one having faith in /c/ at the beginning of the cup, despite all of the challenges that stood in the team's way, despite having a long history of failure and heartbreak, the girls proved to everyone that they had the ambition, determination, and willpower to fight their way to a final; in the end it may have not been enough to secure first place, but the girls showed that no matter how many times they fail, they will always get back up and rest@rt.
Rivalries

The Purity Derby
/u/ and /c/ both love cute girls. However, on /u/ the cute girls also love each other and engage in lewd acts together, something that is frowned upon on /c/. While /u/ would call themselves the purest board on 4chan, this is clearly false, and the title actually belongs to /c/. This is bound to cause disagreements and threads can and will become arguments about whether an image of two girls kissing should be allowed on the board, since there are no definitive rulings on the matter. /u/ is also disgusted by the fact that heterosexual couples are allowed on /c/, since those relationships are deemed impure by the /u/ browsers. These things have lead to a rivalry between the nee-san and imouto that is unlikely to ever be resolved. The teams have traditionally been very evenly matched in the rankings and have faced thrice, two times in friendlies and once in a proper cup. The first time was a 3-0 blowout by /u/ in the Autumn 2012 friendlies, and the second a 2-2 draw in the Winter 2013 friendlies. Another 2-2 draw followed in the 2014 Spring Babby Cup; since then, /u/ have stayed in the Elite cups while /c/ continue to face the misery of endless Babbies. This, combined with the recent abolishment of official friendlies, makes an official match between the two teams seem very far away from happening. That was until /c/ made a solid run in Autumn 2016 however. After advancing past the RO16 /c/ found themselves facing off against /u/ in the second round. It was a hard fought, scrappy game that was neck and neck all the way to the end. /u/ came away with a 2-1 victory
0-2-2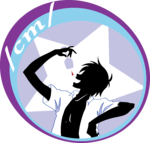 The Kawaii Bowl
/cm/ and /c/ are two boards who both love cute anime characters. Cute males are even allowed on /c/, provided they're together with a girl. This obviously leads to a friendly rivalry between the teams, who may seem like very similar boards. /c/ fans might be a bit turned off by the fact that /cm/ is a lot more homosexual than their female counterpart due to same-sex couples not being disallowed. There are also isolated incidents of /cm/ content being posted on /c/, but these things aren't nearly enough to prevent /c/ from being fond of their brother. /c/ and /cm/ faced for the first time in the autumn babby cup group stage. /cm/ won in a 3-2 thriller, a win that was later declared illegitimate due to rigging. The teams also faced in the Weeabowl where /c/ lost in extra time after tying the game 1-1 in fulltime. The two teams faced again in the 2013 Autumn Friendlies in a very even game which ended 2-2 with /c/ taking the lead twice only to concede shortly after.
0-1-0
Results
As a consequence of the Dragongate controversy, a number of results have been vacated. Those matches, marked in Grey, have been voided, regardless of the original result.
Official Matches
2012
2013
Date
Opponent
Competition
Result
Scorers
April 7, 2013
 /3/
2013 4chan Spring Babby Cup Friendlies
3-0 L
April 13, 2013
 /r9k/
2013 4chan Spring Babby Cup Friendlies
4-1 W
Yotsuba  18', 56', 80'
Buffalo Bell  83'
May 4, 2013
 /b/
2013 4chan Spring Babby Cup
1-4 W
Moetron  3'
Konata  20', 90+2'
Yotsuba  45'
May 10, 2013
 /fa/
2013 4chan Spring Babby Cup
2-1 L
Yotsuba  86'
May 12, 2013
 /co/
2013 4chan Spring Babby Cup
1-3 L
Miku  74'
July 12, 2013
 /fit/
2013 4chan Summer Cup Friendlies
2-1 W
Miku  7'
Yotsuba  35'
July 19, 2013
 /f/
2013 4chan Summer Cup Friendlies
2-1 L
Yotsuba  58'
August 16, 2013
 /x/
2013 4chan Summer Cup
4-1 L
Konata  34'
August 18, 2013
 /mu/
2013 4chan Summer Cup
2-0 L
August 24, 2013
 /toy/
2013 4chan Summer Cup
0-0 D
September 21, 2013
 /e/
2013 4chan Autumn Babby Cup Friendlies
2-4 W
Yui  34'
Konata  74', 81', 84'
September 28, 2013
 /cm/
2013 4chan Autumn Babby Cup Friendlies
2-2 D
Yui  19'
Konata  70'
November 15, 2013
 /po/
2013 4chan Autumn Babby Cup
4-1 W
Konata  42', 86'
Miku  48'
Yotsuba  71'
November 17, 2013
 /adv/
2013 4chan Autumn Babby Cup
1-0 L
November 23, 2013
 /asp/
2013 4chan Autumn Babby Cup
1-1 D
Konata  86'
November 30, 2013
 /fa/
2013 4chan Autumn Babby Cup
2-1 L
Konata  53'
2014
Date
Opponent
Competition
Result
Scorers
January 12, 2014
 /asp/
2014 4chan Winter Cup Friendlies
1-0 L
January 25, 2014
 /lit/
2014 4chan Winter Cup Friendlies
1-0 W
Yotsuba  20'
February 15, 2014
 /int/
2014 4chan Winter Cup
4-2 W
Yui Hirasawa  18', 83'
Sayaka Miki  44', 89'
February 21, 2014
 /x/
2014 4chan Winter Cup
0-2 L
February 23, 2014
 /v/
2014 4chan Winter Cup
1-2 L
Yotsuba  50'
April 5, 2014
 /vg/
2014 4chan Spring Babby Cup
0-3 L
April 11, 2014
 /sci/
2014 4chan Spring Babby Cup
1-0 W
Sayaka Miki  76'
April 13, 2014
 /u/
2014 4chan Spring Babby Cup
2-2 D
Yui  25', 53'
April 20, 2014
 /vp/
2014 4chan Spring Babby Cup
1-1 D
Yui  59'
May 31, 2014
 /m/
2014 4chan Summer Cup Friendlies
1-3 L
Rin  57'
June 7, 2014
 /ck/
2014 4chan Summer Cup Friendlies
0-2 L
October 17, 2014
 /mlp/
2014 4chan Autumn Babby Cup
3-2 L
Sayaka  13'
Yui  27'
October 19, 2014
 /hm/
2014 4chan Autumn Babby Cup
0-0 D
October 31, 2014
 /g/
2014 4chan Autumn Babby Cup
0-5 L
November 1, 2014
 /trv/
2014 4chan Autumn Babby Cup
2-1 W
Yui  61', 76'
2015
Date
Opponent
Competition
Result
Scorers
April 24, 2015
 /b/
2015 4chan Spring Babby Cup
1-4 L
Sayaka  84'
April 26, 2015
 /cgl/
2015 4chan Spring Babby Cup
2-3 L
Yui  8'
Sayaka  78'
May 3, 2015
 /sp/
2015 4chan Spring Babby Cup
2-2 D
Yotsuba  6'
Miku  35'
May 9, 2015
 /a/
2015 4chan Spring Babby Cup
2-1 W
Yui  34', 45+'
October 24, 2015
 /lit/
2015 4chan Autumn Babby Cup
3-1 W
Konata  12', 33'
Happy Birthday!  81'
October 30, 2015
 /pol/
2015 4chan Autumn Babby Cup
1-1 D
Tomoko  31'
November 6, 2015
 /lgbt/
2015 4chan Autumn Babby Cup
2-2 D
Tomoko  32'
Konata  45+'
November 8, 2015
 /vp/
2015 4chan Autumn Babby Cup
0-1 L
2016
2017
Date
Opponent
Competition
Result
Scorers
February 10, 2017
 /gd/
2017 4chan Winter Cup
1-1 D
Yui  90+4'
February 12, 2017
 /int/
2017 4chan Winter Cup
1-0 W
Minase Iori  4'
February 18, 2017
 /f/
2017 4chan Winter Cup
0-1 L
May 13, 2017
 /wg/
2017 4chan Spring Babby Cup
0-2 L
May 19, 2017
 /an/
2017 4chan Spring Babby Cup
1-2 L
Kancolle  19'
May 21, 2017
 /y/
2017 4chan Spring Babby Cup
2-3 W
Tomoko  13'
Yui  16', 61'
October 27, 2017
 /gd/
2017 4chan Autumn Babby Cup
1-1 D
Tomoko Trip  42'
October 29, 2017
 /x/
2017 4chan Autumn Babby Cup
1-1 D
No Lewding  10'
November 4, 2017
 /po/
2017 4chan Autumn Babby Cup
2-1 L
Yui  51'
2018
Date
Opponent
Competition
Result
Scorers
May 4, 2018
 /a/
2018 4chan Spring Babby Cup
3-4 W
Do It For Her  19', 69'
Yui Hirasawa  47', 81'
May 6, 2018
 /t/
2018 4chan Spring Babby Cup
1-1 D
Every Girl Best Girl  64'
May 13, 2018
 /s4s/
2018 4chan Spring Babby Cup
3-1 L
Yui Hirasawa  23'
May 19, 2018
 /jp/
2018 4chan Spring Babby Cup
2-5 L
Do It For Her  27'
Yui Hirasawa  88'
October 12, 2018
 /out/
2018 4chan Autumn Babby Cup Qualifiers
2-1 W
Happy Birthday!  57'
Yui Hirasawa  61'
October 13, 2018
 /v/
2018 4chan Autumn Babby Cup Qualifiers
1-0 W
No Lewding  10'
October 14, 2018
 /adv/
2018 4chan Autumn Babby Cup Qualifiers
3-1 L
Every Girl Best Girl  90+3'
October 26, 2018
 /fa/
2018 4chan Autumn Babby Cup
2-2 D
Every Girl Best Girl  22'
Do It For Her  28'
October 28, 2018
 /wg/
2018 4chan Autumn Babby Cup
1-2 W
No Lewding  14'
Do It For Her  86'
November 3, 2018
 /co/
2018 4chan Autumn Babby Cup
0-2 L
2019
Unofficial Matches
Date
Opponent
Competition
Result
Scorers
December 22, 2012
 /cm/
Weeabowl
1-1 (1-4 a.e.t.) L
Miku  80'
May 24, 2013
 /s4s/
DrBorisG's Friendlies
0-1 L
May 27, 2013
 /sp/
DrBorisG's Friendlies
1-0 W
Buffalo Bell  8'
June 9, 2013
 /gd/
DrBorisG's Friendlies
0-2 W
Yotsuba  47', 79'
June 15, 2013
 /vr/
Tottoric Up
2-1 W
Yotsuba  38'
Konata  65'
June 15, 2013
 /tg/
Tottoric Up
3-2 L
Yotsuba  21'
Moetron  80'
June 15, 2013
 /trv/
Tottoric Up
0-3 L
June 22, 2013
 /soc/
DrBorisG's Friendlies
3-1 L
Yui  8'
November 2, 2013
 /sci/
Halloween Bowl 2013
3-2 W
Shinobu  5'
Yuno  11'
Sayaka  52'
November 3, 2013
 /fa/
Halloween Bowl 2013
2-1 W
Miku  16', 120+'
November 3, 2013
 /asp/
Halloween Bowl 2013
6-1 W
Yuno  37', 49', 57', 60', 72', 75'
November 3, 2013
 /m/
Halloween Bowl 2013
4-1 W
Yuno  9', 34', 45+', 47'
November 3, 2013
 /x/
Halloween Bowl 2013
2-1 L
Yuno  49'
December 15, 2013
 /a/
Weeabowl II
2-0 W
Yotsuba  21'
Yui  54'
December 15, 2013
 /jp/
Weeabowl II
2-1 L
Yuno  49'
December 19, 2014
 /jp/
Kurisumasu Cup
3-1 L
Sayaka  87'
January 23, 2015
 /ck/
2015 4chan Winter Cup Friendlies
4-4 D
Yui  3', 8'
Sayaka  16'
Yotsuba  33'
July 11, 2015
 /lit/
2015 4chan Summer Cup Friendlies
0-1 L
July 12, 2015
 /s4s/
2015 4chan Summer Cup Friendlies
4-2 W
Rei  5'
Miku  11'
Sayaka  35'
Yui  66'
August 22, 2015
 /e/
Lark's Madness
5-2 L
Miku  12'
Yui  15'
December 25, 2015
 /e/
Kurisumasu Cup II
2-0 L
January 22, 2016
 /co/
2016 4chan Winter Cup Unfriendlies
2-4 L
Konata  29'
Yui  48'
January 31, 2016
 /d/
2016 4chan Winter Cup Unfriendlies
4-2 W
Yui  3', 45+4', 71'
Tomoko  17'
June 14, 2016
 /ddg/
Rigging After Dark
4-3 L
Yui  18', 77'
Minase Iori  45+3'
June 15, 2016
 /gd/
Rigging After Dark
4-3 L
Yui  16', 56', 72'
September 29, 2017
 /trv/
PESathon
3-4 W
Yui  24', 63', 68'
Tomoko  81'
September 29, 2017
 /p/
PESathon
1-1 (5-3) L
Yui  15'
December 12, 2017
 /asp/
Omegacup 2017
1-4 W
Yui  19', 90+3'
No Lewding  28'
Tomoko Trip  47'
December 14, 2017
 /tf2g/
Omegacup 2017
3-3 (2-4) L
Tomoko Trip  24', 65', 75'
December 26, 2017
 /cm/
Kurisumasu Cup III
0-3 L
January 13, 2018
 /f/
2018 4chan Winter Cup friendlies
8-7 W
No Lewding  16', 63'
Do It For Her  18', 48', 52'
从x˵╹ ◡ ╹˶x从  36'
Yui  60', 90+3'

January 14, 2018
 /a/
2018 4chan Winter Cup friendlies
2-3 L
Every Girl Best Girl  68'
Tomoko Trip  76'
September 30, 2018
 /toy/
2018 4chan Autumn Babby Cup Friendlies
1-4 L
Yotsuba  66'

October 6, 2018
 /m/
2018 4chan Autumn Babby Cup Friendlies
1-3 W
Sayaka  6', 67'
Yuno  75'

October 7, 2018
 /asp/
2018 4chan Autumn Babby Cup Friendlies
3-3 (4-2) W
Miku  2', 70'
Konata  18' (pen.)

July 11, 2019
 /gd/
2019 4CC Champions League
3-2 W
Tomoko Trip  50'
Do it for her  78'
No Lewding  81'

July 12, 2019
 /mogra/
2019 4CC Champions League
2-1 W
No Lewding  3'
Do it for Her  51'

July 13, 2019
 /pol/
2019 4CC Champions League
1-2 W
Do It For Her  79', 86'

July 14, 2019
 /3/
2019 4CC Champions League
4-0 W
Yui  14'
Do It For Her  20'
No Lewding  30', 76'

July 14, 2019
 /vg/
2019 4CC Champions League
5-4 W
Yui  4', 43', 110'
No Lewding  16'
Do It For Her  79'

July 14, 2019
 /i/
2019 4CC Champions League
1-3 W
Yui 55'
Do It For Her 87'
No Lewding  89'

Cup Record
Unofficial Invitationals
Awards & Honors
Trivia
Goalkeeper Ika-Chan became the first player ever to win the Golden Glove award without advancing to the knockout stage in Autumn 2015. She also broke the most saves in a group stage record in the same cup with 22.
/c/ broke the record for most cards for a team in a game with 5 yellows in their Winter 2017 group stage match vs /f/. They recorded 7 cards in 3 games that tournament.
Exhibition Teams
/Kowai/ is a halloween themed exhibition team made for the inaugural Halloween Bowl.
Teams
Members

All-Star
Special