The logo poll for the 2020 Spring Babby Cup is now open. Logos are in this gallery. You can vote here. Poll closes April 8, 23:59 UTC.
Difference between revisions of "/jp/ History"
Jump to navigation
Jump to search
Line 146:
Line 146:
 
 
 

==[[2019 4chan Autumn Babby Cup]]==

 

==[[2019 4chan Autumn Babby Cup]]==

−

/jp/ has now been in a yo-yo stretch, and once again went autopilot for this cup. The righat drew them in group F, and they would face once again /a/, /g/, and a old face in /fa/. In yet another [a/jp] derby, it was a back and forth affair, with leads being blown and some spectacular goals being scored. /a/, destined to finally break their losing streak against their little brother, took the lead off a Yamada Tae goal from spaghetti with Captain Medio. Once again, /jp/ fought back late, and Marisa sunk in a 90+ header to grab a point in a 3-3 game. However, /jp/ kept on surging after their 90+ magic over /a/ with a 5-2 blowout on /g/, including an own goal from /g/'s SICP. This tied the record for most goals scored in a game from /jp/ with five. Thanks to a /g/ win prior, /jp/ was confirmed in, and as a result blew /fa/ the fuck out playing memes, setting the record for the biggest /jp/ win at 6-0.  

+

/jp/ has now been in a yo-yo stretch, and once again went autopilot for this cup. The righat drew them in group F, and they would face once again a, g, and a old face in fa. In yet another [a/jp] derby, it was a back and forth affair, with leads being blown and some spectacular goals being scored. /a/, destined to finally break their losing streak against their little brother, took the lead off a Yamada Tae goal from spaghetti with Captain Medio. Once again, /jp/ fought back late, and Marisa sunk in a 90+ header to grab a point in a 3-3 game. However, /jp/ kept on surging after their 90+ magic over /a/ with a 5-2 blowout on /g/, including an own goal from /g/'s SICP. This tied the record for most goals scored in a game from /jp/ with five. Thanks to a /g/ win prior, /jp/ was confirmed in, and as a result blew /fa/ the fuck out playing memes, setting the record for the biggest /jp/ win at 6-0.

 

[[Category:Team history]]

 

[[Category:Team history]]
---
Revision as of 22:29, 9 November 2019

 /jp/ History
Team Creation and Inaugural Cup
On January 2nd, 2012, /jp/ made a thread on the 4chan cup. The interest was there and a roster was made, playing that same exact day against

 /a/. They won 1-0, and quickly saw some early success. However, the offical 2012 4chan Winter Cup began, and /jp/ was pitted into a seeding round with the other Second Founding teams in

 /co/,

 /o/ and

 /tg/. /jp/ would have to play against /tg/ first, who would quickly become a rival for the team. The result was not pretty, as /jp/ found themselves obliterated against creed and /tg/'s offense in a 5-1 defeat. There would be some solace against /o/, where /jp/ did win 3-1. In the real cup, /jp/ was pitted against

 /sp/, who easily handled the young team 4-2, sending them to the losers bracket. Again, /jp/ would find a win against

 /fa/ 1-0, but faced /tg/ yet again and lost 3-1. With a 11th placed finish, a rival, and some experience, the new team was looking bright.
As the cup kicked off, /jp/ was pitted in a group with original sixteen

 /ck/ and

 /tv/, and fellow Seconding Founding team in

 /co/. Right away /jp/ leaped out of the gates with a 3-3 draw to /ck/ and a 2-0 victory over /tv/. However, the team did find themselves with something different on the last day: a manager:Doogie, who only wanted to manage out of apathy for the team. His post on /jp/ was also claimed to be his first and last post. The result was an utter embarrassment for /jp/, in where Doogie had made some very questionable moves, like trying to sub te goalkeeper during the match, starting the supersubs, and trying to sub the captain for someone not even on the bench. Despite all this, /jp/ made it through the group even when they lost to /co/ 2-0, which was thanks to /tv/ defeating /ck/ 4-1. /jp/ would head onto the preliminaries to play

 /tg/, in which they lost.....again......by the same score in their last meeting. The end was bittersweet, but /jp/ was mediocre regardless.
Suppatenko joined /jp/ and quickly became notable for his thick German accent. At this time, /jp/ played two friendlies and lost both of them to

 /tv/ and

 /3/. These results did not look good for them, for winter was coming soon.
/jp/ headed into this cup in a group consisting of

 /co/, rival

 /tg/, and a sockpuppet

 /vp/. The group started simple for /jp/ against /tg/, which hasn't been kind to them at all. The two were tied 1-1 until >germanbro had some issues. The game was restarted and /jp/ lost 3-0 to /tg/ yet again. With zero points, it was win or go home for /jp/, and they played valiantly against the puppet /vp/, beating them 4-1 despite a blemish by hoopdog with an own goal in stoppage time. Their last team to play was /co/, and it was win and you're in. The game was at a deadlock for both until Get Out Of /jp/ scored late to secure the win for them. In the knockouts however, they had to face the juggernaut in /toy/. Here /jp/ got soundly defeated 4-0, all goals from

 /toy/ before the second half even began. It became evident here that /jp/ was going to run out of luck soon, and it came sooner than expected.
In this cup, it was where /jp/ began to deteriorate. Pitted against champions

 /sp/, the

 /g/entoomen and an

 /m/ squad only brought out due to the effects of dragongate. Up first was /sp/, and it was where PES13 was able to show how player emotions can easily change the game. It was a back and forth affair, where neither team was safe with a lead. /jp/ did hold a 3-2 lead up until the 84th minute, where Lelbron scored his second goal for /sp/ and made the game 3-3. This proved the difference between being relegated and qualifying for the next elite cup. Next would be /g/, which /jp/ beat 2-1 thanks to a penalty kick awarded in the last minute. On the last day, /jp/ was on 4 points, but still could be relegated. /m/ was already through with 6 points. It was here that doogie claimed that if /m/ 9 pointed, he would retire. This would prove to be fatal, as /m/ quickly took apart /jp/ and went up 4-0. There was an attempt at salvaging the game but it was to no avail. Now fate rested on a pointless /g/ against /sp/, which did nothing as /sp/ won 2-0 and passed /jp/ simply by one goal. Afterwards, Doogie decided to step down, and quickly became the Zugführer of /jp/. Even with amazing chants and two good games, the blemish against /m/ was too much in a 9-4-4-0 group.
After being relegated, /jp/ would find new teams to face in here, like the reborn

 /y/, upstart

 /lgbt/, and former cup winners

 /k/. The group began against /y/, and /jp/ went up 1-0 thanks to Autism. However, the /y/ offense sneaked in with Ramen Yaoi scoring 28 minutes later. Then /y/ went up 2-1 and /jp/ was caught offguard. Pointless after one game, /jp/ needed to win against a seemingly unstoppable /lgbt/. That would not be as the legbutts won 1-0 and mathematically eliminated /jp/ from participating in the 2014 4chan Winter Cup. With nothing to lose, /jp/ beat /k/ 2-0 to not stay pointless and moved onto Spring. It was here that Doogie officially stepped down from /jp/, but also revealed he was the former /cgl/ manager Coleslaw. Afterwards, GTN mack joined the management in preparation for the next cup
This was when tenko showed anger towards

 /m/, who got themselves relegated after just two games, losing to

 /asp/ and

 /mlp/ Even without /jp/ in a cup, there was anger to be had from last summer. The video itself became infamous in the cup community. There were also two friendlies played: A 3-0 win against

 /hr/ and a 1-0 loss to

 /vr/.
For the first time, the babby cup would be changing it's format. Instead of 32 teams and a qualifier, 40 teams would play against each other in groups of 5. This meant the road back to the elite was much harder. /jp/ would play reviled

 /m/, a

 /s/ team just a draw away from advancing to last cups knockouts, and provisional's

 /e/ and

 /wsg/ in group A. In a twist of irony, /jp/ played /m/ first and smoked them to the tune of a 4-0 win, which still is /jp/'s biggest to this day. However, the group showed no mercy as /s/ beat /jp/ 2-0. In a do or die game against /wsg/, they handled them with a 1-0 victory thanks to a marisa goal. Their last obstacle before returning to the elites however, was /e/, and it was their death blow. Despite being up 2-1 after the first half, /e/ turned on the jets and scored three goals that ultimately sent /jp/ to stay in yet another babby thanks to a combination of results. This cup was also the start of The /jp/ Day One Curse.
Some friendlies were played and /jp/ had one against

 /3/. It was a 2-2 draw and nothing notable happened besides flanfly scoring.
This was the cup that /jp/ had to at least get out of the babbies. The group they were placed in was with the hosts

 /pol/, now yo yo

 /tg/, a struggling

 /vr/, and newbie

 /biz/. It looked like a tough group for /jp/ on paper, but during the games they were all the opposite.
Against /pol/, /jp/ played out a 0-0 draw to kickoff autumn.
Then they did the same against /tg/ for another 90 minutes.
Then it happened again with /biz/.
On their final game against /vr/, and the group 7-3-3-2-1, /jp/ had to win a game, regardless of the score. Right away autism scored to make it 1-0 at the 1:40 mark. Then Kacho Arino shot a ball that graced the air and keeper Slut Sanae didn't notice to equalize it. Then the two stars of both teams exchanged goals to make it 2-2, and it seemed like /jp/'s fate was clear, with both possibly staying in the babbies. Then Marisa caught hold of the ball late and shot a masterspark to seal the deal and give /jp/ the lead they needed so desperately.

/jp/ won 3-2, but the only thing holding them back was /biz/, who could've denied them if they won against /tg/ by 2 goals. This clearly was not the case and /jp/ made it back. They would play

 /n/ in the round of 16 and crash out thanks to having no offense at all and I Like Trains finding the net late in the first half of extra time. It still was an advancement to winter and something the board yearned for
Back in the elites, /jp/ had some challenge in their group, which held titans in

 /h/ and

 /toy/ and former champions

 /wg/. Right away /jp/ was thrown back into the elites with /toy/, who shut them out 2-0 on an eyesore of a pitch. Next up was /wg/, where absolutely nothing happened and both teams got a point. Last was /h/ in a battle of lewd. /jp/ could've advanced here with a win of more than three goals, but this was not to be as /h/ scored fast and shut down any chance's that /jp/ had. With only one point, last in the group, and no goals, /jp/ would head back to the babby once more.
In yet another megababby, /jp/ had to find offense and fast. In this group were freshly relegated

 /mu/, the once yo-yo

 /lgbt/, still new and goalless

 /biz/, and autopilot

 /soc/. Against /lgbt/, the offense woes continued into PES15 until sage broke open the scoring. Then koisheep added a goal to her name, and /jp/ won 2-0.
Their next game was against the former titan /mu/, and it played into a 2-2 draw, with both sides trading goals from each other.
Next was the autopilot /soc/, and they made /jp/ look silly, beating them 3-0. Despite this, the chance to promote was clear: Just beat /biz/ by any score and you'd be in summer. This would not happen as the two decided to have a rematch from last autumn the same exact way, and let themselves both die. What began as hope fizzled out into another cup of mediocrity. It was here that Suppatenko left the team
Yet another megababby, yet another group where /jp/ looked decent in. This time they faced spring runner up's

 /co/, permababby

 /int/, the mighty >

 /n/, and a freshly revived

 /wsg/. Up first was /co/, which was going on during the Autumn Babby Banday. The match kicked off with excellent passes to Autism and Get Out to give /jp/ a 3-0 lead. However, /co/ didn't want to kick off their babby on the wrong foot, and decided to make the game level thanks to Doom and /co/lette. Then sage scored from a good pass from Marisa to give /jp/ the lead, only to squander it to Von Doom, giving him a hat trick and a 4-4 game. With moments to spare, Get Out of /jp/ told the west to fuck off, and tapped in the game winning goal to kick off their babby season 5-4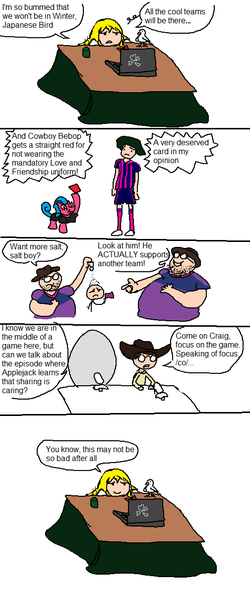 Next was /n/, where /jp/ played a special anthem for the fellow train autists. The game kicked off by Marisa poking the ball past the /n/ keeper, who was way out of his net, and let the scoring open 1-0 for /jp/. Then familiar face I Like Trains scored in the stoppage time in the first half to leave the game 1-1. The second half began, and /jp/ fought to break the /n/ defense. It took until the 85th minute for sage to bring home a goal and give /jp/ 6 points, and a near ticket to winter. It seemed like the road ahead was one that /jp/ would finally take advantage of.
However, these dreams were crushed by /wsg/ and /int/, who won 2-1 in both cases, with one being a crushing defeat from the Duane, and the other from a rampant /int/, who had the power of a meme Finnish bear guide them to victory. The one that hurt the most was the match against /int/, which saw them go 10(7) on shots and only score one. Had they gotten the game level, they could've been in winter. But the team still had much to improve on.
Still reeling from the two losses from last autumn, /jp/ looked into spring with hope as a new manager in Tadokoro joined the /jp/ management with Anamack. The babby format changed this cup, with having only 4 teams instead of 5, and a chance to be placed in a "fetus" cup. This time, /jp/ was drawn with

 /n/,

 /sp/ and

 /v/, the last of which being their first in cup meeting. To kick off this cup was /n/, a team denied knockouts by a last second 90+++++ goal by DA HOOD and

 /f/. The game itself was a PES16 staple in a goalfest, showing both teams exchange leads and deficits. /jp/ had a goal at 86' from Autism to give them a 3-2 lead, but that was quickly answered by /n/ and Tite Gapz , making the score level once more. Then /jp/ gave /n/ another round of 90+er suffering as sage knocked one home, and gave /jp/ the lead.
Next was /v/, who was fresh from beating /sp/ 1-0. Being the first meetup in cup was special, but all was evaporated when new medal BUT FIRST made /jp/ pay with a brutal curler. Christopher robin would add his name next to make the game 2-0 with great team play by /v/, and it was here that /jp/ had no response. Get out of /jp/ tried to get the /v/irgins out, but that damn scuttlebug scored a 90+ goal to seal the fate on a 3-1 loss.
The final game was another do or die for /jp/, which have been historically bad. Up against /sp/, who knew The Together Forever Curse could continue if they didn't win, made it a challenge for /jp/. Win and in was the scenario yet again, and /jp/ showed up flaccid. The offense was done away by /sp/, where they built a 2-0 lead by the end of the half. The draw would've made /sp/ go through also, but for /jp/ there was nothing. /sp/ celebrated as if they won the world cup and /jp/ was a permababby team, unable to get out of the clutches of the babby.
/jp/ entered this cup with next to no expectations, and the group they got seemed tough. With 6 point relegated

 /a/, sudden giants

 /out/, and a freshly promoted

 /po/, it seemed destined for /jp/ to stay in the babby. For the first time however, /jp/ would play /a/ in a competitive game and not in a friendly. Both stepped out ready to play against each other, knowing so much was on the line. For both, a return to the elites, but also some honor. /jp/ wasted no time by having sage score a spaghetti shot that got past the /a/ keeper. Then Get Out of /jp/ tried to score but dark boris came, and told /jp/ to fuck off. Japanese Bird didn't care, as he added one to his name from a nice shot. With this lead, Slut Sanae kept /a/ at bay with a clean sheet, and secured the 2-0 win.
Next was /po/, who closed off any opportunities for /jp/, and beat them 1-0 thanks to 1,000 Cranes getting a lofted pass and scoring on the /jp/ defensive error.
Last was /out/, who were already safe and made it to winter. The golden ticket flashed before /jp/ once more, and it was as simple as any draw and a /a/ win, or just a defeat of /out/. /jp/ went risky, and went down 2-0 thanks to a corner from Gransfors Bruks and a blooter from Smokey The Bear. However, unlike the past blunders from /jp/, the team saw opportunity out of this. The pleasure of being cummed inside shot one in to make it close at the 70' minute, and Autism added one to his name with an open lane to bring the game level. In the end, /jp/ would get the draw but still needed /a/ to beat /po/, who still could've blocked their first elite appearance in nearly two years. This would happen, as /a/ actually did something of use in helping /jp/, defeating them 2-1, and securing /jp/'s promotion
Into the knockouts, /jp/ had to play

 /w/, who easily 9 pointed their group. /jp/ was at a challenge here, and it did show right away with Powerlevel blasting one through Captain Meido just three minutes in. However, Autism found an answer and responded with another open lane shot three minutes later to give them the equalizer. From here on out was a defensive battle, until Autism found the net again at the 77th minute to give them the 2-1 lead in which they would hold onto.
Their next foe in the knockouts was a rematch with

 /out/, who left on a draw in what was a blown 2-0 lead for /out/. There was unfinished business between the two, and right away Smokey slamming down a header for a 1-0 lead, similarly to their first encounter. 1-0 at the half, /jp/ needed to find offense, and that's what they got. Autism got a wonderful long pass from sage, fought an /out/ defender and brought the game level. The sounds of banjos and fingering filled the outdoors until another corner began and Smokey slammed yet another header in. This was the darkest hour for /jp/, but they found a way. With barely any time left, Japanese Bird got a miracle pass from Autism and curled a beautiful shot past two /out/ defenders and the keeper to force extra time. Chances were shared by both sides, but in the end, a loft by Sachiko gave Autism enough room to poke in a goal to give /jp/ the lead. Holding onto dear life, they won 3-2 and would play in their first ever semifinal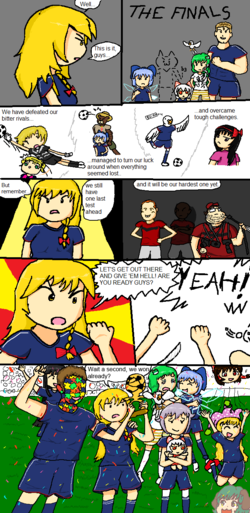 Here they would play

 /u/, the team that nearly won the 2016 4chan Winter Cup. The challenge was there and /jp/ fell flat footed to the second place team, watching their star Homucifer score twice, once from a poor clearance in the box and the other from a wicked shot that was nearly outside the box. Not wanting to panic, no changes were done, which was the game decider. /jp/ kept clawing at /u/'s heavy defense, the one that nearly stole them a championship, but couldn't get one past Madokami. Then a /u/ defender fouled sage just outside the box, and set up for a great free kick free goal from Autism which gave /jp/ some life. Now down 2-1, the objective was clear. Then late in the second half, Marisa would finally find the back of the net and score the equalizer. It seemed destined for extra time given /u/'s play, but sage had other ideas. Lofting up a pass trying to fight off P.O.F.L, Marisa took the ball, had an open lane, and blasted a masterspark that sent /jp/ to their first ever finals.
In the finals, they faced

 /p/ , and a dominant force in Ken Rockwell, who could've easily broken the golden boot record. /jp/ responded by playing their most complete game, and destroyed the undefeated /p/. Get Out of /jp/ stole the ball away from a /p/ defender and shot another goal in to give /jp/ the early lead. Then Autism took advantage of F-Stop being so far out of his net and blasted in another goal to his name for a 2-0 lead. Not even ten minutes later, Marisa made a fool of the /p/ defense by curling in a shot that F-Stop was too late to get to. The first half was finished and so was the game. Aside from Slut Sanae nearly butting in a goal, the team stayed solid and held on for a 3-1 victory. After what was a long two years in the babbies, /jp/ would head back to another winter cup, this time with a successful knockout run on their belt.
With a successful cup run under their belt, /jp/ had entered winter with some expectations. But first, some friendlies were played. The first was a Stupor Cup meeting with

 /mlp/, who won 3-2. Even with autism trying to get the game level, but it didn't matter since these were friendlies. Next was

 /vr/, which showcased the PC-98 era of Touhou and had special aesthetics and horn, even though they lost 6-1 thanks to a mad CRT. Up next was

 /vp/, who had some actual foreshadowing to the cup itself. It was a 3-1 victory, and /jp/ looked uneasy heading into the actual cup.
With the actual cup starting, /jp/ was drawn into the cup hosts group. This consisted of the champions

 /mlp/, a plucky

 /an/, and a revitalized

 /mu/. It would take a miracle for /jp/ for them to advance, said the bookies, thinking /jp/ would head back to another babby. The team however, wanted to change those thoughts. Their first match against /mlp/ showed this. With a pregame that mocked the 1100+ in attendance thanks to inmu, the cup kicked off. While /jp/ found themselves down 1-0 thanks to a >rape header, something happened. The game crashed and the stadium fell silent. The game still went on, but nothing was heard from the stadium. It took until the 81st minute for /jp/ to find their goal, where Marisa kicked up the ball, and shot a bullet that went top shelf to bring it to 1-1. While the game did end, some did note that it was played on the wrong difficulty, and to the ire of some fans called the match rigged.
Up next was /mu/, where both played to the tune of semen slurping and a generally uneventful game. The only thing that happened was /mu/ Non Medal RB Jason Aldean scoring from a corner, which left /jp/ on a 1-0 loss. With one point, one goal scored, and one game remaining, it was now or never for the team. They responded with a game of their life against /an/, taking them down 4-1 thanks to Marisa and Autsim getting braces on the hapless animals. With that result, the group was at a 4-4-4-1 affair. /jp/ was still not through and could've been relegated in the event of a draw. /mu/ /mlp/ soon became the matinee match, and people flocked to watch /mu/ provide the miracle of a 2-0 victory to the happiness of everyone, but also for /jp/. This meant that for the first time since four winters ago, /jp/ would head onto the elite cup knockouts
For the knockouts draw, /jp/ would play the last team they played in a elite cup knockout:

 /toy/. This was not to be like that game four winters ago, as Autism and Marisa did what they did best, and found the net twice thanks to precise longballs to them both. However, /toy/ wasn't going to lie down, and fought back thanks to Madoka Titus dribbling past the /jp/ defense and Matty picking off a Slut Sanae rebound. The game stayed tight between the two, with cards being handed out on both sides. After 90 minutes, the two headed to extra time, and the opportunity arose for /jp/. Madotsuki found a lane on the wing and launched a shot that was responded by Marisa heading it past /toy/ stalwart Ham Hands to give /jp/ the 3-2 lead. /toy/ tried to respond but the defense held strong and resulted in their first ever elite cup knockout victory.
In the quarterfinals, /jp/ would play

 /vp/, another team fresh off it's first ever elite knockout victory. The game became one to remember as each team exchanged blows left and right. Right away Marisa found the net through impressive dribbles that fooled the /vp/ keeper, and quickly the banjos filled the arena. Then Fug picked up a rebound for an equalizer. Afterwards /jp/ picked up again, and thanks to some resilience from Non Medal Corndog Tenshi, Marisa put another one home for /jp/. Play moved on, but /vp/ adapted to the /jp/ gameplan. And in a quick flurry, /vp/ found holes through the defense with a point blank blast from Fug and a poor foul from (´・ω・`)leading to a spectacular free kick goal from GET IN THE BAG. It seemed like the end of the road, but /jp/ was determined to not give up. Like a miracle, Cirno got a pass from Autism, and became the hero for /jp/, sending them to another round of extra time with an incredible goal to beat Smogon Sword. In the extra time period, Get Out collected her hat trick with another tap in goal and made the game 4-3. It was seeming like a miracle. The semis were just minutes away and a rematch with /mu/, but there was one problem: They forgot where Lillie was and let her complete her brace with ten minutes left. For the first time in both teams history, there would be penalty kicks. Unfortunately, this is where Autism showed his true power by hitting the bar and Madotsuki missing her shot completely. The game ended 4-4, but /vp/ advanced on penalties 4-3. Despite this, the team did take solace as the best finish they ever had, along with nearly getting the golden boot and placing 5th in the rankings. For once, /jp/ was rolling on the top.
After the bounties of winter, /jp/ was in pot 1 and first summer cup since the fateful one 4 years ago. The roster saw an overhaul, and most notable player Billy Herrington being transferred to

 /f/. In were more new representatives, like Younger Sister and ... being added as new players. Their group consisted of

 /vr/, resurgent

 /trv/ and a somewhat respectable

 /po/ side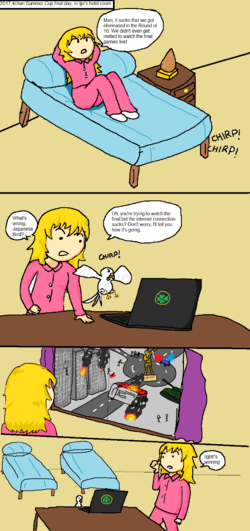 They would first play /trv/, who gave /jp/ a god awful game because of a collision with new player Younger Sister and backup goalie Captain Meido leading to an own goal. The rest of the game was terrible and boring, leaving /jp/ infuriated at the /trv/ players for how dirty they were and lack of scoring opportunities, leaving the fans disappointed that such a game transpired.

Next was /vr/, and finally /jp/ found themselves back in their old form, scoring two goals from Japanese Bird and Autism to get /jp/ up 2-0 at the end of the half. There was complete dominance from /jp/ onwards despite Kirby giving /vr/ a consolation goal. With three points in a 4-3-2-1 group, /jp/ could advance by a win or draw, but could also become relegated. /trv/ and /vr/ ended 2-1 for /vr/, and made the group 4-4-3-2 now. With one last game, /jp/ gave /po/ a beating, winning 4-2 but also securing home field in the knockout round.
Here they would play

 /lit/, and like most games that day, felt very dry and uneventful. Some chances were exchanged but the two would head to extra time 0-0. Then DFW scored from a dazed Slut Sanae who failed to stop him from close range. The /jp/ offense had to do something to answer /lit/'s defense, and that would come from a series of smart plays from Autism and Japanese Bird to give Get Out a goal to bring the game even at 1 a piece. It seemed like penalty kicks would come again for /jp/, but /lit/ managed to find the game winner from a blooter by Pure Ideology at 116'. The result was a heartbreak, and especially for the fans who wanted to see /jp/ go on and win. With another visit to winter and another decent cup, /jp/ would at least seem solid for their next scheduled cup
This was where all the good times ended and /jp/ fizzled out of the elites. Placed in Group C with

 /sci/,

 /gd/, and

 /o/, it seemed like /jp/ could make it out again. With a matchup against /o/ first, it was only fitting for some eurobeat to be played against the cars. The game was a good affair, with /o/'s veteran Takumi opening the scoring, then sage and Japanese bird scoring twice to give /jp/ the lead. All seemed well until a Miata scored to prove why its the best. With a point and a game against /sci/, /jp/ could get comfortable for grip weekend. In the early stages it seemed so with sage scoring off a juicy rebound from the /sci/ keeper. There was only one problem: Both teams fucked up their nightlies. With no manager present, /jp/ was left hapless to /sci/, who retooled their formation to shut down /jp/'s formation, and got the lead off of two Shinichi headers to make the game 2-1 on favor of /sci/. Now with one point and one game left, /jp/ had to beat /gd/ to stay elite. There was hope as anything could get /jp/ through, regardless of the next games result. However whatever hope was snuffed out by Keming and Glitch art, who won 2-0 and closed off any hope for the /jp/ offense. With just one point and their worst finish in a cup ever, /jp/ headed back to the babbies to retool.
When heading back to the babbies, the return of the Megababby came once more, thanks to a sudden amount of teams starting to revive or run on autopilot. Their group consisted of another 17th placed

 /a/ from the previous elites, memesters

 /s4s/, a near fetus partakers in

 /c/ and a revived

 /t/. Their first game was against /s4s/, and quickly /jp/ fell down 2-0 to them, with Slut Sanae putting in an own goal in what would be her last ever game.
Next up was rival /a/, who wanted some payback from 2016 Autumn. It seemed like revenge was going to be served thanks to a Bebop header, but Get Out of /jp/ responded with a goal for /jp/ just minutes apart. With the game at a deadlock still, /jp/ did find the ball and get a golden chance to strike, and did by an impressive one from sage to give /jp/ the 2-1 lead. /a/ kept trying to get that draw but it was to no avail, as /jp/ picked up three points and had two more games left
The third match was against the autopilot /t/, and there was unease in the air. Both teams kept trying for opportunities but Captain Meido shut all offense down from the /t/ surge. Then Get Out collected another goal from a through ball that gave them the 1-0 advantage. Everything was fine until Autism fouled a /t/ player in /jp/'s defensive zone. A free kick ensued and a rocket of a shot by Mixtapes! resulted in the game being tied. Both teams kept trying but /t/ would get the last opportunity, and nearly headed in a goal at the last minute mark. It stayed 1-1, and /jp/ was alive for grip weekend.
With one game left, it was a chance at advancement to summer for either /jp/ or /c/, and the stakes were high. /jp/ was off against /c/, easily getting past their defense and built up a 3-0 lead by the 21st minute. While /c/ made an attempt at coming back, there was no response at all from the /jp/ siege, who sealed it with Marisa sealing the deal with a hat trick to end the game 5-2, and send /jp/ to summer. In the knockouts they'd play

 /fit/. Playing an anthem honoring Billy Herrington's passing a few months ago to kick off the game, /jp/ couldn't find anything against /fit/, and lost due to a spaghetti pile from Beato and Meido, allowing Scooby to bury the only goal of the game. Regardless, summer was in sight for /jp/
Heading to yet another elite cup, many saw /jp/ as a team not even being able to stay elite, and would go back to the babbies. Practically the group draw gave them the proclaimed "group of death" with 2018 4chan Winter Cup runner up's

 /mlp/, now consistent

 /int/, and a yo yo

 /tv/. The first game was against /int/, and it was also the end of The /jp/ Day One Curse. /int/ kicked off right away with a Gondola goal, but there was nothing afterwards. /jp/ tried to get past the /int/ keeper >Be american >Get shot, but it was to no avail. Then El PeruANO added to int/'s lead with a devastating curler, and Putin sealed the deal with a 3-0 victory, closing off all offensive efforts from /jp/.
With relegation on the line, /jp/ had to either show up against /tv/ or go to the 2018 4chan Autumn Babby Cup. With both teams on zero points, the /jp/ defense had let in many opportunities to the /tv/ offense, but Captain Meido held them at bay. Then Real Human Being scored at the start of the first half of stoppage time, and the half ended 1-0 for /tv/. The onslaught still held by /tv/ including misses by Sheev. It took for a miscue by a /tv/ defender for Get Out to push the ball up out of /jp/'s end, and miraculously found sage to get the game level. Then newly recruited bronze YUA pushed the ball up late in the game, and found Get Out for a breakaway goal to give /jp/ the 2-1 lead. /tv/'s offense still pushed on, and Meido kept making the saves. Then RHB found another goal from a wicked kick off a corner to bring the game level late. With the time winding down, Japanese Bird and sage pushed on, and Bird gave a great pass to Get Out that somehow fazed the /tv/ keeper, and a tap in late gave /jp/ the game winner, and relegated /tv/. With SIX saves on the night, Meido practically kept /jp/ in contention for staying elite.
With one last game, /jp/ had to win against /mlp/ to get to the knockouts. And that's exactly what they gave for the final match of the group stages. Right away, sage tackled one of the /mlp/ RB's to get the ball up to Marisa, and Japanese Bird gave a weak header that somehow got past derpy for the 1-0 lead. /mlp/, with some desperation, got the game level. But it was after this that the /jp/ offense tore the deep /mlp/ backline surgically, making them pay every time with through balls on the counter by sage and Get Out. Meido held her form as well, making incredible saves on well known offensive threat >rape, and even one on the goal line off a corner. At the 41' minute, sage buried another through to make it 4-1 by the end of the first half. There was almost no answer from the /mlp/ offense until stoppage time where they sunk two goals in three minutes apart. With the game 4-3, ... picked up the ball from kickoff and got it to Marisa, who shot another masterspark in to not only relegate to the ponies, but top the group with a scoreline of 5-3.
In the knockouts, they would play

 /h/, and during the weekend of C94 as well. /jp/ acknowledged this by wearing their 2hu but fucked up kits, and bringing back the powerhouse. With the most lewd of games set up last, it set for an exciting match. Right away Get Out found her 5th goal of the tournament by easily getting it past the Sad Panda thanks to a pass by Cirno. Then Japanese Bird added from the /h/ defense not detecting Cirno's pass again, and quickly the game was 2-0. /h/ wouldn't go silent into the night, as Liru scored a goal to her bewilderment, not even celebrating until seconds realizing that she scored to bring the game within 1. Later on, a free kick ensued in /jp/'s end that was blocked, but Can't Beat The Cock kicked a bullet past a jumping Cirno, and passing by the watchful eye of Meido to bring the game level. With extra time looming, /jp/ managed to get the ball late, and the pass was set to Japanese Bird, fooling the /h/ keeper and scoring a 90+ goal to give /jp/ a 3-2 victory
In the quarterfinals yet again, /jp/ had to play another vidya board. This time it was

 /vg/, coming off a close 1-0 victory over the reigning third place champions

 /n/. Such a matchup was important as the two did share generals and interests. Right away /vg/ Gold Unity-Chan shot one past a sleepy Meido to get the scoring started. /jp/ then countered quickly from the kickoff, lofting another pass to Marisa to get her sixth of the tournament. Then Japanese Bird cooked up a rocket of a shot to give /jp/ the 2-1 lead. Then something clicked from /vg/ and /jp/ was left in the dust. They awakened The Best Melty Player In Italy to get a header to tie it, but allowed Unity Chan to complete her hat trick in the first half, with a filthy one on one with Meido to cap it. Then she scored yet another to make it 5-2 with just 23 minutes left. Japanese Bird tried to get the rally going with a slick set of passes to get past Jannu, but nothing came. Git Gud capped off the game with a 90+ goal to end it 6-3, and saw /vg/ win the entire cup in the end. Despite getting manhandled, /jp/ left another cup in the top 8, and nearly stole the Golden Glove thanks to Captain Meido's stellar keeping, totalling 20 saves in just 5 matches, including that brilliant game against /tv/. She only lost out to

 /tg/'s Tankred, who had just one more save.
With a new manager in half taking over the reigns, and a return to a PES with unspeakable power, there were lots of expectations, but some wrote the team off as an afterthought, and some said they would spoon. The righat placed them in group F, with a now consistently elite

 /n/, wild card

 /wg/, and the always dominant

 /u/. /jp/'s first match was against /wg/, and there was the typical affair of PES16 antics, especially with spaghetti. /wg/ got on the board early, but /jp/ found two quick answers from Marisa and newly appointed gold Cirno. However, just minutes after a goalkeeper switch from conceeding, /wg/ tied the game up, and the result ended 2-2. Up next was another bout with /n/, and this also was typical PES16 as seen by this cup. Back and forth throughballs and poor defender plays lead to both sides trading goals. Then there was a crash. With the game reset, /jp/ was able to go up 3-2 late into the game. There was one problem: The stoppage time was forever and it allowed /n/ to get a cheeky equalizer late from, of course, Memebike to get another draw, this time 4-4. Their final game was against /u/, already promoted and resting their silver DMF. The game prior saw /wg/ just barely beat /n/ 4-3. To put it bluntly, /jp/ needed a win regardless. The outcome was so close yet so far. Once again, the typical goals goals goals play was there. However, /u/ was just barely up 4-3, with chances being blown by marisa to tie it up. A late cirno goal with just 4 minutes to go, tying the game up at 4-4 kept the dream alive, but /u/ seeked payback from Autumn 16, and that was from a 90+ from Black Sunshine, a dagger to /jp/ and relegated them to the 2019 4chan Spring Babby Cup, and promoted /wg/ on -3 GD. The result meant moving to PES18, which was the main reason then manager half stepped down.
PES18 welcomed /jp/ and the 31 other teams to the Spring Babby. This time, /jp/ was given a group with a bitter old rival, and two teams that they have never faced before in

 /bant/ and

 /diy/. However, this cup would be different as /jp/ played as an autopilot. Up first was the revived /diy/, and this resulted in a slurpy 2-2 draw, where late antics from the opposing side got the game level, this time from MacGyver. Next was /bant/ in a battle of who owned Cirno's rights. The ensuing result made viewers question why such a board was made, who made this PES so slurp heavy, and why /bant/ had 2 points at the end of the day. Last was

 /a/, where there was clear ambition to take the opportunity at hand, and promote to their first summer cup since 2016 by defeating /jp/ for once in a babby. This seemed possible where Cowboy Bebop scored right away under the 10' mark. Cirno, however, didn't want that to happen and scored the equalizer just 9 minutes later to get the game even. Then /jp/ held the fort against a desperate /a/ trying to find any offense they can, but to no avail. The game ended 1-1, and /jp/, like

 /toy/ in the 2018 4chan Winter Cup, advanced off of 3 draws. However sou left benuldies on, and /jp/ won them too because for laughter. With summer at sight, /jp/ still had K.O's to look forward to, and what else then to draw the team that 9 pointed their group in a familiar foe:

 /n/ Here, /jp/ took full leisure to hold down on defense as backup keeper Akane Chan kept the /n/ offense at bay. It was almost a clone of the /jp/ /bant/ game, but then there was extra time. This resulted in two cheeky goals from /jp/'s stars in Cirno and Marisa to power their way past /n/ 2-0, and face another autopilot in

 /cm/ in the next round, and yet again the game had to go into extra time. /jp/ eventually won on benuldys after /cm/'s star Nagisa choked his first shot against Meido. Back in the semis, /jp/ had to face a team on a miracle run of their own in

 /i/, but this was where fate was simply not on /jp/'s side. Fumos sinked in a header off a free kick on the corner midway in the second half, and the /i/ offense struggled to get anything going. However, with barely any time /i/ found a late tying goal from Taking Requests, and once more /jp/ headed into extra time. Eventually it went into benuldys again, and with a twist of irony, /jp/ choked their first shot and /i/ went to the finals, setting up for an autopilot third place match against /toy/. Two goals from Cirno and Marisa proved enough for a 2-1 with both sides playing meme formations. Cirno, despite her botched penalty shot against /i/, still took home MVP with 4 MoTM awards.
For their first time ever, /jp/ made three straight summer cups, and old manager Suppahtenko came back to manage the team. Once again placed in group H, they had to face yet again

 /int/ and

 /n/, and a

 /w/ team that still proved to be an enigma as an autopilot. Once again, /jp/ fell flat against /int/ in their first game, getting shut out 2-0 no thanks to spectacular goalkeeping from /int/ and gondola scoring a brace. In a do or die situation against /n/, /jp quickly went up 3-1 after surrendering a freak goal to I like trains. However, autism from management changed the formation, and /n/ scored two to get the game level at the 86th minute. However, a miscue from the /n/ defense lead to Cirno getting a vital 90+ goal to keep /jp/'s hopes alive against /w/. However, the ensuing match resulted in a draw where /w/ would sink a tying goal and /jp/ could not find a response from the sturdy defense, relegating them to their first autumn cup in three years on 4 points.
/jp/ has now been in a yo-yo stretch, and once again went autopilot for this cup. The righat drew them in group F, and they would face once again

 /a/,

 /g/, and a old face in

 /fa/. In yet another [a/jp] derby, it was a back and forth affair, with leads being blown and some spectacular goals being scored. /a/, destined to finally break their losing streak against their little brother, took the lead off a Yamada Tae goal from spaghetti with Captain Medio. Once again, /jp/ fought back late, and Marisa sunk in a 90+ header to grab a point in a 3-3 game. However, /jp/ kept on surging after their 90+ magic over /a/ with a 5-2 blowout on /g/, including an own goal from /g/'s SICP. This tied the record for most goals scored in a game from /jp/ with five. Thanks to a /g/ win prior, /jp/ was confirmed in, and as a result blew /fa/ the fuck out playing memes, setting the record for the biggest /jp/ win at 6-0. In the knockouts, they'd meet

 /biz/ for the first time since the 2015 4chan Spring Babby cup after two scoreless affairs. However, this would be a different case. Once more Marisa and Cirno lead the attack but /biz/ was able to hold down the potent /jp/ offense to just 1 a piece through 90 minutes. However, the extra time period was where Cirno propelled /jp/ to a win late with a 119' minute goal and advance them to a date with

 /tg/