/y/
Jump to navigation
Jump to search
/y/
Amor omnibus idem
/y/ - Yaoi

Founded
March 2012
Owner
Junichi Yamakawa
IRL manager
Sleep Deprived Anon !!z16KEuJW8s3
Team colors
Extra team colors
HEX color
004529
Yaoi Green
Ranking
45 ( 11)
Highest rank
22 (April 27, 2014)
Lowest rank
58 (May 18, 2015)
Top scorer
Ramen Yaoi (18)
Top assister
Ramen Yaoi (15)
Captain
Yaranaika
Website
/y/ - Yaoi
Nickname
/y/oungsters
Home ground
Semen Uke Stadium

Historic performance

| | | | | | | | | | |
| --- | --- | --- | --- | --- | --- | --- | --- | --- | --- |
| W | D | L | | | TOTAL | | | | EFFICIENCY |
| 15 | 17 | 33 | | | 65 | | | | 23.08% |

Biggest win
/y/ 
5–1
 /k/
November 22, 2013
Biggest defeat
/vg/ 
7–1
 /y/
April 16, 2016
First match
/f/ 
2–1
 /y/
March 10, 2012

Team music

---

Kits

| | |
| --- | --- |
| Home kit | |
| Away kit | |
| Goalkeeper kit | |
| Third kit | |
| Fourth kit | |
| Fifth kit | |
Introduction
/y/, the darkest corner of 4chan to many, home to 16 year old girls and middle aged men to others. To regulars, it's Yaoi, hot, cute drawn men. Oh, and they're all fucking each other. /y/ is looking to violate the 4 Chan cup in ways that can only be comprehended by sick fucks.



Home to the famous >Gold Defender, /y/ plays with a "all or nothing" approach, which leads to some of the most entertaining football to watch in the cup. Current manager Sleep Deprived Anon has shown that the team has the ability to play in a unique and flexible matter, leading to all kinds of strange football being played. With star players such as Denied Pleasure, Kawaii Neko ~*~ and Traps, /y/ attacks from risky through balls and long shots at goal while relying on solid 1-2 defending and expert goal keeping.



Finally, after 5 long years, /y/ has promoted to a elite cup in one of the most entertain-able ways possible. Hopefully, /y/ will make their elite campaign one to remember.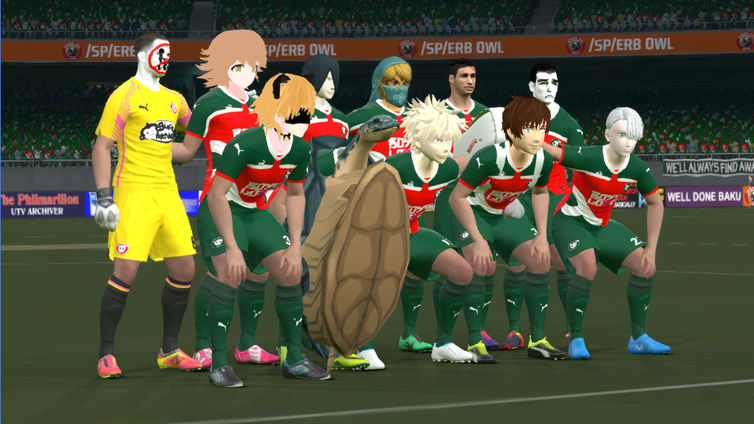 Roster
Main article: /y/ Roster
| No. | Position | Player |
| --- | --- | --- |
| 69 | | Denied Pleasure |
| 4 | | Sea Turtle |
| 3 | | Camp Buddy |
| 33 | | Kawaii neko ~*~ |
| 6 | | Idol Love |
| 11 | | Mind Slaves |
| 19 | | Yaranaika |
| 8 | | Spiderman |
| 17 | | My Husbando |
| 23 | | Gerudo Link |
| 13 | | Traps |

| No. | Position | Player |
| --- | --- | --- |
| 1 | | Bondage General |
| 47 | | Hyper Cock |
| 14 | | Ballbuster |
| 9 | | Monster Boys |
| 88 | | Big Juicy Bara Titties |
| 22 | | Yaoi On Ice |
| 10 | | Non-Con |
| 2 | | Defeated |
| 97 | | Drawfags |
| 18 | | Buy My Yaoi |
| 5 | | Fucktoys |
| 12 | | Childhood Best Freind |
Tactics
/y/
Formation: 4-2-1-3

   Tactics
Defensive Offensive

---

   Player Support
 14
   Support Range
 6
   Position Switch
 17
   Front Line Pressure
 20
   Defensive Line
 16
   Defensive Compactness
 14
   Shifting to Attack
 12
   Attack/Defence Level
 8
Match History
| | |
| --- | --- |
| Note: | All of /y/'s pre-Dragongate matches are voided. If you wish to see the pre-Dragongate match history of /y/, go to this page. |
Date
Opponent
Competition
Result
Scorers
July 12, 2013
 /cm/
2013 4chan Summer Cup Friendlies
2-0 L
-
July 14, 2013
 /lgbt/
2013 4chan Summer Cup Friendlies
3-3 D
Delete Your Missfires  6', 24', 49'
September 21, 2013
 /sci/
2013 4chan Autumn Babby Cup Friendlies
1-0 W
Ramen Yaoi  32'
September 22, 2013
 /diy/
2013 4chan Autumn Babby Cup Friendlies
3-1 L
Delete Your Missfires  3'
November 16, 2013
 /jp/
2013 4chan Autumn Babby Cup Group G
2-1 W
Ramen Yaoi  39'
Draw Fag  60'
November 26, 2013
 /k/
2013 4chan Autumn Babby Cup Group G
5-1 W
Ramen Yaoi  18', 78'
Black  56', 84'
Delete Your Missfires  65'
November 24, 2013
 /lgbt/
2013 4chan Autumn Babby Cup Group G
3-2 W
Ramen Yaoi  33'
Delete Your Missfires  48', 65'
November 30, 2013
 /cm/
2013 4chan Autumn Babby Cup knockout stage
2-0 W
Sea Turtle  28'
Delete Your Missfires  31'
November 1, 2013
 /pol/
2013 4chan Autumn Babby Cup knockout stage
3-0 L
-
January 12, 2014
 /gd/
2014 4chan Winter Cup Friendlies
3-3 D
Delete Your Missfires  62', 89'
Yaranaika 83'
January 19, 2014
 /hm/
2014 4chan Winter Cup Friendlies
2-1 L
Black  55'
February 14, 2014
 /co/
2014 4chan Winter Cup Group C
2-1 W
Ramen Yaoi  18', 54'
February 16, 2014
 /h/
2014 4chan Winter Cup Group C
3-1 L
I Sooo Need It  55'
February 22, 2014
 /toy/
2014 4chan Winter Cup Group C
2-2 D
Yaranaika  71', 87'
April 4, 2014
 /po/
2014 4chan Spring Babby Cup Group D
2-1 L
Ramen Yaoi  8'
April 6, 2014
 /n/
2014 4chan Spring Babby Cup Group D
0-0 D
-
April 12, 2014
 /cm/
2014 4chan Spring Babby Cup Group D
4-4 D
Ramen Yaoi  12', 24'
Delete Your Missfires  35'
Yaranaika  90'
April 20, 2014
 /diy/
2014 4chan Spring Babby Cup Group D
1-0 W
Experimental Fetish  27'
June 6, 2014
 /u/
2014 4chan Summer Cup Friendlies
1-0 L
-
June 8, 2014
 /s/
2014 4chan Summer Cup Friendlies
1-1 D
Delete Your Missfires  64'
October 18, 2014
 /cgl/
2014 4chan Autumn Babby Cup Group H
3-1 L
Yaranaika  82'
October 24, 2014
 /sp/
2014 4chan Autumn Babby Cup Group H
1-0 L
-
October 26, 2014
 /i/
2014 4chan Autumn Babby Cup Group H
3-2 W
Cum In My Pants  15'
Ramen Yaoi  42'
Delete Your Missfires  78'
November 1, 2014
 /vp/
2014 4chan Autumn Babby Cup Group H
1-1 D
Ramen Yaoi  5'
April 25, 2015
 /adv/
2015 4chan Spring Babby Cup Group E
3-2 L
Dio Brando  18'
Yaranaika  90+'
April 26, 2015
 /po/
2015 4chan Spring Babby Cup Group E
1-1 D
Link  60'
May 2, 2015
 /cm/
2015 4chan Spring Babby Cup Group E
3-1 L
Ramen Yaoi  29'
May 8, 2015
 /o/
2015 4chan Spring Babby Cup Group E
4-1 L
I'm Cumming  10'
October 25, 2015
 /an/
2015 4chan Autumn Babby Cup Group B
1-0 L
-
October 30, 2015
 /r9k/
2015 4chan Autumn Babby Cup Group B
3-0 L
-
November 1, 2015
 /m/
2015 4chan Autumn Babby Cup Group B
2-1 L
Chihiro Fujisaki  32'
November 7, 2015
 /i/
2015 4chan Autumn Babby Cup Group B
2-1 W
Manwhich  16'
Yaranaika  38'
April 15, 2016
 /p/
2016 4chan Spring Babby Cup Qualifiers Group C
1-1 D
Dio Brando  55'
April 16, 2016
 /trv/
2016 4chan Spring Babby Cup Qualifiers Group C
4-4 D
Dio Brando  9'
Ramen Yaoi  36'
Cute Hot Traps  52'
Yaranaika  88'
April 17, 2016
 /t/
2016 4chan Spring Babby Cup Qualifiers Group C
1-1 D
Yaranaika  10'
April 17, 2016
 /vg/
2016 4chan Spring Babby Cup Qualifiers Playoffs
1-7 L
Dio Brando  7'
October 8, 2016
 /po/
2016 4chan Autumn Babby Cup Qualifiers
1-2 L
Ramen Yaoi  37'
October 8, 2016
 /co/
2016 4chan Autumn Babby Cup Qualifiers
1-1 D
Ramen Yaoi  15'
October 8, 2016
 /t/
2016 4chan Autumn Babby Cup Qualifiers
3-5 L
Ramen Yaoi  60', 65'
I'm Cumming  69'
April 28, 2017
 /t/
2017 4chan Spring Babby Cup Qualifiers Group B
1-0 W
Traps  68'
April 29, 2017
 /i/
2017 4chan Spring Babby Cup Qualifiers Group B
3-1 W
Yaoi On Ice  35'
Traps  43', 69'
April 30, 2017
 /a/
2017 4chan Spring Babby Cup Qualifiers Group B
1-1 D
Traps  27'
May 13, 2017
 /an/
2017 4chan Spring Babby Cup Group F
1-3 L
Yaranaika  18'
May 19, 2017
 /wg/
2017 4chan Spring Babby Cup Group F
2-2 D
Dio Brando  40'
Yaoi On Ice  83'
May 21, 2017
 /c/
2017 4chan Spring Babby Cup Group F
2-3 L
Yaoi On Ice  81'
Yaranaika 90+'
October 13, 2017
 /i/
2017 4chan Autumn Babby Cup Qualifiers Group A
3-2 W
Yaoi On Ice  5'
Traps  38', 67'
October 14, 2017
 /k/
2017 4chan Autumn Babby Cup Qualifiers Group A
0-2 L
-
October 15, 2017
 /x/
2017 4chan Autumn Babby Cup Qualifiers Group A
1-1 D
Gerudo Link  53'
October 28, 2017
 /h/
2017 4chan Autumn Babby Cup Group F
0-3 L
-
November 3, 2017
 /wsg/
2017 4chan Autumn Babby Cup Group F
1-5 L
Yaranaika  80'
Novermber 5, 2017
 /trv/
2017 4chan Autumn Babby Cup Group F
1-3 L
My Husbando  37'
May 4, 2018
 /tv/
2018 4chan Spring Babby Cup Group C
2-4 L
Drawfags  10'
Noctis Lucis Caelum 12'
May 6, 2018
 /w/
2018 4chan Spring Babby Cup Group C
2-1 W
Traps  81'
Yaranaika 90+'
May 18, 2018
 /biz/
2018 4chan Spring Babby Cup Group C
2-4 L
Yaranaika  59', 77'
May 19, 2018
 /fit/
2018 4chan Spring Babby Cup Group C
0-4 L
-
October 12, 2018
 /cgl/
2018 4chan Autumn Babby Cup Qualifiers Group B
4-2 w
Yaranaika  17'
Traps  32', 41'
Gerudo Link  45+3'
October 13, 2018
 /o/
2018 4chan Autumn Babby Cup Qualifiers Group B
1-3 L
Gerudo Link  21'
October 14, 2018
 /mu/
2018 4chan Autumn Babby Cup Qualifiers Group B
1-3 L
My Husbando  50'
May 17, 2019
 /vr/
2019 4chan Spring Babby Cup Group B
2-1 W
Traps  5'
Gerudo Link 66'
May 19, 2019
 /c/
2019 4chan Spring Babby Cup Group B
1-1 D
Gerudo Link  48'
May 25, 2019
 /tg/
2019 4chan Spring Babby Cup Group B
1-2 L
Gerudo Link  67'
June 1, 2019
 /co/
2019 4chan Spring Babby Cup knockout stage
0-3 L
-
July 19, 2019
 /u/
2019 4chan Summer Cup Group D
2-6 L
Yaranaika  44', 61'
July 21, 2019
 /toy/
2019 4chan Summer Cup Group D
1-2 L
Yaranaika  90+3'
July 27, 2019
 /ck/
2019 4chan Summer Cup Group D
1-1 D
My Husbando  42'
Invitationals
Date
Opponent
Competition
Result
Scorers
December 25, 2012
 /r9k/
2012 Christmas Cup Round of 16
4-1 W
Footjob Thread  15'
Ramen Yaoi  41', 82'
Delete Your Missfires  61'
December 25, 2012
 /mu/
2012 Christmas Cup Quarterfinals
1-0 W
Delete Your Missfires  76'
December 25, 2012
 /po/
2012 Christmas Cup Semifinals
2-1 W
Ramen Yaoi  16', 41'
December 25, 2012
 /o/
2012 Christmas Cup Final
0-3 L
-
September 6, 2013
 /3/
2013 Dubs Cup Group Stage
2-2 D
Ramen Yaoi 3', 72'
September 8, 2013
 /cgl/
2013 Dubs Cup Group Stage
2-1 W
Ramen Yaoi 2', 70'
September 14, 2013
 /vg/
2013 Dubs Cup Group Stage
4-2 W
Delete Your Missfires 25', 63', 74', 76'
September 20, 2013
 /s4s/
2013 Dubs Cup Round Of 16
4-2 W
Delete Your Missfires 23', 42', 86'
Link 74'
September 21, 2013
 /v/
2013 Dubs Cup Quarter Final
3-2 W
Delete Your Missfires 2', 56', 84'
September 22, 2013
 /jp/
2013 Dubs Cup Semi Final
4-3 W
Delete Your Missfires 22', 34'
Footjob Thread 82'
Black 89'
September 22, 2013
 /m/
2013 Dubs Cup Final
4-2 W
Black 25', 72'
Ramen Yaoi 105'
In Your Heart 115'
November 2, 2013
 /co/
Halloween Bowl 2013 Quarter Final
2-0 L
-
December 21, 2013
 /jp/
Weeabowl II Quarter Final
2-1 L
Black 50'
September 13, 2014
 /d/
Ved's 1.04 Test Cup Round Of 16
3-2 W
Delete Your Missfires 18'
Yaranaika 63', 69'
September 14, 2014
 /biz/
Ved's 1.04 Test Cup Quarter Final
4-2 W
Yaranaika 27', 31'
Delete Your Missfires 34', 74'
September 14, 2014
 /vr/
Ved's 1.04 Test Cup Semi Final
2-2 W
(5-4)
Yaranaika 29'
Ramen Yaoi 79'
September 14, 2014
 /r9k/
Ved's 1.04 Test Cup Final
3-2 W
Delete Your Missfires 62', 80'
Yaranaika 107'
November 28, 2014
 /a/
Thanksgiving Bowl Round Of 16
3-2 L
Delete Your Missfires 22'
Ramen Yaoi 43'
December 19, 2014
 /i/
Kurisumasu Cup Preliminaries
2-2 W
(5-4)
Ramen Yaoi 19'
Yaranaika 52'
December 20, 2014
 /e/
Kurisumasu Cup Quarter Finals
2-1 L
Yaranaika 74'
January 10, 2015
 /t/
Jenkey Memorial Cup Group Stage
4-1 W
Ramen Yaoi  19', 52'
Cum In My Pants 27', 32'
January 10, 2015
 /vr/
Jenkey Memorial Cup Group Stage
5-0 L
-
January 10, 2015
 /diy/
Jenkey Memorial Cup Group Stage
2-2 D
Cum In My Pants 6'
Yaranaika 48'
January 17, 2015
 /o/
2015 4chan Winter Cup Friendlies
0-1 L
-
March 24, 2015
 /g/
Test Cup V 15 Group Stage
1-0 W
Drawfags 9'
March 25, 2015
 /pol/
Test Cup V 15 Group Stage
2-0 W
Yaoi Accessories 36'
I'm Cumming 80'
March 28, 2015
 /biz/
Test Cup V 15 Group Stage
3-0 W
Yaoi Accessories 31'
I'm Cumming 77'
Ramen Yaoi 90+'
March 28, 2015
 /lit/
Test Cup V 15 Quarter Finals
1-3 L
Ramen Yaoi 36'
July 11, 2015
 /d/
2015 4chan Summer Cup Friendlies
2-0 W
Yaranaika 13'
Ramen Yaoi 42'

July 12, 2015
 /cm/
2015 4chan Summer Cup Friendlies
1-2 L
Yaranaika 69'
August 21, 2015
 /asp/
Lark's Madness Round 1
1-3 W
Cum In My Pants ??', ??'
Shovelman ??'

August 23, 2015
 /cgl/
Lark's Madness Round 2
5-1 W
Dio Brando 28', 59'
Link 32', 64'
Drawfags  81'
August 29, 2015
 /diy/
Lark's Madness Round of 16
3-2 W
Ramen Yaoi 39', 51'
I Sooo Need It  48'
August 31, 2015
 /mlp/
Lark's Madness Quarter Finals
1-4 L
Link 11'
December 2, 2015
 /mlp/
Jon Memorial Cup Group Stage
2-4 L
Ramen Yaoi 47', 76'
December 2, 2015
 /co/
Jon Memorial Cup Group Stage
1-0 W
Drawfags 90+'
December 3, 2015
 /mu/
Jon Memorial Cup Group Stage
3-1 L
Kanji Tatsumi 16'
December 25, 2015
 /f/
Kurisumasu Cup II Round of 16
1-0 W
Ramen Yaoi 26'
December 28, 2015
 /a/
Kurisumasu Cup II Quarter Finals
5-0 L
-
January 24, 2016
 /s4s/
2016 4chan Winter Cup Unfriendlies
5-2 L
Ramen Yaoi  8'
Kanji Tatsumi  20'
January 30, 2016
 /biz/
2016 4chan Winter Cup Unfriendlies
3-6 L
Dio Brando  26'
Bishonen  28'
Ramen Yaoi  87'
January 6, 2017
 /e/
2017 4chan Winter Cup Friendlies
4-1 W
Ramen Yaoi  9', 16', 89'
Cute Hot Traps  31'
January 15, 2017
 /p/
2017 4chan Winter Cup Friendlies
3-3 D
Dio Brando  16', 19'
Yaranaika  31'
January 15, 2017
 /gd/
2018 4chan Winter Cup Friendlies
3-2 W
Traps  29'
Yaranaika  82'
Fucktoys  90+'
January 15, 2017
 /u/
2018 4chan Winter Cup Friendlies
2-6 L
Dio Brando  14'
Sea Turtle  81'
January 15, 2017
 /n/
2018 4chan Winter Cup Friendlies
2-1 W
Delete Your Missfires  51', 72'
January 15, 2017
 /f/
2018 4chan Autumn Babby Cup Friendlies
3-1 W
Fucktoys  70'
Ramen Yaoi  88', 90+'
Rivalries

/cm/ - Purity Match
A rivalry forged at the Autumn Cup of 2013, /y/ played /cm/ in what was both teams first meeting of the two. After a shock 2-0 game to /y/, both teams agreed that this rivalry wouldn't be over til one of them submits. This has been enforced even more with a recent game going 1-3 to /cm/'s way.
W1 - D1 - L2(1)

/u/ - Sibling Rivalry
No one says "FUCK YOU!" better then your own sibling. A friendly rivalry, These teams have met only twice on the pitch, with a 1-0 and 6-2 victory to /u/.
W0 - D0 - L2

/i/ - Small Market Slobber-knocker
A cup based rivalry, /y/ has played against /i/ 4 times, with all matches being some of the most important, exciting and hype games of the cup. /y/ has won every match against /i/ so far.
W4 - D0 - L0

/d/ - Dick Bowl
More of a friendly rivalry than anything else, both boards appreciate the more superior sex organ, they just have slightly different opinions on where it should be.
W0(2) - D0 - L0
Y RECORDS (2018 Jan - Current)
Goalscorers Table
| Player | Goals |
| --- | --- |
| Gerudo Link | 5 |
| Yaranaika | 4 |
| Traps | 4 |
| Drawfags | 1 |
| My Husbando | 1 |
| Noctis Lucis Caelum* | 1 |
NOTE: Players who have retired are represented by a *
Assists Table
| Player | Assists |
| --- | --- |
| Yaranaika | 4 |
| My Husbando | 3 |
| Noctis Lucis Caelum* | 2 |
| Big Juicy Bara Titties | 1 |
| Fucktoys | 1 |
| Non-Con | 1 |
| Traps | 1 |
NOTE: Players who have retired are represented by a *
Goalkeepers Table
| Player | Appearances | Saves | Clean Sheets |
| --- | --- | --- | --- |
| Denied Pleasure | 5 | 16 | 0 |
| Bondage General | 3 | 6 | 0 |
| Sticky When?* | 2 | 4 | 0 |
NOTE: Players who have retired are represented by a *
Honors
Invitational Honors
Team Photos
Files
2014 Old Files
Export- 10/3/2015
Kits- 13/9/2014
Faces- 10/3/2015
Stadium- 13/9/2014
2015 Old Files
Export- Autumn 15 Export
AESTHETICS- Autumn 15 Aesthetic Export
Kits- 24/9/15
Music- 24/9/15
Faces- 24/9/15
Pitch- 24/9/15
2016 Old Files
Export- Autumn Export
AESTHETICS- 2016 Autumn
Music- 22/9/16
Pitch- 2/4/16
2017 Old Files
Export- 25/11/2017
AESTHETICS- 5/10/2017
Music- 1/10/2017
2018 Old Files
2018 Export (pes 17) V2:8/10/18

2018 Aesthetics:10/10/18

2018 Music: 8/10/18
---
Current Files
2019 Summer Export (pes 18): 12/7/19

2019 Aesthetics:Has 8/23 Faces that actually work

2019 Music: 15/4/19
Teams
Members

All-Star
Special