2016 4chan Winter Cup Fantasy Football
Jump to navigation
Jump to search
DON'T EDIT THE WIKI PAGE! POST STUFF IN THREAD, ON SKYPE OR IN IRC PM INSTEAD!

Teams
---
Rankings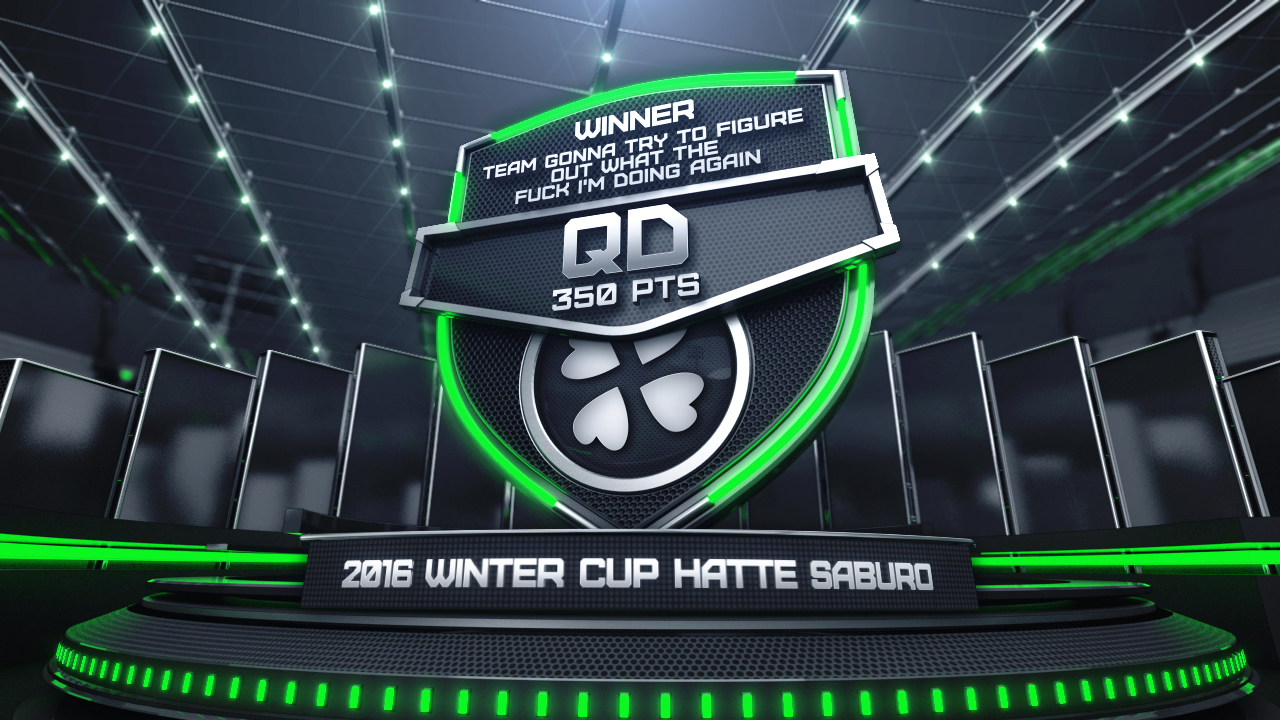 2016 4chan Winter Cup Fantasy Football Rankings
Rank
Change
Teams
Points
1
1
Team Gonna Try to Figure Out What The Fuck I'm Doing Again
350
177
2
23
Team Anyone But /mlp/
346
217
3
14
Team Teams that are going to top their groups part dox
343
208
4
4
Team Kylo Ren-chon
340
191
5
1
How to Either Win FF or Advance v0.1 FC
333
174
6
17
Bet Rigtor Inc.
332
202
7
15
WHITE WHALE HOLY GRAIL
322
190
8
2
BIG MARKETS ONLY FINAL DESTINATION
315
159
9
4
Team Plastic Morons
308
150
10
9
Team Memester City
306
120
11
16
Okhotsk FC
298
172
12
3
>Page 9
288
140
13
8
Semen Slurpers FC
282
148
14
14
Leicester City Since 2015
278
154
15
5
team Unbearable Responsibilities Mk. VI
267
121
16
13
Team Illinoisemakers
261
93
17
Team Smugleaf's Electric SCREEEEEEEEEEEEEEEEEEEEEEEEEEEEEEEEEEEEE
260
125
18
4
Team Delay Delay Delay
256
119
18
2
I Have A Cat It's Such A Beautiful Cat Her Name Is Cookie FC
256
120
20
8
¡Please Clap!
239
99
21
5
benis
238
110
22
8
Sheev and Van Darkholme's Collective of "Just Shit on my Chest" (Subtitled: "Where is the Meme Synthesis?"), sometimes featuring Family and Friends
237
100
23
Team I should have downloaded PES16 and tested, but I'm doing this instead
223
93
24
14
Team Xhe Xhi Xho Xhum I Smell the Blood of CIS Scum
220
130
25
12
Team Fuck Anime in their ugly 2D butts
216
120
26
3
Team Just me and the lads m8
210
88
27
10
Hyperdimension Fantasy Football
208
73
28
4
Mansnibbit "I Won Last Fantasy Or Not Vaughan The Suspense Is Killing Me" Unabbit FC
193
85
29
17
Team Concussion Dragons
192
52
30
23
Fabrosi's Fantasy Friendship Fucks-Redemption Edition
191
39
31
1
FF Error: Our system thinks your post is spam. Please reformat and try again. REEEEEEEE WAAAAH :DDDDD
186
69
32
2
Kitfag FC's Straight Outta /out/b/a/ck/
181
79
33
16
You will be upset that I win FC
167
32
34
23
No fun allowed
158
17
35
1
Team /)
153
52
36
3
Team >Complaining about anime on an anime imageboard
133
29
37
6
Team Major Shitpost Update 3.5
121
8
38
4
The Planeteers
120
17
Rules
Teams are to be put on the wiki before the scheduled starting time of the first match of the tournament. This team will count for the whole tournament.

Teams must consist of: a team name, eleven starting players and six substitutes, a captain and a vice-captain. The eleven starting players must follow these guidelines:

1 goalkeeper
3-5 defenders, with a maximum of 1 LB and 1 RB. CBs are limitless
3-6 midfielders, with a maximum of 1 LMF, 1 RMF, 3 AMFs, 3 CMFs, 3 DMFs, and at least one CMF or DMF.
1-3 forwards, with a maximum of 1 LWF and 1 RWF. CFs and SSs are limitless

The substitutes must consist of one goalkeeper, two defenders, two midfielders and one forward.

A team must have exactly two gold and two silver players. Additionally, the team will get a medal substitute, who can be either gold or silver without affecting these limitations - however, a medal substitute cannot fill in for a lower class, so a gold player substitute cannot fill in for a silver nor can golds or silvers fill in for non-medals. Furthermore, a team may have no more than three players overall from any one board.

If a player in the team's starting eleven does not play in a round, a substitute who does may take their spot. The player must be from the same category, but specific position differences are allowed (so a CB may fill in for a LB, but not for a DMF).

For each round of matches, all players who take the field will receive a score for their performance. The team's score will be calculated at the end of each round as the sum of the scores of their eleven players. If a player does not play and is not covered by a substitute, they will count 0 towards the team's score.

Following the group stages of a cup, teams are allowed to remove eliminated players and replace them with players still in the tournament. The team must run the same formation but can change the individual positions (so a CB may swap for an RB if it does not break the maximums listen above). Medals must remain in the same section of defence, midfield or attack but can change positions. If there are no more players at a level, you are permitted to move the player up or down to the nearest available spot to replace the player. For instance, if you have a gold CB in the team and that was the only team with a gold CB, you then look to teams with a gold DMF then CMF, LMF/RMF, AMF, SS, LWF/RWF, CF in that order. The reverse can be used for non medal strikers. Captains and vice captains can change at this stage.

Scoring
Points are accumulated as follows:

1 point for each full point of match rating in excess of 4.
6 points for a defender or goalkeeper scoring a goal.
5 points for a midfielder scoring a goal.
4 points for a forward scoring a goal.
3 points for a goal assist.
4 points for a defender or goalkeeper if their team managed a clean sheet and they played 60 minutes or more.
3 points for a defender or goalkeeper if their team managed a clean sheet and they took the field yet played less than 60 minutes.
1 point for a midfielder if their team managed a clean sheet and they played 60 minutes or more.
1 point for every 2 saves made by a goalkeeper.
5 points for a goalkeeper saving a penalty (not if it is missed).
-2 points for a player who misses a penalty.
3 points if a player is judged Man of the Match by PES.
2 points if the player's match rating is equal to or higher than the Man of the Match's.
1 point if the player's match rating is 0.5 less than the Man of the Match's.
-1 point for every 2 goals conceded by a defender or goalkeeper's team while the player was on the field.
-1 point for the player receiving a yellow card.
-3 points for the player receiving a red card.
-5 points for the player receiving a red card from 2 yellow cards.
-2 points for the player scoring an own goal.

After these scores are tallied, the captain will have his score doubled, and if he did not play then the vice-captain's score will be doubled instead.

Once scores have been calculated for each match day, they will be posted. The competition will run for the duration of the cup. At the conclusion of the tournament, the team with the highest score will be awarded the Hatte Saburo trophy.