The logo competition for the 2021 4chan World Cup is now taking submissions.
The deadline is May 3rd, 23:59 UTC. Logos will be placed in this gallery like has been done previously to facilitate discussion. This will be followed by 2 weeks where you can modify/improve your existing submission if you desire. After this "improvement phase" there will be a one week voting period. Please send all submissions to Potatotron. You must supply a high-res PNG file (5000x5000 limit) and the original multi-layer source file.
Cloverleaf logo: .png .svg

Deadline in: May 3 2021 23:59:59 UTC
Deadline has passed.

Cloverball logo: .ai .png .svg
2017 4chan Autumn Babby Cup Fantasy Football
Jump to navigation
Jump to search
DON'T EDIT THE WIKI PAGE! POST STUFF IN THREAD, ON SKYPE OR IN IRC PM INSTEAD!

Teams
---
Rankings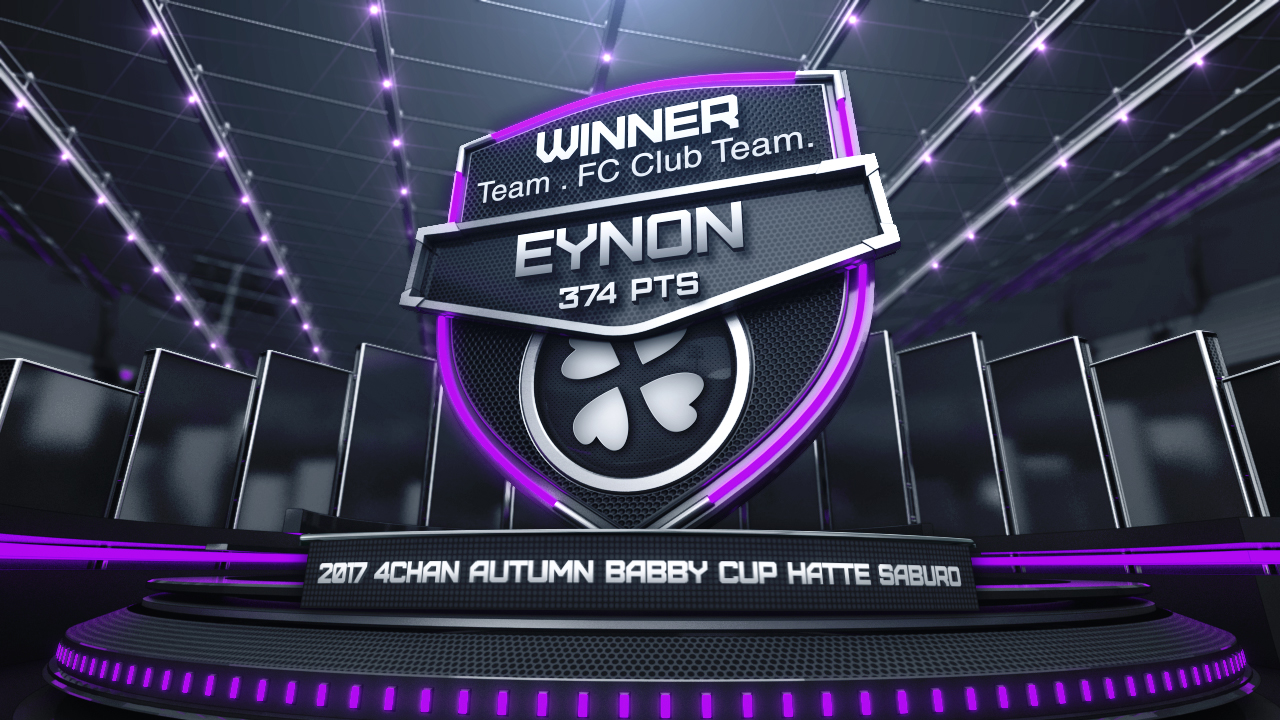 2017 4chan Autumn Babby Cup Fantasy Football Rankings
Rank
Change
Teams
Points
1
4
Team . FC Club Team.
374
175
2
1
Reply to this team or your mother dies in her sleep tonight
354
127
3
8
Team Lear Sucks And Should Have Banned Height Abuse
351
178
4
1
Fake Soccer Expansion
350
144
5
1
63 ways to say "Man, that's good!"
329
136
6
2
Team British Grenadiers
327
141
7
3
Team Managers are Important
326
125
8
4
Team I've Been Here Too Long
300
128
9
7
RIP Megababby
298
79
10
3
Team /4ccg/ Should Compete in VGL but the chat is managing it
290
120
11
4
This team can't be any worse than my fantasy handegg team, right?
285
93
12
3
Bet Rigtor Inc.
277
92
13
3
Team Jinder Mahal Hates Garlic Bread
274
90
14
6
Team I should have removed managers but I'm doing this instead
272
151
15
6
Team /a/-RISE
257
139
16
1
Gold or Spoon But Don't Forget To Gas The Kikes FC
230
81
17
2
imagine fantasy
229
105
18
4
listen i won ff once i physically cannot care anymore fc
224
74
19
2
Team Bearly Any Responsibilities Mk. III
210
74
20
6
SILLIUS AND THEWORST AND TECH GUIDE ME TO VICTORY VIVA LA VIDYA
209
133
20
4
Team: Plosh
209
67
22
4
Team I would like to issue a formal complaint because I can't play 3-3-4 in this
195
66
23
1
Team Piggly Wigglu
167
68
24
2
The harder your try, the harder you fall
147
30
25
Just Monika
121
27
26
3
あなたは誰かを好きになったことがありますか?
113
8
Rules
Teams are to be put on the wiki before the scheduled starting time of the first match of the tournament. This team will count for the whole tournament.

Teams must consist of: a team name, eleven starting players and six substitutes, a captain and a vice-captain. The eleven starting players must follow these guidelines:

1 goalkeeper
3-5 defenders, with a maximum of 1 LB and 1 RB. CBs are limitless
3-6 midfielders, with a maximum of 1 LMF, 1 RMF, 3 AMFs, 3 CMFs, 3 DMFs, and at least one CMF or DMF.
1-3 forwards, with a maximum of 1 LWF and 1 RWF. CFs and SSs are limitless

The substitutes must consist of one goalkeeper, two defenders, two midfielders and one forward.

A team must have exactly two gold and two silver players. Additionally, the team will get a medal substitute, who can be either gold or silver without affecting these limitations - however, a medal substitute cannot fill in for a lower class, so a gold player substitute cannot fill in for a silver nor can golds or silvers fill in for non-medals. Furthermore, a team may have no more than three players overall from any one board.

If a player in the team's starting eleven does not play in a round, a substitute who does may take their spot. The player must be from the same category, but specific position differences are allowed (so a CB may fill in for a LB, but not for a DMF).

For each round of matches, all players who take the field will receive a score for their performance. The team's score will be calculated at the end of each round as the sum of the scores of their eleven players. If a player does not play and is not covered by a substitute, they will count 0 towards the team's score.

Following the group stages of a cup, teams are allowed to remove eliminated players and replace them with players still in the tournament. The team must run the same formation but can change the individual positions (so a CB may swap for an RB if it does not break the maximums listen above). Medals must remain in the same section of defence, midfield or attack but can change positions. If there are no more players at a level, you are permitted to move the player up or down to the nearest available spot to replace the player. For instance, if you have a gold CB in the team and that was the only team with a gold CB, you then look to teams with a gold DMF then CMF, LMF/RMF, AMF, SS, LWF/RWF, CF in that order. The reverse can be used for non medal strikers. Captains and vice captains can change at this stage.

Scoring
Points are accumulated as follows:

1 point for each full point of match rating in excess of 4.
6 points for a defender or goalkeeper scoring a goal.
5 points for a midfielder scoring a goal.
4 points for a forward scoring a goal.
3 points for a goal assist.
4 points for a defender or goalkeeper if their team managed a clean sheet and they played 60 minutes or more.
3 points for a defender or goalkeeper if their team managed a clean sheet and they took the field yet played less than 60 minutes.
1 point for a midfielder if their team managed a clean sheet and they played 60 minutes or more.
1 point for every 2 saves made by a goalkeeper.
5 points for a goalkeeper saving a penalty (not if it is missed).
-2 points for a player who misses a penalty.
3 points if a player is judged Man of the Match by PES.
2 points if the player's match rating is equal to or higher than the Man of the Match's.
1 point if the player's match rating is 0.5 less than the Man of the Match's.
-1 point for every 2 goals conceded by a defender or goalkeeper's team while the player was on the field.
-1 point for the player receiving a yellow card.
-3 points for the player receiving a red card.
-5 points for the player receiving a red card from 2 yellow cards.
-2 points for the player scoring an own goal.

After these scores are tallied, the captain will have his score doubled, and if he did not play then the vice-captain's score will be doubled instead.

Once scores have been calculated for each match day, they will be posted. The competition will run for the duration of the cup. At the conclusion of the tournament, the team with the highest score will be awarded the Hatte Saburo trophy.