The Autumn logo competition is now open, please submit your entries via email to f4r. You must supply both a high-resolution PNG file and the original multi-layer source file, along with a qualifier version. Entries will be posted to the wiki as they are received, submissions will close 23:59:59 UTC on the 29th of September. This will be followed by a week-long poll. Cloverball logo: .ai .png .svg
Rigged Wiki:Players of the week/2012
November
Wednesday 21st - Putin
Putin
Height: 189cm
Weight: 82kg
Skillcards:

S01

,

S05

,

S06
Влади́мир Влади́мирович Пу́тин

is the gold player, captain, and all-time leading goalscorer of /int/. He enjoyed moderate early success with the board as they finished in fourth place in the 2012 Spring Cup. While the team had no manager for the following Summer Cup, his hegemonic authority over his side (and most opposition defences) led them to the final of the cup, and the Golden Boot with a spectacular twelve goals in six games. His prolific form earned him a place in the Summer Cup All Stars side, where he scored another three goals. Putin will be hoping to replicate his past form and go one step further in the coming Winter Cup by bringing /int/ their first trophy.
Wednesday 28th - Nigramarines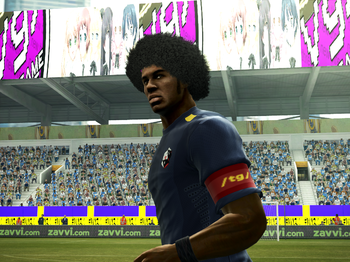 Nigramarines
Height: 205cm
Weight: 124kg
Skillcards:

P06
Standing at a mighty

205cm

tall and weighing

124kg

, the imposing Nigramarines is the starting centre back and captain of /tg/. Present even before the board all fa/tg/uys call home even existed, he assisted in the righteous defence of /b/ from the accursed furry invasion. The pool was emphatically closed as Wednesday became Warhammer Wednesday. Nigramarines has been a staple of the /tg/ squad since its inception, acting as the solid anchor of the back line as one of two bronze players. While he is yet to taste true success, the team has been on promising runs in the 2012 Winter and Summer Cups. Nigramarines will be looking forward to the upcoming FLGS Cup with great fervour, hoping to redeem himself after /tg/ let five goals by in the match that started it all.
December
Wednesday 5th - I Like Trains
I Like Trains

Height: 190cm
Weight: 76kg
Cards:

S05

,

P18

,

P12

From the dark days of benchwarming before the Spring, I Like Trains took /n/ by the balls and went on a meteoric rise to become the team's gold player. Feared by defences across 4chan, he has scored in just over 60% of /n/'s matches - a total of 17 goals in 18 - made all the more impressive by his role as an attacking midfielder rather than the out-and-out forward role he has just recently inherited. I Like Trains plays as the dynamo of /n/, with his card selection allowing him to influence play across the length and breadth of the pitch. After /n/ qualified from the Babby Cup at the first attempt in Spring, he played a vital role in the Summer Cup campaign, scoring in all but one of his matches. After consecutive Quarter Final defeats, I Like Trains will be pulling /n/ harder than ever before to break that barrier in the Winter.
Wednesday 12th - Woody
Woody

Height: 200cm
Weight: 80kg
Cards:

S01

,

S02

,

S06

While his off-field antics may leave much to be desired, on the field Woody is the mercurial gold striker of /toy/. This enterprising buckaroo has scored a stunning twenty goals in eighteen appearances for /toy/, making him one of the deadliest finishers in the game. His card setup is all about goalscoring, with S01 providing the deft touch needed in the final third, while S02 and S06 allow for the deadliest of strikes. When his midfield supply chain of Matty, Optimus Prime and Madoka Titus are in form, goals are an inevitability. Woody's most successful moments to date are a victory on penalties against /cgl/ in the knockout stage of the Spring Babby Cup, in which he scored a hattrick, and a demolition of /n/ at the quarter final stage of the Summer Cup where he scored another four goals. With Tinker/toy/

 !KKNPpJRADo

no longer around to keep Woody on the right track, the question remains whether incumbent therookie562

 !!zCyzwImHm2h

has what it takes to extract the maximum from his star player.
Wednesday 19th - Autism
Autism

Height: 181cm
Weight: 80kg
Cards:

S05

Autism is the silver striker of /jp/. As the cyanoacrylate glue that holds us together, in a comedic twist of fate this highly sought-after player ended up representing the board that hates us so, so much. Autism has been part of /jp/ since its formation at the beginning of the year and has maintained a healthy scoring rate with two braces to his name against /o/ and /ck/. With a dazzling spectrum of skills Autism acts as the foil to Get out of /jp/, using Speed Merchant to pressure the opposition defence as his strike partner reaps the rewards. He will be feeling the pressure with the dawn of 2013, as /jp/'s survival as a top-tier team will hang in the balance when the Winter Cup begins in February. A mere consolation goal to his name against /f/ in /jp/'s recent friendly defeat may have done little to ease his jangling nerves. Keep an eye out for 4chan's most popular buzzword in the upcoming Weeabowl as /jp/ face /cgl/ in their opening round.
Wednesday 26th - Christmas Cake
Christmas Cake

Height: 187cm
Weight: 83kg
Cards: None.
Christmas Cake. Sweet. Delicious. But do you really want it after the 25th? Didn't think so. In Nihon the same goes for women. If you're not married by a certain age then no self-respecting man gonna want you. Formerly a defensive midfielder and early recruit for the side, /h/'s Christmas Cake is a starting center back, partnering the diminutive Clementine and bronze NTR. Professionally Evolved Soccer turned out to be the perfect outlet for this woman's romantic and sexual frustrations, as she has forced her way into the starting eleven. This player has been known to blow a fuse at the most subtle questioning of her enduring singledom, so all opposition beware, and spare a thought this Christmas for those less fortunate.