2015 4chan Winter Cup Fantasy Football
Jump to navigation
Jump to search
DON'T EDIT THE WIKI PAGE! POST STUFF IN THREAD, ON SKYPE OR IN IRC PM INSTEAD!

Teams
---
Rankings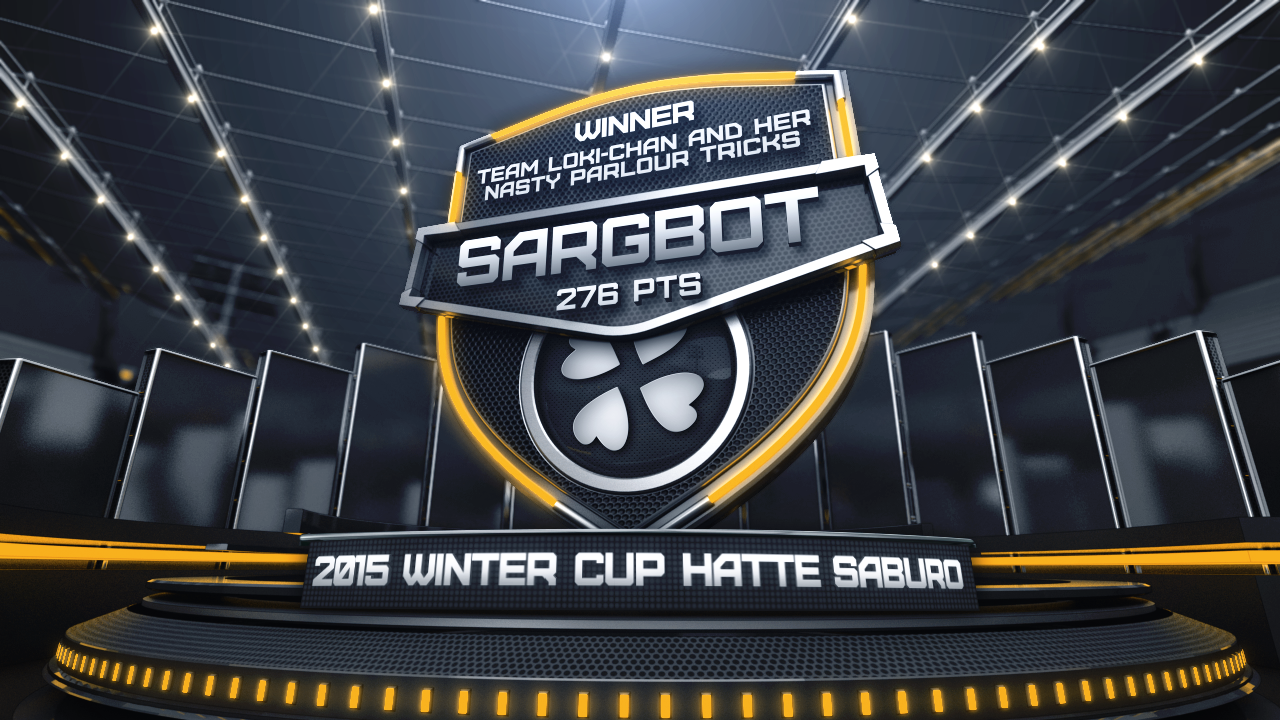 2015 4chan Winter Cup Fantasy Football Rankings
Rank
Change
Teams
Points
1
13
Team "Loki-chan And Her Nasty Parlour Tricks"
276
170
2
22
Shooting. Scoring. Both done at MA-HAAAA!
273
182
3
2
Team If you can't beat 'em OR Join 'em, do absolutely nothing like 'em
265
107
4
Team IT WAS ME BARRY!
259
126
5
Team I should have thought in a better name for my FF team by now but I'm doing this instead
257
134
6
4
PFTPFTPFT NORMIES GET OUT DMNDMNDMNDMN BBBPT DMNDMN BBBPT DMN KRCHKRCH DMNDMNDMN ... GET-OUT
222
75
7
4
Team Kinky Dong's Box o' Surprises
212
73
8
5
Lear's Kings
205
95
9
3

>muh merc

fc
204
86
9
Team Cry Me A Doc Rivers
204
90
11
4
Team Run the Goals
198
82
12
2
HE WON'T SEE THE SUN AGAIN FOR YEARS TO COME
192
86
12
8
/biz/ness as usual
192
93
12
10
Team Upside-down Titty Foundations 2
192
97
15
8
Team NTR is the thinking man's fetish
191
75
16
6
Team Fuck 3: Free To Remain Three: The Wife of the Son of Team Fuck
189
78
17
13
Team "Best For Business"
183
108
18
5
Team The Power is Mine!
181
88
19
9
Cyclo Logic Gaming
180
69
20
3
Bet Rigtor Inc.
176
72
21
1
Team Keep Calm And Cross It To Cunt Destroyer
174
75
22
5
Team If you can't beat 'em, Join 'em
173
69
23
13
Original Names Are Hard 2: Electric Boogaloo
168
57
24
8
This team will win the up
158
53
24
5
Team Planeptune
158
77
26
6
lmao nigga why u even tryin play fantasy wid me i wipe d floor wid u
149
78
27
8
Team Smugleaf's Electric Marsupials Inc.
144
43
28
6
Team Not In Winter But My Presence Is Still Here
130
74
29
3
Team Random.org Because /fhg/ Sucks at Dubs
122
35
29
1
Bet Shigtor's Kneecappers
122
40
31
7
Team Boku no Danktoads over the Highground
120
29
31
4
Team >ded horses >ded hype
120
35
33
4
Team "Strikers are for pussies"
111
30
34
2
I WILL Stick With FF This Time And Not Forget Halfway Through and Stop Updating
82
11
Rules
Teams are to be put on the wiki before the scheduled starting time of the first match of the tournament. This team will count for the whole tournament.

Teams must consist of: a team name, eleven starting players and six substitutes, a captain and a vice-captain. The eleven starting players must follow these guidelines:

1 goalkeeper
3-5 defenders, with a maximum of 1 LB and 1 RB. CBs are limitless
3-6 midfielders, with a maximum of 1 LMF, 1 RMF, 3 AMFs, 3 CMFs, 3 DMFs, and at least one CMF or DMF.
1-3 forwards, with a maximum of 1 LWF and 1 RWF. CFs and SSs are limitless

The substitutes must consist of one goalkeeper, two defenders, two midfielders and one forward.

A team must have exactly two gold and two silver players. This does not include the forward substitute, who can be either gold or silver without affecting these limitations - however, a forward substitute cannot fill in for a lower class, so a gold forward substitute cannot fill in for a silver. Furthermore, a team may have no more than three players overall from any one board.

If a player in the team's starting eleven does not play in a round, a substitute who does may take their spot. The player must be from the same category, but specific position differences are allowed (so a CB may fill in for a LB, but not for a DMF).

For each round of matches, all players who take the field will receive a score for their performance. The team's score will be calculated at the end of each round as the sum of the scores of their eleven players. If a player does not play and is not covered by a substitute, they will count 0 towards the team's score.

Following the group stages of a cup, teams are allowed to remove eliminated players and replace them with players still in the tournament. The team must run the same formation but can change the individual positions (so a CB may swap for an RB if it does not break the maximums listen above). Medals must remain in the same section of defence, midfield or attack but can change positions. If there are no more players at a level, you are permitted to move the player up or down to the nearest available spot to replace the player. For instance, if you have a gold CB in the team and that was the only team with a gold CB, you then look to teams with a gold DMF then CMF, LMF/RMF, AMF, SS, LWF/RWF, CF in that order. The reverse can be used for non medal strikers. Captains and vice captains can change at this stage.

Scoring
Points are accumulated as follows:

1 point for each full point of match rating in excess of 4.
6 points for a defender or goalkeeper scoring a goal.
5 points for a midfielder scoring a goal.
4 points for a forward scoring a goal.
3 points for a goal assist.
4 points for a defender or goalkeeper if their team managed a clean sheet and they played 60 minutes or more.
3 points for a defender or goalkeeper if their team managed a clean sheet and they took the field yet played less than 60 minutes.
1 point for a midfielder if their team managed a clean sheet and they played 60 minutes or more.
1 point for every 2 saves made by a goalkeeper.
5 points for a goalkeeper saving a penalty (not if it is missed).
-2 points for a player who misses a penalty.
3 points if a player is judged Man of the Match by PES.
2 points if the player's match rating is equal to or higher than the Man of the Match's.
1 point if the player's match rating is 0.5 less than the Man of the Match's.
-1 point for every 2 goals conceded by a defender or goalkeeper's team while the player was on the field.
-1 point for the player receiving a yellow card.
-3 points for the player receiving a red card.
-2 points for the player scoring an own goal.

After these scores are tallied, the captain will have his score doubled, and if he did not play then the vice-captain's score will be doubled instead.

Once scores have been calculated for each match day, they will be posted. The competition will run for the duration of the cup. At the conclusion of the tournament, the team with the highest score will be awarded the Hatte Saburo trophy.