The logo competition for the 2021 4chan World Cup is now taking submissions.
The deadline is May 3rd, 23:59 UTC. Logos will be placed in this gallery like has been done previously to facilitate discussion. This will be followed by 2 weeks where you can modify/improve your existing submission if you desire. After this "improvement phase" there will be a one week voting period. Please send all submissions to Potatotron. You must supply a high-res PNG file (5000x5000 limit) and the original multi-layer source file.
Cloverleaf logo: .png .svg

Deadline in: May 3 2021 23:59:59 UTC
Deadline has passed.

Cloverball logo: .ai .png .svg
2017 4chan Spring Babby Cup Fantasy Football
Jump to navigation
Jump to search
DON'T EDIT THE WIKI PAGE! POST STUFF IN THREAD, ON SKYPE OR IN IRC PM INSTEAD!

Teams
---
Rankings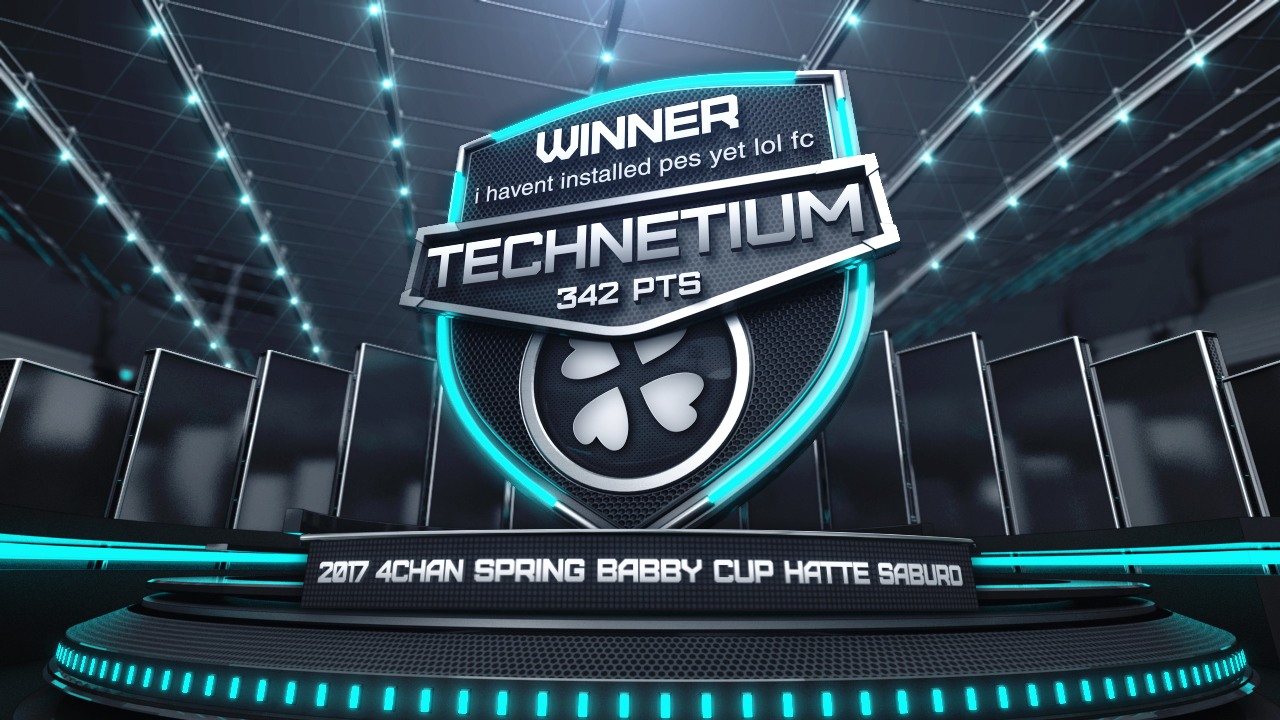 2017 4chan Spring Babby Cup Fantasy Football Rankings
Rank
Change
Teams
Points
1
i havent installed pes yet lol fc
342
163
2
1
Team Unbelievable Indescribable Amounts of Pain
318
147
3
17
Team Doc Rivers blew a 3-1 lead before it was cool
266
166
4
14
Team 3 : The Return: Final Vengeance: Homecoming: The Last Battle: The Quest for Peace
245
141
5
The Last Maribro Alive
218
70
6
1
Bet Rigtor Inc.
216
78
7
8
Ruth Masturbator Ginsburg
207
86
7
3
team teammeamteamtmaeameam
207
54
9
7
Team 2B IS FOR HUGS NOT FUGS
202
29
9
Team Nobody Wuzza There
202
69
11
3
Team Ponies Can Love Ponies
201
66
12
8
Team FC The Worst Team In The Divegrass History Get Fucking PES'd AGAIN
193
93
13
15
nyx
185
103
13
1
Team A.B.A.P.
185
60
15
1
Team Bullshit but I believe it
175
53
16
13
Team Literally All RNG Just Like PES Haha
173
92
17
11
Team >norf
166
20
18
8
/NotYourTeam/
159
30
18
7
Team Fabrosi's Friendship Fantasy Fucks
159
33
20
1
The Boys Are Back In Town
157
54
21
8
Team Yet Another Crippling Depression Team
154
30
22
6
Team Unbearable Responsibilities Mk. XIV
150
33
23
6
Team Little Girls and a Big Man
131
20
24
1
Team I should be doing something productive with my life by now, but I'm doing this instead
130
39
25
3
Team I need a stupid long team name again so I can find it faster on the wiki for whatever fucking reason something something horsies. FC Club.
114
15
26
Team /wsr/equesting players with names that are five or less characters in length:
110
26
27
4
Leaving Room For Jesus
98
7
28
3
Meme Team: United Cancer Front
94
8
29
3
Team >grills>divegrass
87
3
Rules
Teams are to be put on the wiki before the scheduled starting time of the first match of the tournament. This team will count for the whole tournament.

Teams must consist of: a team name, eleven starting players and six substitutes, a captain and a vice-captain. The eleven starting players must follow these guidelines:

1 goalkeeper
3-5 defenders, with a maximum of 1 LB and 1 RB. CBs are limitless
3-6 midfielders, with a maximum of 1 LMF, 1 RMF, 3 AMFs, 3 CMFs, 3 DMFs, and at least one CMF or DMF.
1-3 forwards, with a maximum of 1 LWF and 1 RWF. CFs and SSs are limitless

The substitutes must consist of one goalkeeper, two defenders, two midfielders and one forward.

A team must have exactly two gold and two silver players. Additionally, the team will get a medal substitute, who can be either gold or silver without affecting these limitations - however, a medal substitute cannot fill in for a lower class, so a gold player substitute cannot fill in for a silver nor can golds or silvers fill in for non-medals. Furthermore, a team may have no more than three players overall from any one board.

If a player in the team's starting eleven does not play in a round, a substitute who does may take their spot. The player must be from the same category, but specific position differences are allowed (so a CB may fill in for a LB, but not for a DMF).

For each round of matches, all players who take the field will receive a score for their performance. The team's score will be calculated at the end of each round as the sum of the scores of their eleven players. If a player does not play and is not covered by a substitute, they will count 0 towards the team's score.

Following the group stages of a cup, teams are allowed to remove eliminated players and replace them with players still in the tournament. The team must run the same formation but can change the individual positions (so a CB may swap for an RB if it does not break the maximums listen above). Medals must remain in the same section of defence, midfield or attack but can change positions. If there are no more players at a level, you are permitted to move the player up or down to the nearest available spot to replace the player. For instance, if you have a gold CB in the team and that was the only team with a gold CB, you then look to teams with a gold DMF then CMF, LMF/RMF, AMF, SS, LWF/RWF, CF in that order. The reverse can be used for non medal strikers. Captains and vice captains can change at this stage.

Scoring
Points are accumulated as follows:

1 point for each full point of match rating in excess of 4.
6 points for a defender or goalkeeper scoring a goal.
5 points for a midfielder scoring a goal.
4 points for a forward scoring a goal.
3 points for a goal assist.
4 points for a defender or goalkeeper if their team managed a clean sheet and they played 60 minutes or more.
3 points for a defender or goalkeeper if their team managed a clean sheet and they took the field yet played less than 60 minutes.
1 point for a midfielder if their team managed a clean sheet and they played 60 minutes or more.
1 point for every 2 saves made by a goalkeeper.
5 points for a goalkeeper saving a penalty (not if it is missed).
-2 points for a player who misses a penalty.
3 points if a player is judged Man of the Match by PES.
2 points if the player's match rating is equal to or higher than the Man of the Match's.
1 point if the player's match rating is 0.5 less than the Man of the Match's.
-1 point for every 2 goals conceded by a defender or goalkeeper's team while the player was on the field.
-1 point for the player receiving a yellow card.
-3 points for the player receiving a red card.
-5 points for the player receiving a red card from 2 yellow cards.
-2 points for the player scoring an own goal.

After these scores are tallied, the captain will have his score doubled, and if he did not play then the vice-captain's score will be doubled instead.

Once scores have been calculated for each match day, they will be posted. The competition will run for the duration of the cup. At the conclusion of the tournament, the team with the highest score will be awarded the Hatte Saburo trophy.