2017 4chan Summer Cup Fantasy Football
Jump to navigation
Jump to search
DON'T EDIT THE WIKI PAGE! POST STUFF IN THREAD, ON SKYPE OR IN IRC PM INSTEAD!

Teams
---
Rankings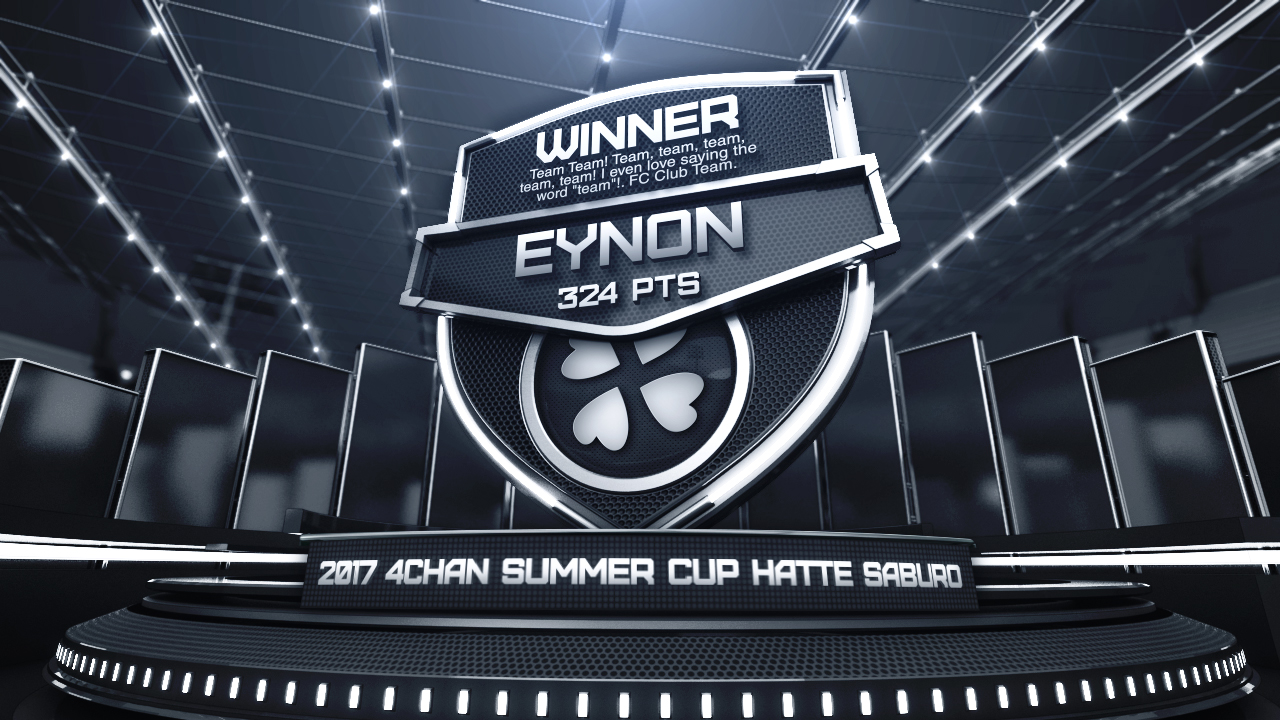 2017 4chan Summer Cup Fantasy Football Rankings
Rank
Change
Teams
Points
1
1
Team Team! Team, team, team, team, team! I even love saying the word "team"!. FC Club Team.
324
162
2
2
Just MVP your Fantasy Football FC
277
132
3
9
Got a Light?
268
142
4
3
Team I expect nothing and will still be disappointed
267
134
5
13
Team Little Girls Read The Entire Western Canon
265
158
6
5
Have a Golden Gaytime®
246
118
7
15
Fake Soccer 3: Dub Edition
233
121
7
17
Team Aesthetic is a negative stat
233
124
9
6
Yeah, I killed a CIA nigger with my plane in 2012
219
71
10
6
The Government Paid Me to Make This Team
217
107
11
2
ANIME PROXIES WIN SUMMER LOOOOOOOL ENJOY SLIPPING ON YOUR PERRO CACA /SP/ QUADS CHECK 'EM /A/ GRANTS THE CUP WIN TO ALL THE WEEB TEAMS IN SUMMER YOU LITERALLY CANNOT DEFEND THIS A/SP/IES GETTING BTFO BY ANIME LMAOOOOOOOOOO CANT SPELL SUMMER WITHOUT /U/ OR /M/ BECAUSE THEY'RE /A/ AND WE'RE GONNA WIN THE CUP LOL /SP/ SUCKS ENJOY RELEGATION WE'LL BE WATCHING OUR CUP WIN FROM THE FETUS
219
91
12
23
Team Skango Skoobear
207
130
13
14
Team Weeb Uprising
206
111
14
13
team proactively evisculate bleeding-edge results
199
36
14
9
[Funny and Clever Fantasy Team Name]
199
63
16
8
Team 4CC Sucks lmaooooo
197
66
17
7
Team /out/ Memorial
195
66
18
4
SILLIUS AND THEWORST GUIDE ME TO VICTORY VIVA LA VIDYA
194
76
19
2
Team #Justice4Daryl
191
82
20
13
Tem Unbearable Responsibilities Mk. XIV
186
100
21
1
Clube Deletthisportivo Steamed Lowmers from Upstate New York
180
75
22
1
Bandwagon on the Run
179
76
23
Team I know it had a good race, but Baku is still a shit track, look at turn 8 for fucks sake
175
74
24
2
i got this team off random.org lol
166
69
25
/oro/'s Greatest Hits
163
65
25
4
DF dindu nuffin
163
70
27
18
Bet Rigtor Inc.
155
25
28
3
hehe
153
63
29
23
Team I'm Going To Win Fantasy And There Is NOTHING You Can Do To Stop Me
152
17
30
3
Team Christ I'm Too Busy This Summer
151
56
31
16
Team "Get your Anime out of my Sports"
136
20
32
4
Team I should have become commish and culled enough teams to get /ck/ in Summer but I'm doing this instead
129
57
33
3
Should Be Doing Wagecuck Things But I'll Make a Fantasy Football Team Anyway
121
29
34
3
Team Fabrosi's Friendship Fantasy Fucks: My main team is in fetus edition
118
28
35
16
Team Just Give Me Last Place Already Senpai
110
4
36
2
Team 3: The Final Encounter : A Mans Quest to Find Himself : Mewto Strikes Back : Based on a True Story: This time its Personal
106
22
Rules
Teams are to be put on the wiki before the scheduled starting time of the first match of the tournament. This team will count for the whole tournament.

Teams must consist of: a team name, eleven starting players and six substitutes, a captain and a vice-captain. The eleven starting players must follow these guidelines:

1 goalkeeper
3-5 defenders, with a maximum of 1 LB and 1 RB. CBs are limitless
3-6 midfielders, with a maximum of 1 LMF, 1 RMF, 3 AMFs, 3 CMFs, 3 DMFs, and at least one CMF or DMF.
1-3 forwards, with a maximum of 1 LWF and 1 RWF. CFs and SSs are limitless

The substitutes must consist of one goalkeeper, two defenders, two midfielders and one forward.

A team must have exactly two gold and two silver players. Additionally, the team will get a medal substitute, who can be either gold or silver without affecting these limitations - however, a medal substitute cannot fill in for a lower class, so a gold player substitute cannot fill in for a silver nor can golds or silvers fill in for non-medals. Furthermore, a team may have no more than three players overall from any one board.

If a player in the team's starting eleven does not play in a round, a substitute who does may take their spot. The player must be from the same category, but specific position differences are allowed (so a CB may fill in for a LB, but not for a DMF).

For each round of matches, all players who take the field will receive a score for their performance. The team's score will be calculated at the end of each round as the sum of the scores of their eleven players. If a player does not play and is not covered by a substitute, they will count 0 towards the team's score.

Following the group stages of a cup, teams are allowed to remove eliminated players and replace them with players still in the tournament. The team must run the same formation but can change the individual positions (so a CB may swap for an RB if it does not break the maximums listen above). Medals must remain in the same section of defence, midfield or attack but can change positions. If there are no more players at a level, you are permitted to move the player up or down to the nearest available spot to replace the player. For instance, if you have a gold CB in the team and that was the only team with a gold CB, you then look to teams with a gold DMF then CMF, LMF/RMF, AMF, SS, LWF/RWF, CF in that order. The reverse can be used for non medal strikers. Captains and vice captains can change at this stage.

Scoring
Points are accumulated as follows:

1 point for each full point of match rating in excess of 4.
6 points for a defender or goalkeeper scoring a goal.
5 points for a midfielder scoring a goal.
4 points for a forward scoring a goal.
3 points for a goal assist.
4 points for a defender or goalkeeper if their team managed a clean sheet and they played 60 minutes or more.
3 points for a defender or goalkeeper if their team managed a clean sheet and they took the field yet played less than 60 minutes.
1 point for a midfielder if their team managed a clean sheet and they played 60 minutes or more.
1 point for every 2 saves made by a goalkeeper.
5 points for a goalkeeper saving a penalty (not if it is missed).
-2 points for a player who misses a penalty.
3 points if a player is judged Man of the Match by PES.
2 points if the player's match rating is equal to or higher than the Man of the Match's.
1 point if the player's match rating is 0.5 less than the Man of the Match's.
-1 point for every 2 goals conceded by a defender or goalkeeper's team while the player was on the field.
-1 point for the player receiving a yellow card.
-3 points for the player receiving a red card.
-5 points for the player receiving a red card from 2 yellow cards.
-2 points for the player scoring an own goal.

After these scores are tallied, the captain will have his score doubled, and if he did not play then the vice-captain's score will be doubled instead.

Once scores have been calculated for each match day, they will be posted. The competition will run for the duration of the cup. At the conclusion of the tournament, the team with the highest score will be awarded the Hatte Saburo trophy.