The logo competition for the 2021 4chan World Cup is no longer taking submissions, but you may still submit changes and/or improvements for the next two weeks.
The final deadline will be May 19th, 23:59 UTC. Logo submissions are located in this gallery. After this "improvement phase" there will be a one week voting period.


Please send all changes to Potatotron. You must supply a high-res PNG file (5000x5000 limit) and the original multi-layer source file.
Deadline in: May 19 2021 23:59:59 UTC
Stupor Cup
Jump to navigation
Jump to search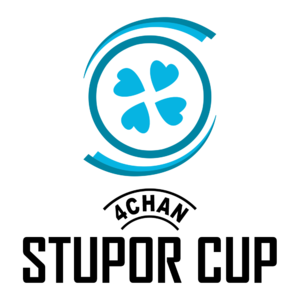 The 4chan Stupor Cup is a biannual exhibition match contested by the reigning Elite and Babby Cup champions, in the vein of IRL-divegrass "super cup" matches, such as the UEFA Super Cup and FA Community Shield. This match serves as a curtain-raiser to every new Elite Cup season.
The most recent edition, Stupor Cup 10, was won by Autumn 2020 champions

 /o/, 2-1, over Summer 2020 champions

 /u/.
Due to the 2021 Spring Babby Cup being cancelled and the 10th Anniversary Mega Cup being planned for summer 2021, there will be a break in tradition for Stupor Cups 11 and 12. Stupor Cup 11 is planned to be played just before the Mega Cup by the winner of Stupor Cup 10, /o/ 

, and the Winter 2021 champion, /n/ 

; and Stupor Cup 12 is planned before the 2022 4chan Winter Cup between the Mega Cup champion and the Autumn 2021 champion.
The Stupor Cup has been won 7 times by the Elite Cup champion team, and 3 times by the Babby Cup champion team.
Rules
There are two matches each year, one before the Winter Cup and another before the Summer Cup. The match in Winter is contested by the reigning Summer and Autumn Babby Cup winners, and the match in Summer by the reigning Winter and Spring Babby Cup winners.
Each match follows standard cup rules, or, if it is a part of a cup Friendlies session, whatever regulations are set during the Friendlies. The rules are generally the same as in standard knockout stage matches: both extra time and penalties must be turned on, and each team is allowed a fourth sub in extra time only. The match is played at a neutral venue (preferably Konami Stadium or Riggly Field), unless there is mutual agreement by the managers of the participating sides to change stadiums. The home team designation is normally given to the Elite Cup winner, unless both teams agree to hold a coin toss to determine the home team.
Match History
 
Stupor Cup 1
 
18 June 2016
/fit/ 
2–1
 /m/

As part of Rigging After Dark
Rich Piana  

67'


Scooby  

82'

 

60'

Alteisen Riese
Riggly Field

---
---
 
Stupor Cup 3
 
1 July 2017
/fit/ 
1–1 (a.e.t.)
 /lgbt/


Zyzz  

34'

 

36'

Autogynephilia
Riggly Field
Attendance: 33
Video: Smashcast

 
Penalties
 
Zyzz
Scooby
L O N D O N
Rich Piana
Activated Almonds
4–2
LGBTM2FBBQWTFY8P;IR5G
Autogynephilia
Transbian
Alfred Kinsey
---
---
 
Stupor Cup 5
 
7 July 2018
/u/ 
5–1
 /e/


Homucifer  

57'

, 

65'

, 

82'


Purest Form of Love  

61'


Akkarin  

90+2'

 

44'

Yoko Littner
KONAMI Stadium
Video: YouTube

---
 
Stupor Cup 6
 
10 February 2019
/vg/ 
4–5
 /pol/
17:30


Doctor Jewgle  

24'

, 

78'


Somehow I'm the Bad Guy  

43'


Chinese Ninja Warrior  

49'


Apex  

15'

 

6'

, 

37'

Moonman
 

33'

, 

84'

Alex Jones
 

68'

(((Jews)))
 

82'

Sam Hyde
KONAMI Stadium
Attendance: 255
Video: YouTube

---
 
Stupor Cup 7
 
14 July 2019
/gd/ 
0–1
 /i/
17:30


 

54'

Graphic Design Is My Passion
KONAMI Stadium

---
 
Stupor Cup 8
 
12 January 2020
/cm/ 
2–0
 /trv/
17:30


Suicidal Hooni  

51'


Darién Gap  

60'

Konami Stadium
Attendance: 166

---
 
Stupor Cup 9
 
3 July 2020
/pol/ 
3–0
 /d/
19:00


Moonman  

31'


Epstein didn't Kill Himself  

50'

, 

77'


God Emperor Blumpf  

36'

Konami Stadium
Attendance: 112

---
---