Difference between revisions of "/skg/"
Jump to navigation
Jump to search
m

m

Line 59:
Line 59:
 

|altanthem2_what=Knockouts Anthem

 

|altanthem2_what=Knockouts Anthem

 

|altanthem2_title=Midare Zaki (SK Burst Opening)

 

|altanthem2_title=Midare Zaki (SK Burst Opening)

−

|altanthem3=www.youtube.com/watch?v=RGbWSfVeMHU

+

|altanthem3=www.youtube.com/watch?v=

 

|altanthem3_what=Knockouts Victory Anthem

 

|altanthem3_what=Knockouts Victory Anthem

 

|altanthem3_title=Scarlet Master (Shinovi Master Opening)

 

|altanthem3_title=Scarlet Master (Shinovi Master Opening)
---
Revision as of 23:37, 12 October 2019
/skg/
Tits are life, Ass is hometown
/skg/ - Senran Kagura General

Founded
September 22, 2011
Owner
Takaki Kenichiro
IRL manager
DarkElfNinja !!bBkegrCfrWM
Team colors
Extra team colors
HEX color
C32928
Life Red
Ranking
24 (28)
Highest rank
10 (Feb 20, 2018)
Lowest rank
52 (December 28, 2018)
Top scorer
LIFE (16)
Top assister
LIFE (8)
Captain
Happy Boobs
Website
/skg/ - Senran Kagura General
Nickname
Senrans, Tittyninjas

Historic performance

| | | | | | | | | | |
| --- | --- | --- | --- | --- | --- | --- | --- | --- | --- |
| W | D | L | | | TOTAL | | | | EFFICIENCY |
| 8 | 6 | 11 | | | 25 | | | | 32% |

/vg/ League
Appearances
6 (First in /vg/ League 7 Qualifiers)
Best result
11th, /vg/ League 9

Team music

---

Kits

The /skg/ team will continue to run non-stop; that is the calling of a NINJA. They run faster and jump higher than anyone. They can easily jump over people's expectations. Just as true power for a shinobi is both a sword and a shield, so it is in the game of divegrass as well.
As a team, the Senrans have the potential to grow big and large, just like the girls' chests. Tits are life; ass is hometown.
Current Roster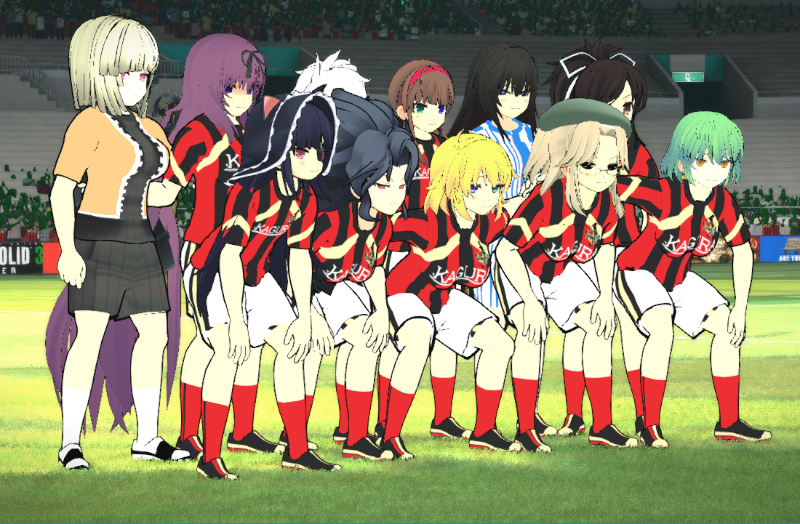 Back Row (L-R): Ball Mommy, Fast NEET, BEEP BEEP, HOMETOWN, Walmart Kagura, Happy Boobs
Front Row (L-R): Flat Cat, Punch My Dick, LIFE, Ayymu, Sank You

| No. | Position | Player |
| --- | --- | --- |
| 1 | | Ball Mommy |
| 2 | | Punch My Dick |
| 3 | | Fast NEET |
| 15 | | Ayymu |
| 5 | | Flat Cat |
| 8 | | Walmart Kagura |
| 17 | | BEEP BEEP |
| 6 | | Sank You |
| 9 | | LIFE |
| 10 | | HOMETOWN |
| 11 | | Happy Boobs |

| No. | Position | Player |
| --- | --- | --- |
| 12 | | Angry Fucking Coconut |
| 13 | | Goodnight skeegee |
| 21 | | PLEASE UNDERSTAND |
| 16 | | Hibbers |
| 19 | | Sneko |
| 22 | | Is This a Senran? |
| 23 | | Big Fat Kat Tats |
| 4 | | Dumb Babu |
| 20 | | Mistress Haruka |
| 7 | | ONEE-CHAN!!!! |
| 14 | | Cute Crab |
| 18 | | Edgy Babu |
Retired Players
| No. | Position | Player |
| --- | --- | --- |
| 12 | | Bebe-tan |
| 18 | | Sweet Cakes |
| 13 | | Beansprouts |
| 16 | | /boobgen/ |
| 17 | | Cute! CUUUUTE! |
| 22 | | NTR Grandma |
| 22 | | Titty Splatoon |
| 19 | | Jewyame |
| 7 | | What the FUCK Nan? |
| 19 | | Tasty Snatch |
| 4 | | DOKKAN |

| No. | Position | Player |
| --- | --- | --- |
| 12 | | Paizuri Marathon |
| 20 | | NO YAMATOS |
| 18 | | >new wave is canon |
Exports
| | | | |
| --- | --- | --- | --- |
| Tactical Exports | Aesthetics | Music | Pastebins |
| | | | |
Cup History
VGL 7 Qualifiers
Like most generals about anime games, /skg/ is sustained thread-to-thread by thirst and boredom. Therefore at some point it was decided a football team would be created in order to starve off the collective boredom found on many an /skg/ anon's weekend evenings, while fielding a roster with the biggest tits and ass a tiny PES modding community could provide. With a roster containing literally every meme the Senran Kagura community had ever produced they took to the field to play some of the worst football ever witnessed.

A 9-1 raping by the Alicesoft general was the team's opening match in which it discovered the conservation of Ninjutsu applied just as well to a soccer pitch and putting 5 senrans up front was not the key to scoring more goals. It went on to perform like shit against the remaining two teams in the group as well, getting only a draw and a narrow loss and leaving the 7th /vg/ league with only an unlikely to ever be broken record for biggest loss ever.
VGL 8
After the best part of six months spent probably waifuposting the anons in /skg/ inexplicably decided to give the whole soccer thing another shot, declaring revenge for the embarrassment of the previous cup. With a brand new team of (mostly) better memes and bigger tits they quickly undid their previous failures with a strong opening performance against the veteran team of /fgg/ and initially against newcomers /r6g/ until a goal at the last possible minute robbed /skg/ of their win. At this point the general decided to bench their starting keeper forever because her performance in VGL7 sucked and fuck 90+ goals. It wasn't until VGLX that goodnight skeegee was allowed to start as a goalkeeper.

A further spotless performance against /ss13g/ would put /skg/ into the VGL proper where they would face the powerhouses of /fgog/, /ksg/, and /twg/. Despite opening with a loss against /fgog/ from yet another stoppage time goal, /skg/ bounced back with a good performance against /ksg/ to put them in the running for the knockouts. With /ksg/ later sending /fgog/ to hell with a 7-1 domination, all /skg/ needed to advance from the group was a draw against former cup winners /twg/. The resulting match saw a tug of war between the two teams who both had their shot of making it out of groups, with aggressive gameplan changes and a stellar goalkeeping performance keeping /skg/ in the game and eventually getting them the draw they needed to get to the knockouts. However their success would be very quickly and brutally cut short by the might of /gsg/ who would drop five goals on them to give the Senrans another cup ending blowout, leaving them placed 16th overall.
VGL 9
The Senrans returned to the /vg/ League with a shiny new roster and got drawn against some veteran teams in /lolg/ and /feg/ as well as revived champions /ddg/. Quick, clean success came with back-to-back 2-0 wins against /ddg/ and /lolg/, securing their position in the Round of 16 with a game left to play. With nothing more to gain the team played 4 Senrans forward against /feg/ to try for a goalfest but instead a master class in choking meant the game ended in a miserable 1-1 draw. In their subsequent Round of 16 match they would face VGL8 runners-up /lzg/. While the team didn't experience another blowout like previous cups, they were instead given a boring 1-0 loss to send the tittyninjas home again.
VGL X
For /vg/ League X, /skg/ added What the FUCK Nan? and PLEASE UNDERSTAND to the roster and gave Goodnight skeegee a second chance as the starting goalkeeper. The Senrans were drawn into group I with the veteran teams of /meg/ and /rs07g/ as well as the VGLX newcomer /ddlc/. After a 1-1 draw against /rs07g/, the tittyninjas faced /meg/. An early red card by Sweet Cakes resulted in /skg/ having to play with only 10 players, but the Senrans fought /meg/ hard and fell just sort of pulling off 10-man abuse in the 2-3 loss.

With some help and a 2-1 victory over the newcomer /ddlc/, the Senrans clenched 2nd place in their group and earned a spot in the Survival Round against /gbfg/. Despite a 0-0 first half, /gbfg/ exploded with 3 goals in the second, handing the tittyninjas a 1-3 loss and eliminating them from the tournament.
VGL 11
The road to /vg/ League 11 was a time of new beginnings for /skg/. The Senrans entered the tournament with a new manager DarkElfNinja !!bBkegrCfrWM succeeding the retired founder/manager Ramen. The anons of the general began by sacking Titty Splatoon, their bronze DMF What the FUCK Nan?, and Jewyame from the team. Taking their places on the roster were new players NTR Grandma and Edgy Turbobitch and the returning Mistress Haruka. After promoting Walmart Kagura to medal status as their new bronze DMF, Team Tittyninja was drawn into Group C with the new team /hpgg/ and veteran teams /mggg/ and /rlg/.

After a 1-3 blowout loss to /hpgg/, the Senrans and the Roguelike team fought a tough defensive battle which was scoreless through the first half. However, a late goal by MuMohammed Ali gave /rlg/ a 1-0 win and killed the Senrans' chances of advancing from group stage. In the final match, /skg/ hosted an undefeated, high-scoring /mggg/ team who had blown out the other two teams in group without allowing a single goal. In spite of Dumb Babu scoring the first goal against the Monster Girls in group stage and taking a 1-0 lead into the locker room at halftime, sadly the offense faltered in the second half while /mggg/ scored 2 goals to hand the tittyninjas their third straight loss by the score of 1-2.
VGL 12
The journey to /vg/ League 12 began with a major shakeup of the Senran roster. The /skg/ anons began by sacking NTR Grandma and longtime players Beansprouts, Sweet Cakes, DOKKAN, and goalkeeper Paizuri Marathon. Then, after moving their other long-struggling keeper Goodnight Skeegee from the net to the defensive line, /skg/ added two new goalkeepers Ball Mommy and Angry Fucking Coconut and new players Edgy Babu, ONEE-CHAN!!!, and Is This a Senran? to the outfield in order to fill the empty spots on the team. With new memes and a (hopefully) improved roster, the tittyninjas were drawn into Group B with /hsg/, /tf2g/, and /tnm/.

On Day 1 of VGL 12, the Senrans' opening match on the road against /tf2g/ was a sleepy 0-0 at halftime before both offenses began to stir in the second half. The scoring started with kickoff abuse from LIFE putting a long shot into the net at 47' to give the tittyninjas a 1-0 lead before /tf2g/ responded at 61' with a goal by Pottis. It looked like a 1-1 draw was in the making until LIFE headed in a long pass from Walmart Kagura at 90+3' enabling /skg/ to snatch a 2-1 victory from the jaws of football.

/skg/ continued their road trip on Day 6 facing a tough, physical Toji no Miko General team which also had won their first group stage match 1-0 in a tough defensive fight. The match proved to be intense with /tnm/ drawing first blood at 31' before the Senrans responded with two goals: the first from Happy Boobs at 36' and then LIFE at 38' and took a 2-1 lead into halftime. After Happy Boobs scored her second goal at 52' to make it 3-1, /tnm/ cranked the intensity up to 11 with an injury to LIFE at 66' which earned their CB The Strongest Toji a red card. LIFE returned after undergoing treatment and /tnm/ responded with two goals at 75' and 86' to tie it 3-3. With time running out, the tittyninjas adjusted their tactics and fought back hard against the combined powers of Most Dangerous Lead and 10-man Abuse. The resurgent Senrans punished the Tojis' short-handed defensive line with Happy Boobs completing a hat trick at 90+0' to retake the lead followed by LIFE driving the final nail in /tnm/'s coffin at 90+3' to give /skg/ their biggest win in team history by the score of 5-3.

On Day 8, the stage was set for a showdown with huge playoff implications between /skg/ and /hsg/: the tittyninjas could clinch first place and a spot in the Round of 16 with a win or draw. /hsg/ needed a win or draw in order to advance; a loss would eliminate /hsg/ and give /tnm/ second place. The game proved to be a tough defensive battle with both teams' keepers making save after save. /hsg/ scored the first goal off a corner kick with a header by HAHAHAHAHA! at 34' before HOMETOWN responded with her own corner kick header at 41' to make it 1-1 at the half. After some changes, the Senran offense responded with Happy Boobs adding her own header off yet another corner kick at 54'. But /hsg/ would not relent: with some tactical changes of their own, their offense clashed hard with the /skg/ defense and WIIIIIIIIIIINDS! added a goal at 88' to bring it level. The Senrans tried to get the ball upfield and find a game-winning goal but time ran out and the match ended in a 2-2 draw. New starting GK Ball Mommy put in some major work with an incredible 6 saves, enabling /skg/ to clinch first place in Group B and the 5th seed in the Round of 16 while /hsg/ finished in second, earning them a berth in the Survival Round.

In the Round of 16, the Senrans hosted Dragalia Lost General, a new high-scoring team whose CF Enuji was the leader in the race for the Golden Boot. /drag/'s high-powered offense started early with goals by Enuji at 22' and a second by Sleepy Amane at 37' to lead 0-2 at halftime. A header by HOMETOWN at 62' gave /skg/ some hope, but /drag/'s defense stepped up by forcing bad shots and intercepting passes then punishing the tittyninjas on the counter. Two more goals by Enuji at 78' and 86' put an end to the tittyninjas' tournament run in typical Senran fashion by the score of 1-4. In spite of their blowout loss, /skg/ managed to finish in 15th for the tournament, which earned a spot for LIFE on the Summer 19 /vg/ roster and improved their overall ranking from 52nd to 24th.
Match History
Official Matches
Date
Opponent
Competition
Result
Scorers
November 25, 2016
 /hanny/
/vg/ League 7 Qualifiers
Group D
1-9 L
Flat Cat  58'
November 26, 2016
 /vn/
/vg/ League 7 Qualifiers
Group D
2-2 D
Happy Boobs  32'
LIFE  88'
November 27, 2016
 /mggg/
/vg/ League 7 Qualifiers
Group D
4-5 L
LIFE  8'
Dokkan  70', 90+1'
>New Wave is canon  79'
June 2, 2017
 /fgg/
/vg/ League 8 Qualifiers
Group A
2-1 W
Beansprouts  17', 72'
June 3, 2017
 /r6g/
/vg/ League 8 Qualifiers
Group A
2-2 D
LIFE  1', 58'
June 4, 2017
 /ss13g/
/vg/ League 8 Qualifiers
Group A
2-0 W
LIFE  6'
Yumi was a mistake  10'
June 10, 2017
 /fgog/
/vg/ League 8
Group G
1-2 L
Happy Boobs  55'
June 16, 2017
 /ksg/
/vg/ League 8
Group G
3-1 W
HOMETOWN  38', 72'
LIFE  78'
June 18, 2017
 /twg/
/vg/ League 8
Group G
1-1 D
Yumi was a mistake  75'
June 24, 2017
 /gsg/
/vg/ League 8
Round of 16
1-5 L
LIFE  20'
December 1, 2017
 /ddg/
/vg/ League 9
Group B
2-0 W
LIFE  17', 27'
December 1, 2017
 /lolg/
/vg/ League 9
Group B
2-0 W
LIFE  48'
HOMETOWN  72'
December 9, 2017
 /feg/
/vg/ League 9
Group B
1-1 D
HOMETOWN  12'
December 16, 2017
 /lzg/
/vg/ League 9
Round of 16
0-1 L
June 3, 2018
 /rs07g/
/vg/ League X
Group I
1-1 D
Happy Boobs  8'
June 7, 2018
 /meg/
/vg/ League X
Group I
2-3 L
Dumb Babu  40'
Happy Boobs  68'
June 15, 2018
 /ddlc/
/vg/ League X
Group I
2-1 W
PLEASE UNDERSTAND  15'
Happy Boobs  87'
June 22, 2018
 /gbfg/
/vg/ League X
Survival Round
1-3 L
LIFE  90+5'
November 23, 2018
 /hpgg/
/vg/ League 11
Group C
1-3 L
LIFE  90+1'
December 2, 2018
 /rlg/
/vg/ League 11
Group C
0-1 L
December 8, 2018
 /mggg/
/vg/ League 11
Group C
1-2 L
Dumb Babu  29'
June 7, 2019
 /tf2g/
/vg/ League 12
Group B
2-1 W
LIFE  47', 90+3'
June 16, 2019
 /tnm/
/vg/ League 12
Group B
5-3 W
Happy Boobs  36', 52', 90+0'
LIFE  38', 90+3'
June 22, 2019
 /hsg/
/vg/ League 12
Group B
2-2 D
HOMETOWN  41'
Happy Boobs  54'
June 29, 2019
 /drag/
/vg/ League 12
Round of 16
1-4 L
HOMETOWN  62'
Unofficial Matches
Date
Opponent
Competition
Result
Scorers
September 16, 2017
 /hanny/
/vg/ League 9 Friendlies
3-1 W
Yumi was a Mistake  43'
HOMETOWN  66'
LIFE 69'
September 24, 2017
 /mggg/
/vg/ League 9 Friendlies
1-1 D
HOMETOWN  25'
April 7, 2018
 /pmmm/
/vg/ League X Friendlies
1-7 L
happy boobs  79'
April 8, 2018
 /nepgen/
/vg/ League X Friendlies
3-3 D
Yumi was a Mistake  18'
happy boobs  84'
LIFE 90+0'
September 14, 2018
 /ffg/
/vg/ League 11 Friendlies
1-2 L
Happy Boobs  12'
September 15, 2018
 /hanny/
/vg/ League 11 Friendlies
7-2 W
Flat Cat  7'
LIFE  11', 40'
HOMETOWN  23'
Happy Boobs  52', 59', 88'
January 12, 2019
 /hanny/
VGL Luigi Circuit
Quarterfinals
1-2 L
Punished Boobs  32'
January 12, 2019
 /indie/
VGL Luigi Circuit
Losers' Bracket Round 1
1-1 (5-4) W
LIFE  90+0'
January 13, 2019
 /aceg/
VGL Luigi Circuit
Losers' Bracket Round 2
2-0 W
Punished Boobs  32'
LIFE  45+1'
January 13, 2019
 /ink/
VGL Luigi Circuit
Losers' Bracket Round 3
6-2 W
LIFE  2', 24', 44'
Punished Boobs  5', 60'
Dumb Babu  51'
January 13, 2019
 /ssbg/
VGL Luigi Circuit
Losers' Final
0-3 L
March 23, 2019
 /digi/
/vg/ League 12 Friendlies
1-1 (3-5) L
LIFE  34'
March 30, 2019
 /vitagen/
/vg/ League 12 Friendlies
6-3 W
HOMETOWN  21', 71'
Happy Boobs  42', 68', 72'
Sank You  75'
September 28, 2019
 /nepgen/
/vg/ League 13 Friendlies
4-2 W
 16' Uni
 31', 79' LIFE
 71' HOMETOWN
October 5, 2019
 /2hug/
/vg/ League 13 Friendlies
0-3 L
Player Records
Goals
| Player | Goals |
| --- | --- |
| LIFE | 16 |
| Happy Boobs | 9 |
| HOMETOWN | 6 |
| Dumb Babu | 4 |
| Beansprouts | 2 |
| DOKKAN | 2 |
| Flat Cat | 1 |
| PLEASE UNDERSTAND | 1 |
| >New Wave is Canon | 1 |
Assists
| Player | Assists |
| --- | --- |
| LIFE | 9 |
| HOMETOWN | 8 |
| Happy Boobs | 7 |
| Dumb Babu | 6 |
| Big Fat Kat Tats | 2 |
| DOKKAN | 2 |
| Walmart Kagura | 2 |
| Punch My Dick | 1 |
| Sank You | 1 |
| Goodnight Skeegee | 1 |
| What the FUCK Nan? | 1 |
Saves
| Player | Saves |
| --- | --- |
| Paizuri Marathon | 38 |
| Goodnight Skeegee | 21 |
| Ball Mommy | 9 |
| Bebe-tan | 3 |
| Angry Fucking Coconut | 2 |
Rivalries

/hanny/ - Yaegashi Nan Derby
Aside from /hanny/ thrashing /skg/ 9-1 in the Senrans' inaugural game during the VGL 7 Qualifiers, Senran Kagura artist Yaegashi Nan also lent his artstyle to the Alicesoft game Evenicle, which is popular among the anons of the Alicesoft general. Although the teams have yet to see a truly official rematch in the tournament, the Senrans got some petty revenge on /hanny/ in their VGL9 and VGL11 Friendly matches.

With the recent announcement from Alicesoft that they are beginning work on a sequel to Evenicle, the rivalry between /hanny/ and /skg/ will likely continue for some time.

2-0-2