Pro Evolution Soccer 2018
| | |
| --- | --- |
| | The content of this page or section is incomplete because we're a bunch of lazy fucks. Feel free to help out. |
The cup is still using PES 17, while no executive action has been taken yet regarding a move from 17 to 18, many of the same criteria that were used in the move from 16 to 17 will most likely be used to judge the suitability of a move. Some of those are as follows: We're currently using PES 18.
Is there a stable crack? Yes, of 1.05.02.
Are we able to mod to the same (or similar) degree as PES17? We're working on it.
Has the edit file been decoded, and is an external editor available (NGE or RigIt)? Yes, see below.


How to install PES18 correctly: Installation guide
This page is a work in progress.
Saves and Aesthetics
Please use the latest save as a base for making nightly exports to reduce your chance of accidentally rigging yourself.
Micro Pack
This is a lightweight alpha version of the DLC with only the stuff needed to make PES run with the 4cc save.
Useful tools
4ccEditor - An editor for PES18, 17, and 16 EDIT files with several convenient features, including editing aesthetics settings, the ability to port teams between versions, and integrated AATF checks.
Minimum Hardware Requirements
In order to be able to run at all, PES18 requires a DirectX 11.0 compliant graphics card, one of the following:
Desktop Graphics
- AMD's Radeon HD 5*** series or newer.
- nVidia's GeForce GT/GTS/GTX 4** series or newer except for the GT 405.
Integrated Graphics
- AMD's series of integrated graphics starting with the HD6***, HD6***D, HD6***G series.
- Intel's series of integrated graphics starting with Intel's i3, i5, and i7-3*** series of processors, plus a fuckload of Atom, Celeron and Pentium processors which I won't bother listing here.
Laptop Dedicated Graphics
- AMD's Mobility Radeon HD 5*** series and Radeon HD6***M series or newer except for the 530v, 545v, 550v, 560v, 565v, 5145 and 5165.
- nVidia's GeForce 4**M series or newer.
How to Find Out Yourself
If you're still unsure, Windows offers a way to check yourself:
- Open the "Run..." window from the start menu or by pushing Windows + R at the same time.
- type "dxdiag" on the textbox, then run it.
- Check the tab to the right of System - Windows will list your API feature level on the right, like so: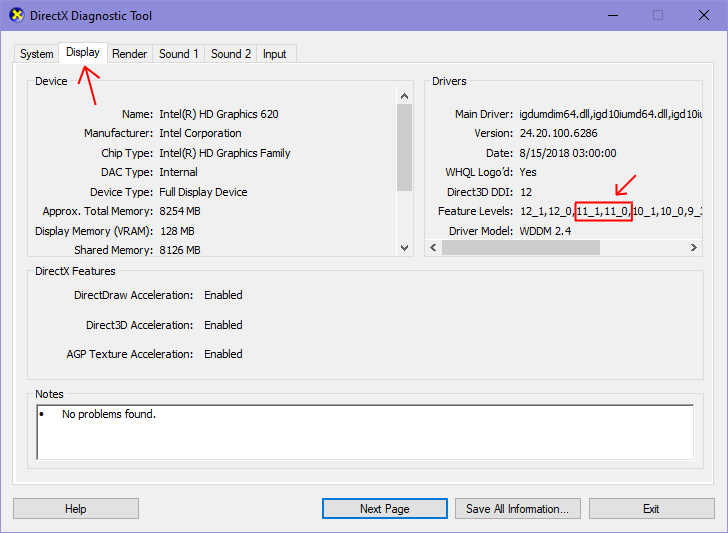 - If, like the screenshot, it lists 11.1 and\or 11.0, you will be able to run PES18. Congrats, you are still not free.