The logo competition for the 2022 4chan Autumn Babby Cup is now taking submissions.
The deadline is October 10th, 23:59 UTC. Logos will be placed in this gallery to facilitate discussion. This will be followed by a polling period to determine which logo will be used.


Please send all submissions to Potatotron.
You must supply a high-res PNG file (5000x5000 limit) and the original multi-layer source file. Please make sure you submit both a qualifier version and a normal version.


Cloverleaf logo: .png .svg

Deadline in: October 10 2022 23:59:59 UTC
Deadline has passed.

Cloverball logo: .ai .png .svg
Pro Evolution Soccer 2016/Stadiums
Jump to navigation
Jump to search
PES2016 stadiums work the same as in PES2015 (see Pro Evolution Soccer 2015/Stadiums). This page will explain more about custom pitches soon and how they can be set up in PES15.
Currently you can not 'claim' a stadium for your team. If you want a specific stadium but it's already taken, please contact the Aesthetics Helper.
This page will be updated properly one day.
Editing stadiums
Below are several sections on things that can be edited about a stadium. If it is not listed then it cannot be edited or it is something general. The list is based on the contents of dt30.cpk.
Adboards (ad)
These are not the billboards around the pitch, these are the general stadium board around the stadium. Just look at the textures and at the stadium ingame and you'll know what it meant with these boards. Not editable for the official 4chan Cup because the ad_cl.dds and ad.el.dds boards are used.
Audience (audi)
The crowd faces themselves are not editable for the 4chan Cup as general textures are used, but you can edit some stadium specific textures.
Billboards (bill)
See Pro Evolution Soccer 2015/Adboards.
Pitch
If you want to keep the 'modern' PES15 pitch but still want to slightly modify it you can only change the pitch_nrm.dds if you know what you're doing.
To get the easy customizable pitches as in Pro Evolution Soccer 2014 you will have to copy the whole PES14 pitch folder to PES15. To do this unpack the whole dt30.cpk of PES14 first. Then copy the pitch folder of your stadium (st022 in pitch for example) to your DLC folder. Try to copy the pitch files of the same stadium as the one you overwrite in PES15. So use the Juventus pitch files of PES14 for the Juventus stadium in PES15. If you're planning on playing in the Rain you will have to make .mtl and .xml files for the rainy conditions. You can use the existing pitch_x_yy.mtl and pitch_x_yy.xml files for fine weather for this; just copy, past and rename them. Now you can edit the big pitch textures in \texture\nf and \texture\df for the custom pitches as you had them in PES14. The only drawback of this method is that you will not have a 3D grass effect during Replays.
If you have a stadium in PES15 that was not in PES14, please try several pitch.model files in the model folders of each stadium of PES14 until you have found the best fitting one.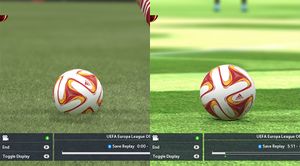 Sky
Should be pretty straightforward. If the current resolution is too low you can up the image resolution if you want.
Stadium
Should also be pretty straightforward. Watch out when editing the files in the df, dr, nf and nr folders, these are the lightmaps. The diffuse textures are in common. Also watch out when editing the textures in etc.
Staff
Some stadium specific staff textures can be found in here. Although these are not used for the 4chan Cup as staff_ucl.dds and staff_uel.dds are used.
TV
More coming soon.
Thumbnail
Found in dt15.cpk\common\render\thumbnail\stadium.
List of stadiums in PES16
Stadium downloads go in your team's aesthetic export, don't link it in the table below. Bold implies it's an original PES16 stadium.
PES16 Stadiums
While PES16 does not really care about the IDs of new stadiums, it does have slot limit of 40. The Start Menu Stadium takes up a spot leaving us on 39.
However we are able to duplicate stadium slots depending on the weather, bringing our total up to 78
Right now the amount of slots used is: 53
Stadiums
MegaMix Stadium Pack
Download: MegaMix

Some stadiums would be more difficult to share as the stadium files are edited, such as the /k/ or /m/u/ stadium, hence why they currently own both NF and NR.
Stadiums in bold indicate that the stadium is custom made and not a PES standard.

| ID | Team NF | Team NR | New Stadium Name |
| --- | --- | --- | --- |
| 1 |  /tg/ | - | The Magical Realm |
| 2 |  /d/ | - | The /d/eviant's /d/en |
| 3 |  /jp/ | - | The Untrodden Valley |
| 4 |  /lit/ | - | The Humbert Humbert Memorial Stadium |
| 5 |  /pol/ | - | Guacabowle Memorial |
| 6 |  /b/ | - | Camp Noufag |
| 7 | Halloween | Halloween | The Void 2.0 |
| 8 |  /v/ and  /vg/ | - | Final PEStination |
| 9 |  /asp/ | - | Tokyo Dome |
| 10 |  /int/ | - | /new/ Memorial Stadium |
| 11 |  /sp/ | - | Trans-Atlantic Semen Pipeline Stadium |
| 12 |  /ic/ |  /i/ | Titanium White Plains |
| 13 |  /gd/ |  /gd/ | Adobe Arena |
| 14 |  /fit/ | - | Zyzz Memorial Bronasium |
| 15 |  /vr/ | - | The Arcadium |
| 16 |  /g/ | - | GNU/Stadium |
| 17 |  /toy/ | - | Legoland |
| 18 |  /k/ |  /k/ | Innawoods Park |
| 19 |  /ck/ | - | Iron Chef Stadium |
| 20 |  /tv/ | - | CIA Meemorial |
| 21 |  /trv/ and  /t/ |  /trv/ and  /t/ | Big Rig's Resort |
| 22 |  /mlp/ |  /mlp/ | Cirrus Maximus |
| 23 |  /jp/ | - | Saitama Stadium 2002 |
| 24 |  /r9k/ |  /adv/ | El Monumental Failure |
| 25 |  /co/ | - | Charles Barkley Memorial Slamnasium |
| 26 |  /x/ |  /x/ | The Void |
| 27 |  /wg/ |  /w/ | Mont Cervin |
| 28 |  /vg/ |  /fa/ and  /4ccg/ | The Idea Factory |
| 29 |  /4ccc/ |  /4ccc/ | KONAMI Stadium |
| 30 |  /vp/ | - | Cinnabar Gym |
| 31 |  /sp/ | - | Trans-Atlantic Semen Pipeline Stadium |
| 32 |  /m/ and  /u/ |  /m/ and  /u/ | Zwei Wing Stadium |
| 33 |  /messi/ |  /messi/ | MESSIMESSIMESSI |
| 34 |  /y/ and  /cm/ |  /lgbt/ and  /hm/ | Seme Uke Stadium |
| 35 |  /mu/ | - | The Mountaintops |
| 36 |  /a/ | - | Stadium On The Front Page! |
| 37 |  /sci/ | - | The Time Cube |
| 38 |  /u/ | - | Yuri no Hanazono |
| 39 |  /m/ | - | Nu Axis Stadium |
| 40 | - | - | - |
Teams without a stadium: