The logo competition for the 2021 4chan World Cup is now taking submissions.
The deadline is May 3rd, 23:59 UTC. Logos will be placed in this gallery like has been done previously to facilitate discussion. This will be followed by 2 weeks where you can modify/improve your existing submission if you desire. After this "improvement phase" there will be a one week voting period. Please send all submissions to Potatotron. You must supply a high-res PNG file (5000x5000 limit) and the original multi-layer source file.
Cloverleaf logo: .png .svg

Deadline in: May 3 2021 23:59:59 UTC
Deadline has passed.

Cloverball logo: .ai .png .svg
Tech's 4CC Pokémon League
Jump to navigation
Jump to search
4CC Pokémon League
Tournament details
Host board
/nbl/
Dates
August 25 - ?
Teams
12 (players)
Final positions
Champion

TBD

Runner-up

TBD

Third

TBD

Fourth

TBD

Tournament statistics
Matches
Goals scored
(Expression error: Unexpected / operator. per match)
Top scorer(s)
Top assister(s)
Golden Glove
Best player
Yellow cards
(Expression error: Unexpected / operator. per match)
Red cards
(Expression error: Unexpected / operator. per match)

---

–
4CC Pokémon League
–
Some meme tournament where people draft Pokémon to use on teams. Any /vp/ manager that should finish at the bottom of the standings is officially sacked. Hosted and run by former /vp/ manager Technetium !!rb+zz19X9Cq.
Seriously, though: round-robin, best-of-one in the regular season, best-of-three in the knockout bracket. Top 6 advance to the knockout bracket, 1st and 2nd have byes to the semi-final while 3rd plays 6th & 4th plays 5th in the QFs. Lowest seed remaining faces 1st; highest plays 2nd. 3rd-place match optional for memes, otherwise I'll go by regular season record.
Rosters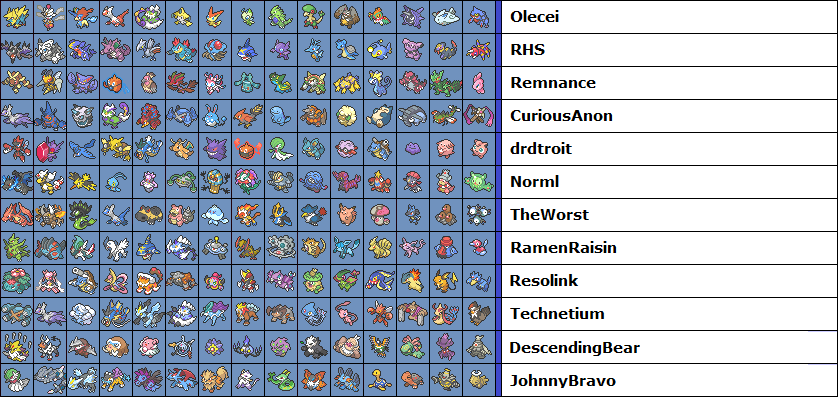 Trades / Free Agency
Trades:
Doublade (Norml) for Reuniclus (CuriousAnon)
Sharpedo (Archfiend Jill) for Eelektross (Resolink)
Free Agency drops:

TheWorst: 1 used: Honchkrow in over Kingdra.
Olecei: 1 used: Tornadus-Incarnate in over Goodra.
Technetium: 1 used: Gyarados-Mega in over Trevenant.
Archfiend Jill 2 used: Kingdra. Granbull in; Sandslash, Kangaskhan out.
Remnance: 1 used: Mega Sceptile in over Roserade
Schedule
Matches in bold were won by the GM highlighted on the row.
| GM | Record | Round 1 | Round 2 | Round 3 | Round 4 | Round 5 | Round 6 | Round 7 | Round 8 | Round 9 | Round 10 | Round 11 |
| --- | --- | --- | --- | --- | --- | --- | --- | --- | --- | --- | --- | --- |
| Olecei | 2-3 (-3) | Technetium | TheWorst | Remnance | JohnnyBravo | Norml | Resolink | RamenRaisin | DescendingBear | CuriousAnon | /d/r/d/troit | Archfiend Jill |
| Archfiend Jill | 5-4 (+2) | CuriousAnon | Norml | /d/r/d/troit | Technetium | JohnnyBravo | DescendingBear | Resolink | Remnance | RamenRaisin | TheWorst | Olecei |
| /d/r/d/troit | 0-3 (-13) | Remnance | CuriousAnon | Archfiend Jill | Resolink | RamenRaisin | Norml | TheWorst | JohnnyBravo | Technetium | Olecei | DescendingBear |
| RamenRaisin | 2-2 (-6) | JohnnyBravo | Remnance | Resolink | TheWorst | /d/r/d/troit | CuriousAnon | Olecei | Technetium | Archfiend Jill | DescendingBear | Norml |
| CuriousAnon | 3-2 (+9) | Archfiend Jill | /d/r/d/troit | DescendingBear | Norml | TheWorst | RamenRaisin | Technetium | Resolink | Olecei | Remnance | JohnnyBravo |
| Technetium | 6-0 (+24) | Olecei | JohnnyBravo | Norml | Archfiend Jill | DescendingBear | TheWorst | CuriousAnon | RamenRaisin | /d/r/d/troit | Resolink | Remnance |
| JohnnyBravo | 4-2 (+7) | RamenRaisin | Technetium | TheWorst | Olecei | Archfiend Jill | Remnance | DescendingBear | /d/r/d/troit | Resolink | Norml | CuriousAnon |
| Norml | 1-3 (-5) | Resolink | Archfiend Jill | Technetium | CuriousAnon | Olecei | /d/r/d/troit | Remnance | TheWorst | DescendingBear | JohnnyBravo | RamenRaisin |
| Remnance | 4-2 (+8) | /d/r/d/troit | RamenRaisin | Olecei | DescendingBear | Resolink | JohnnyBravo | Norml | Archfiend Jill | TheWorst | CuriousAnon | Technetium |
| Resolink | 1-7 (-21) | Norml | DescendingBear | RamenRaisin | /d/r/d/troit | Remnance | Olecei | Archfiend Jill | CuriousAnon | JohnnyBravo | Technetium | TheWorst |
| DescendingBear | 2-3 (-5) | TheWorst | Resolink | CuriousAnon | Remnance | Technetium | Archfiend Jill | JohnnyBravo | Olecei | Norml | RamenRaisin | /d/r/d/troit |
| TheWorst | 3-1 (+6) | DescendingBear | Olecei | JohnnyBravo | RamenRaisin | CuriousAnon | Technetium | /d/r/d/troit | Norml | Remnance | Archfiend Jill | Resolink |