2021 4CC Champions League
Jump to navigation
Jump to search
2021 4CC Champions League
Tournament details
Host board
/d/
Dates
Summer 2021
Teams
Final positions
Champion

TBD

Runner-up

TBD

Third

TBD

Fourth

TBD

Tournament statistics
Matches
Goals scored
(Expression error: Unexpected / operator. per match)
Top scorer(s)
Top assister(s)
Golden Glove
Best player
Yellow cards
(Expression error: Unexpected / operator. per match)
Red cards
(Expression error: Unexpected / operator. per match)

---

2020 4CC Champions League

2021 4CC Champions League

2022 4CC Champions League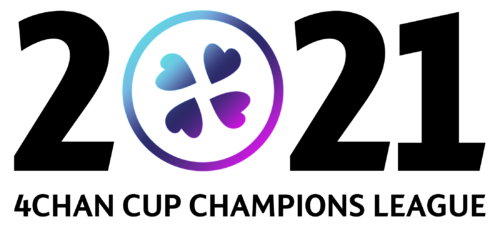 The 2021 4chan Cup Champions League is planned to be the 4th installment of the 4chan Cup's unofficial premier club divegrass tournament. Teams qualify for this year's 4CCCL by virtue of finishing in the top 3 of 4CC or /vg/ League tournaments, or by winning select memevitationals. The tournament will commence shortly after /vg/ League 16 and is planned to be streamed on CyTube on either the main 4CC channel or on the multinats4cc channel. It will be conducted in either PES 2019 or PES 2021.

 /d/ are the defending champions and will be hosts for this tournament.
Discord server: HERE

Tournament format
The tournament format will be decided upon soon(TM). It will either be a standard 32-team tournament, or (if fewer than 32 teams are available) a 16-team main tournament with qualifying stages beforehand.
Competitors
Main tournament
The following teams have earned direct entries into the main tournament:
League path qualifiers
The following teams have earned entries into at least this stage of the competition:
Champions path qualifiers
The following teams have won select memevitational tournaments and will enter this competition in at least this stage:
Rules
Soon(TM)
Exports
Main article: 2021 4CC Champions League exports (to be opened soon(TM))