The logo competition for the 2021 4chan World Cup is no longer taking submissions, but you may still submit changes and/or improvements for the next two weeks.
The final deadline will be May 19th, 23:59 UTC. Logo submissions are located in this gallery. After this "improvement phase" there will be a one week voting period.


Please send all changes to Potatotron. You must supply a high-res PNG file (5000x5000 limit) and the original multi-layer source file.
Deadline in: May 19 2021 23:59:59 UTC
2021 4CC Champions League
Jump to navigation
Jump to search
2021 4CC Champions League
Tournament details
Host board
/d/
Dates
June 18-20, 25-27, July 3-4
Teams
32
Final positions
Champion

TBD

Runner-up

TBD

Third

TBD

Fourth

TBD

Tournament statistics
Matches
Goals scored
(Expression error: Unexpected / operator. per match)
Top scorer(s)
Top assister(s)
Golden Glove
Best player
Yellow cards
(Expression error: Unexpected / operator. per match)
Red cards
(Expression error: Unexpected / operator. per match)

---

2020 4CC Champions League

2021 4CC Champions League

2022 4CC Champions League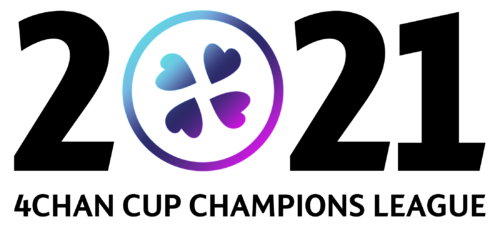 The 2021 4chan Cup Champions League is planned to be the 4th installment of the 4chan Cup's unofficial premier club divegrass tournament. Teams qualify for this year's 4CCCL by virtue of finishing in the top 3 of 4CC or /vg/ League tournaments, or by winning select memevitationals. The tournament will commence shortly after /vg/ League 16 and is planned to be streamed on CyTube on either the main 4CC channel or on the multinats4cc channel. It will be conducted in PES 2019.

 /d/ are the defending champions and will be hosts for this tournament.
Discord server: HERE

Tournament format
Thirty-two teams will compete in this tournament, consisting of champions and runners-up of 4CC, VGL, and select invitational tournaments. Managing will mainly be limited to pastebins or autopilot play, although minimal live-managing is allowed to correct any errors with tactical fixes applied to teams by the streamer.
Ruleset
GGSS (99/88/77)
No other special rules will apply for this tournament besides the above medal distribution. A team that has advanced to this tournament can use whatever tactics they used during the tournament in which they secured an entry to the 4CCCL, provided that the medal distribution is fixed as described above. Any possibly overbuilt tactics that might provide an unfair advantage to that team during this tournament is subject to modification by the >4CCCL committee.
Managing is only limited to pastebins and autopilot play, although very minimal livemanaging is allowed to make corrections to the streamer.
A manager with more than one team in the 4CCCL can manage one team at most during the tournament; the other teams must be autopilots, unless one of those teams has another manager who can fill in for that team. If a manager's team is eliminated from competition at an earlier stage, but he still has at least one other team still in the competition, he can then manage one of those teams.
Competitors
Main tournament
The following teams have earned direct entries into the main tournament:
League path qualifiers
The following teams have earned entries into at least this stage of the competition:
Champions path qualifiers
The following teams have won select memevitational tournaments and will enter this competition in at least this stage:
Pots
Exports
Main article: 2021 4CC Champions League exports