Formula 4CC
Jump to navigation
Jump to search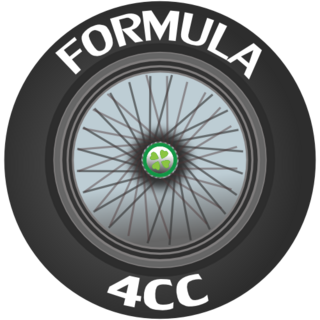 Formula 4CC is a racing competition meant as a >fun pre-game show for the 4chan Cup. As of the Winter 2021 series, races are conducted in Assetto Corsa; prior to that series, races were conducted in rFactor. All cars are equal F1-like cars. Races are completely AI-controlled; there is no human input of any kind.
Series History
The first races were held for the 2014 4chan Winter Cup as the pre-show entertainment. The 2014 Winter Series races were done in one day of the opening weekend, two days of the second weekend, and one day in the final weekend of the Cup that season. 15 teams were selected and their gold players (with exceptions made based on relevance to racing and/or FAST) for the inaugural race. Each day had two races, with a 10/20 minute time limit, depending on the track. GermanBro was the original organiser and streamer.
The races for the 2014 Summer Series followed a slimier format, but introduced /mu/, /n/, /tg/, /trv/, /g/ and /x/ to the races. It was also the first time people could make custom liveries, as files were made available for managers and other enthusiasts to make custom cars, helmets and suits. These races were also run by GermanBro.
The races for the 2015 Winter Series and 2015 Summer Series also followed a new format. 21 teams from 42 boards had united to help make room for more racers and teams, which will obviously lead to more chaos. These races were organised and streamed by Sleep Deprived Anon.
The races for the 2016 Summer Series had once again undertaken a new format, with only teams making the actual Summer Cup being invited to compete. This format had been kept until the start of the 2017 Winter Series, as more popular teams were added to replace teams that had less custom made liveries. Pybro has taken the reigns during this period, with the 2017 Summer Series being his last.
The 2018 Winter Series was organised but never run, as 4CC Wrasslin was being used as the pre-stream entertainment. No streamer was also available to stream the races during the period.
As of 2020, MarcoZ has been placed in-charge of running and reviving the F4CC. The 2021 Winter Series was not only the first under this new leadership, it was also the first to have races conducted in a new game version.
Results
Downloads
Formula 4CC

Completed series

Ongoing series

Cancelled series